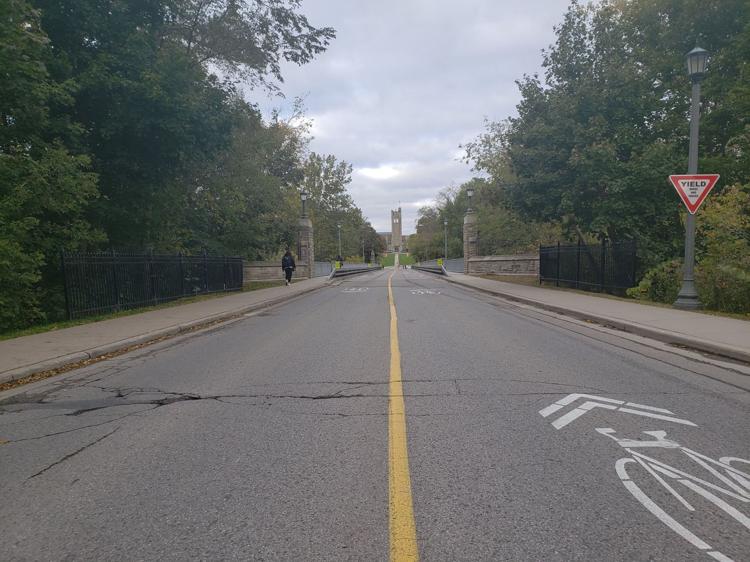 Western plans to reopen the University Drive bridge by March after what would be nearly six months of work.
After closing on Oct. 18, construction begins today, the first day of class. Facilities Management said pedestrians and cyclists will still have access to the bridge "with some restrictions."
"Pedestrians will use the walkways along the outside of the deck and cyclist[s] will have access to a section of the roadway," reads an update on their website. "Equipment and supplies lay down space will take most of the roadway west of the bridge."
Major bus routes have detoured from the busy east-west passage between downtown London and campus during the closure. Buses were also detoured in 2016, as the 91-year-old bridge was unsafe for large vehicle traffic.
The bridge's bearings, which allow it to flex safely under pressure, are unfit for cold weather, according to two inspections conducted since September. Engineers forecasted some repairs for three years after they finished their work in 2016.
Facilities Management clarified that the construction is not out of concern for the bridge failing, but minimizing long-term damage to the structure.
Elizabeth Krische, the department's associate vice-president, said in an email that the construction costs will be greater than last time, which cost $400,000, but a full estimate has not yet been specified.
Western announced on Oct. 10 that the bridge would be closing in eight days and said it would remain closed "for several months." According to Facilities Management, 2019's work should sustain the bridge for another five years.
Krische added there will be a period when the bridge is closed even to cyclists and pedestrians, but this period has been pushed to May.
Update (5:22 p.m., Jan. 7): the article was updated in paragraph one to clarify that the March 1 completion date is expected, but not guaranteed.