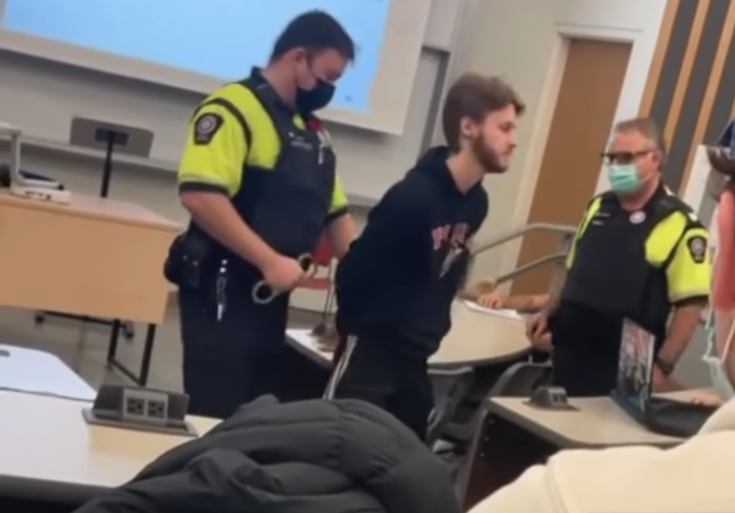 Western University has expelled the student who was filmed twice being removed from classrooms for trespassing on campus property unmasked and unvaccinated.
Harry Wade, a former second-year civil engineering student, was banned from campus under Western University's Student Code of Conduct for not submitting vaccination receipts. Wade was later expelled for trespassing on campus at least five times in violation of his ban, according to an email he received from the university.
Western mandated that all students, faculty and staff submit proof of vaccination or exemption under the Ontario Human Rights Code before Oct. 12 after community members pushed administration to provide protections against the spread of coronavirus. Western was one of the first universities in the province to introduce the mandate. 
Western saw at least 14 outbreaks among its students last year and hundreds of cases linked to residence buildings. There have been no outbreaks since Western implemented the vaccine mandate.
Wade was formally banned from campus Oct. 13, but claims to have continued to attend classes in-person — wearing a mask — without repercussions until fall Reading Week, when he lost access to OWL. 
"I was honouring the mask mandate for the whole two months I was attending class," Wade said. "But once the university decided to exclude me, … I decided I need to draw more attention to the issue by not wearing a mask in class." 
Wade confirmed to the Gazette he is unvaccinated.
Two popular videos posted by Instagram account Western Savages show campus police removing an unmasked Wade from class. 
The first video, showing campus police handcuffing Wade, was taken Nov. 11 in a second-year Mechanics of Materials class for civil engineering students in the Health Sciences Building. This was his fourth recorded time trespassing on campus property since he was banned on Oct. 13. 
The second video from Nov. 15 shows Wade being physically carried out of a classroom by campus police. 
Western could not confirm whether Wade was expelled, citing privacy litigation concerns, but added they "can say that individuals who violate Western's vaccination policy may be removed from campus, and may face other discipline."
Campus police were also stationed inside the Health Sciences Building Thursday, shortly before the start of the Mechanics of Materials class. 
To date, Western has placed 28 students on "involuntary leave due to non-compliance with Western's vaccination policy," but confirmed that one individual required on-campus intervention regarding non-compliance. All 28 individuals have been banned from campus. 
Wade's first removal from campus was Nov. 10, the first time he showed up to in-person class without a mask. The incident was not caught on video. 
"At that point, I decided if I was no longer going to be able to complete the classes without the university's permission [on OWL], it was only a matter of posing the question to the class whether or not they thought this was fair," Wade said. 
Wade said he does not plan to return to campus.