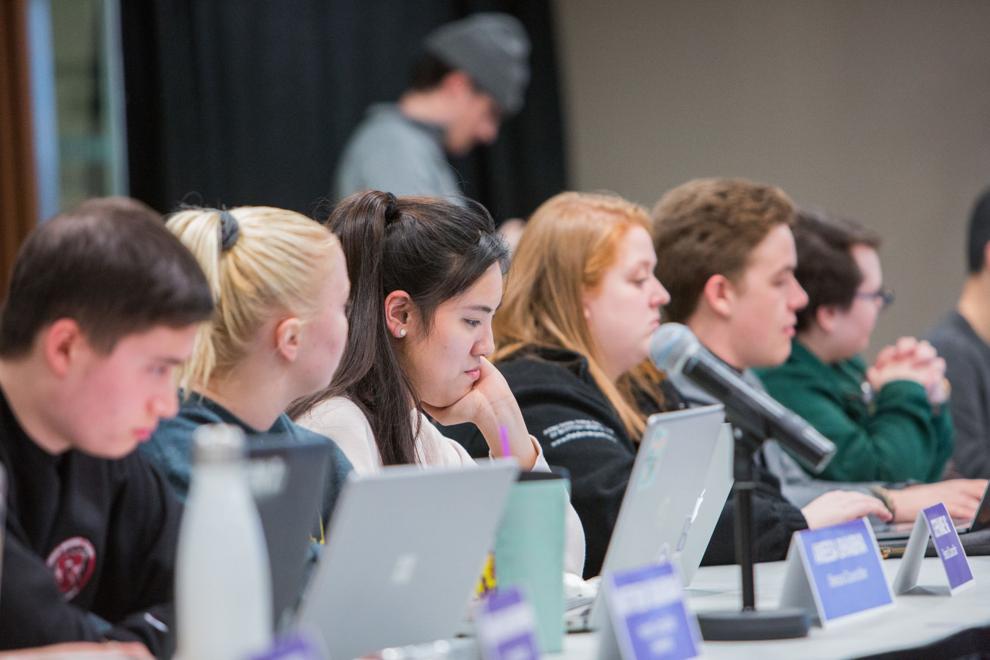 The University Students' Council voted Nov. 9 to add a 15-minute public question and comment period to the end of council meetings.
Beginning with the Nov. 30 council meeting, USC executives and councillors will address questions and comments from Western University students. This period will only be held once a month, in the second part of the council's monthly meeting.
The motion, proposed by Ivey Business School councillor Chris Mohan, aimed to "allow for increased engagement of students in the business of the council." 
The motion narrowly passed, with 43 per cent of councillors voting in favour, 31 per cent opposed and 26 per cent in abstention. 
Arts and Humanities Student Council president Sydney Turner proposed three amendments to the motion, one of which — limiting the question period to 15 minutes — passed. 
Turner's other two motion amendments failed — one would have excluded media from asking questions during this period "as journalists" and the other would have limited comments to those pertaining to issues addressed in the council meeting.  
Mohan and Huron University College president Matson Kitamisi raised concerns about Turner's two failed amendments. 
"As a council, we are accountable to every student, and that includes the media as well," said Kitamisi, speaking about the failed amendment to limit members of the media from commenting. "We need to improve our transparency, and make sure that we are able and accountable to respond to any questions that arise."
Turner said the amendment's purpose was not to "limit transparency," but to prevent the question and comment period from turning into a "quasi-interview period."
In response to Turner's third amendment — limiting comments to those pertaining to issues addressed in the council meeting — Mohan clarified when he proposed the motion to add the question and comment period, he "did not have in mind a particular scope to [the] questions."
Turner argued that, by limiting questions to topics relevant to the meeting, council "[isn't] limiting students from discussing these issues," and pointed to students' councillors and faculty councils as places where they could go to raise concerns "outside of the scope of what [council is] discussing right now."
Other councillors questioned how the relevance of a question would be determined. 
Mohan said, in a statement to the Gazette, he hopes the question period will give students "an opportunity to directly engage with the work that Council is doing."
"It means students can ask questions to members of Council at our meetings, particularly if there are questions or comments they wish to bring forward as individuals."
The USC meets twice a month on the first and final Wednesday of the month at 7 p.m. for two readings of each meeting — there are meetings on Nov. 23 and 30 as there will be no meeting in December. Agendas are posted on the USC's website at least two days in advance of each meeting.