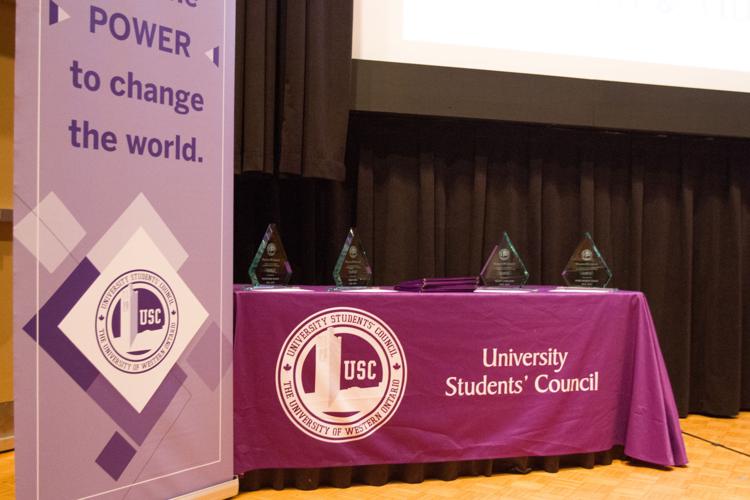 The 28th annual USC Awards Ceremony and Reception recognized the achievements of 13 exceptional students and faculty members at Western University on Monday afternoon.
University Students' Council vice-president Danny Chang opened the ceremony, highlighting the role of the award recipients in furthering the mission of the USC and the students it represents.
"Our award winners are prime examples of Western community members who go above and beyond, actively making Western a better place for every single person here," said Chang.
USC president Mitchell Pratt, general member of the Recognition and Awards Committee Tobiah Ng and director of Western's Centre for Teaching and Learning Nanda Dimitrov presented a total of six student awards to nine recipients. The awards ceremony chair, Ayushi Bhatt, presented the teaching awards to four recipients.
The first award presented was the Future of Western Award. This award was presented to Adam Dilouya in recognition of his significant involvement in artistic and philanthropic extracurricular activities. The Student Award of Merit was then presented to first-year science student Rachelle Li for her athletic, academic and artistic achievements at Western and second-year English student Jerika Caduhada for her contributions to Western's artistic community through numerous leadership positions.
Third-year business student Angus Lai and third-year neuroscience student Mark Grinberg were the recipients of the USC Alumni Award. Lai is significantly involved in the USC and currently serves as the vice-chair on the USC's board of directors while Grinberg is heavily involved in Western's neuroscience and biology communities. The Student Athlete Award was presented to first-year medical sciences student Ashlyn Hersey in recognition of her outstanding leadership and proficiency in volleyball.
Further, the Honour W Award was presented to fourth-year health sciences student Camilla Parpia and fourth-year neuroscience student Peter Gariscsak to recognize outstanding contributions through volunteer service and extracurricular activities. Parpia is the coordinator of Health Promotions Western and is involved in planning the Western Student Research Conference. Gariscsak is notably involved in medical response care on campus, and he introduced the first standardized protocol for naloxone, a drug that can reverse the effects of an opioid overdose, to be used nationally by emergency response teams.
The final student award, the Tracey Knight Memorial Award, was presented to fourth-year student Cheryl Fernandes to recognise her involvement in USC clubs, as a USC science councillor and in the 2019 USC elections.
Finally, the Award of Excellence in Undergraduate Teaching was presented to political science professor Nigmendra Narain, DAN management and organizational studies professor Philip King, Ivey Business School professor Scott Loveland and physics and applied mathematics doctoral student Mark Baker. Each of the recipients made a two-minute speech after receiving their awards.
"You have all achieved some truly amazing things here at Western," concluded Bhatt. "Excellent teaching and global learning thrive together, and tonight, we celebrate this great milestone with both teachers and students."