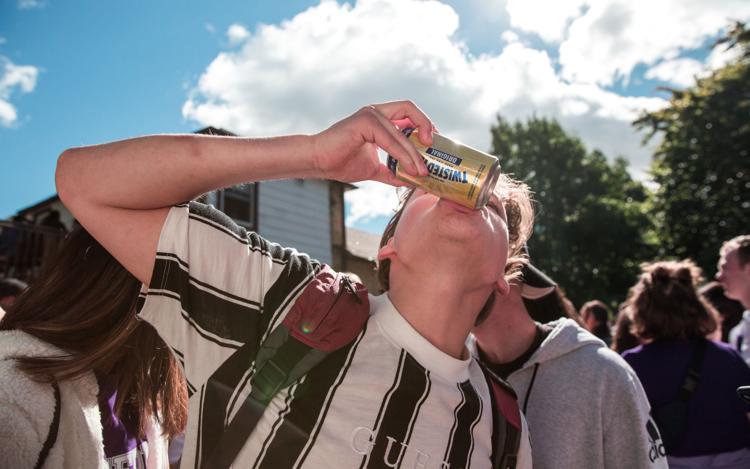 The University Students' Council defended their on-campus concert after the London Police Service said it stoked the off-campus party that flourished this September.
In an interview, USC president Mitchell Pratt did not say Fake Homecoming celebrations on Broughdale Avenue were a problem but instead emphasized how effective he believed the USC's concert, Purple Fest, was.
"We do consider Purple Fest to have been an immense success," he said. "I believe in alternative programming and providing students with this alternative choice…. We need to work toward providing them with these other opportunities to express their purple pride."
In a press conference, London chief of police John Pare said Purple Fest made the situation worse. Police released video of the event showing FOCO thriving with between 15,000 and 20,000 people, while only blocks away the concert was at times nearly deserted.
London police drone footage released today shows thousands of people crammed onto Broughdale Avenue on Saturday for FoCo. LPS says about 20,000 people were on Broughdale around 1 p.m. Video taken at 1:46 p.m. #ldnont @AM980News pic.twitter.com/FgExbBUHN1

— Matt Trevithick (@M_Trevithick) October 2, 2018
Though FOCO has grown slightly every year, this September's attendance doubled and police figures from warnings to charges increased twofold or more. Police said they spent over $100,000 on the event, more than double last year.
Pratt disagreed with the chief's assessment and said Purple Fest should take place again next year.
Since Western University's Homecoming date was changed in 2016, the USC has changed its playbook each year on their tightrope to let students enjoy the weekend while simultaneously ensuring their safety. Last year's USC did little to provide alternative programming for the weekend, and Pratt's administration swung in the opposite direction — hosting one of the largest university concerts in Canada, which sold out its 11,000 tickets.
Pratt said before FOCO that the concert was an attempt to shift a student culture epitomized by illegal antics on Broughdale.
Pratt defended Purple Fest's success at this goal by citing its only one hospitalization after non-critical injuries. He also said it was well-attended, as attendance peaked at 2:30 p.m. and remained high until 5:30 p.m.
Police released drone footage of Broughdale and Purple Fest at noon and 1 p.m. At those times, the off-campus party saw its peaks of 15,000 and 20,000 people respectively. At noon, the concert area was nearly empty, and at 1 p.m., was still dramatically smaller than the Broughdale crowd.
Here's more London police drone footage of FoCo crowds on Saturday, both along Broughdale and at the nearby Purple Fest event. #ldnont @AM980News pic.twitter.com/fepTUcV2F1

— Matt Trevithick (@M_Trevithick) October 3, 2018
By this point, officers on Broughdale switched from enforcement to crowd management, reportedly fearing for their safety. They issued 3,140 warnings and 134 notices that day, even as enforcement lessened.
Students could enter the concert throughout its 11 a.m to 5 p.m. duration, meaning attendees could begin their day on Broughdale before going to the concert to see its main act, Lil Uzi Vert, who only began toward the end, near when Purple Fest attendance peaked.
Later in the interview, Pratt added that it may be too early to tell what exactly caused this FOCO's upsurge. He said the situation has no quick fix and that no solution can work in only a year.