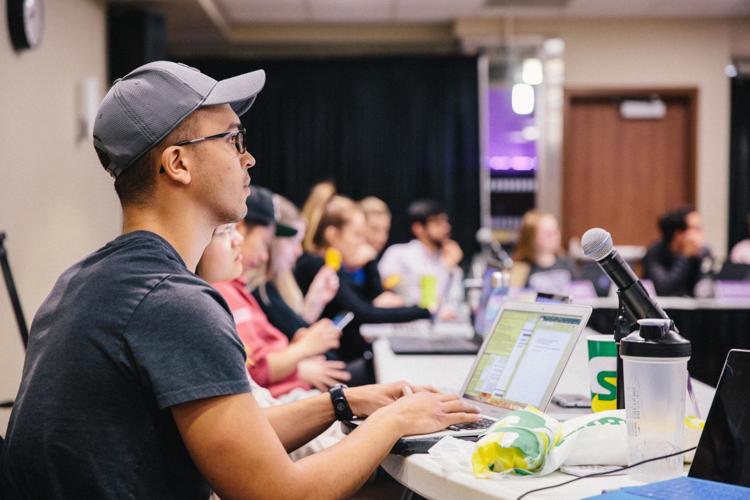 The University Students' Council passed their 2018–19 budget last night, which includes a student fee increase of roughly $30.
Student fees will be going up from $828.77 to $867.37 for first-year students and from $738.77 to $767.37 for upper-year students, resulting in a $38.60 and $28.60 increase respectively.
These fees fund the USC and its services, like the health and dental plan and buss passes and operations, like The Spoke and the Wave.
There are a few major reasons the fee increased, including a deficit from last year's budget, inflation and the Ontario minimum wage hike.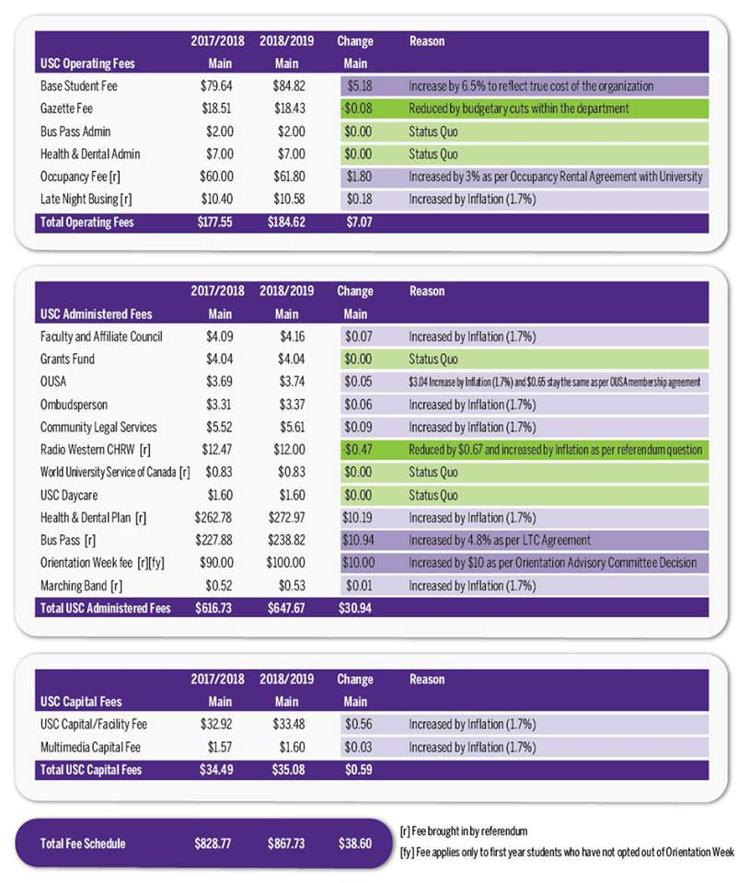 Deficit 
Part of the fee increase is the result of an error found in last year's budget. While creating the 2019 budget, USC secretary treasurer, Erin McCauley, realized that roughly $140,000 of revenue in last year's budget was accounted for twice, creating a false surplus. 
The mistake was made in the corporate/administrative promotions and commercial partnerships line that's related to the bus pass and health plan administrative fees.
"We would have needed an extra $140,000 from somewhere else to cover that department," McCauley said.
Isaac Jacobi, the 2016–17 secretary treasurer, attributes the error to a difficult and poorly organized budget process last year.  
"The day before the final approval, I found an error that would have cost the USC another $260,000," Jacobi said. "I was a little bit more involved in catching errors ... than I would have liked to be."
McCauley said she felt adequately supported in her role and throughout this year's budget process. She said a lack of communication can contribute to budget errors, like last year's. 
The error will increase the USC's base student fee by $5.18 for main campus students. In the budget, the increase is described as a change to reflect the true cost of the organization.
Minimum wage and inflation
McCauley also pointed to the minimum wage increase as a reason for the student fee increase. The minimum wage in Ontario was increased from $11.60 to $14 starting in January 2018. 
"Since minimum wage was an unexpected change, it wasn't budgeted for this year, so ... we're doing our best to retroactively fix the issues with minimum wage," McCauley said. "There wasn't as much long-term planning since the legislature just came through. We weren't prepared to take this hit this year."
In response to the $14 minimum wage, USC-run operations, like The Spoke and the Wave have increased prices. 
McCauley said the USC will re-evaluate its higher wage costs — and how price increases may have offset those costs — during next year's budget cycle. 
Inflation also played a role in the USC fee increase. The combined costs of inflation across all USC departments, services and operations resulted in $14.75 of the overall increase. 
O-Week
Finally, first-year students are seeing a larger hike than upper-year students due to an increase in the Orientation Week fee. The O-Week fee was originally $90, but the Orientation Advisory Committee decided to increase the fee by $10 to offset inflation, something that hadn't been taken into account for several years. The Orientation Week fee is now $100.
Next steps
Although the student fee increase is mostly the result of inflation and Ontario's minimum wage increase, McCauley said she tweaked the budget process this year to avoid mistakes like last year's $140,000 error. 
One of the changes in this year's budget is its setup. McCauley decided to clearly organize the budget by department totals.
"I think that last year was an excellent document to show the themes and the strategic direction of the organization, but it wasn't necessarily that clear to show department totals and allocations of fees and revenues," McCauley said.
She also said that she will continue to work with the finance department to ensure open lines of communication continue.
The full budget will be released to students after its approval by Western's Board of Governors later this month.