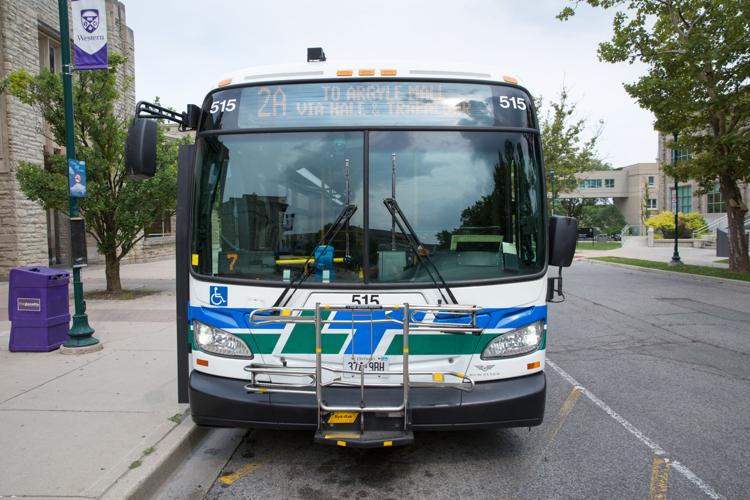 Students enrolled in only online courses this fall will not receive a bus pass from the USC for the 2020-21 academic year.
In a University Students' Council meeting Sunday, vice-president finance Marc St. Pierre announced that council negotiated an addendum to their contract with the London Transit Commission so only students taking classes with in-person components will pay for and receive a bus pass with the USC discount.
"It's not going to be an opt-out," said St. Pierre, in an interview with the Gazette. "The way the addendum was written was that students who are not coming onto campus and who are fully online will not be charged for the bus pass, where in the past they would have."
Students only taking online courses this fall will not have the option to opt-in to the USC's bus pass, regardless of whether they are living in London or participating in non-academic campus activities. Bus passes will remain mandatory for students with any on-campus classes.
"We do believe that this benefits the most amount of students possible," said St. Pierre. "We wanted to prioritize the students that might be living in [British Columbia] or Manitoba and weren't coming to campus."
Students living in London with all-online courses will still be able access student discounted monthly bus passes from the LTC office — though the LTC student discount will cost $659 for the eight months of the academic year as opposed to the USC collective bargaining rate of $263.
The USC negotiates its bus pass rates with the LTC in conjunction with London's two other student unions — Western University's Society of Graduate Students and the Fanshawe College student union — though each group signs separate contacts with the transit commission.
The USC is unsure of how many students will be affected as course registration is still ongoing, though the executives said they are striving to balance the financial needs of all students as the pandemic progresses.
Western's president, Alan Shepard, has said he hopes to increase the number of in-person classes for students in winter semester, though this will be contingent on the progress of the virus.
"If the university went back to fully in-person I do think there's the possibility to prorate the bus passes for second-semester," said St. Pierre. "But the way we set [the contract] up is that it's a yearly addendum, so it's 2020-21 fall and winter semester, because that's how the USC charges the bus pass."
The USC has already signed the amended contract with the LTC, according to St. Pierre, but is still waiting on details from the Registrar's Office and "other groups on campus and within [the] community" for the deal to be finalized.