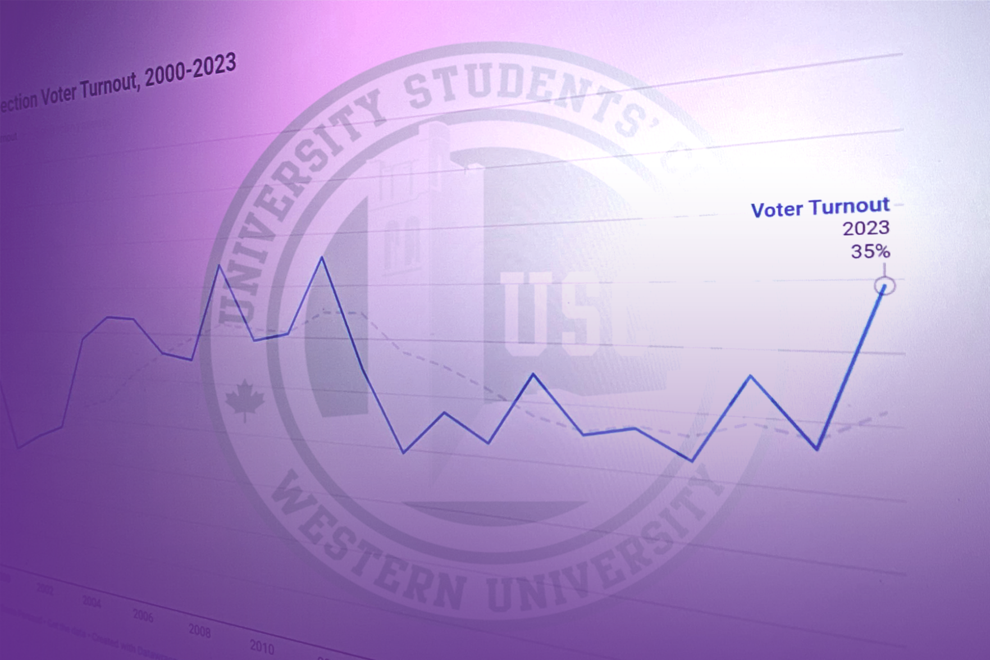 This year's USC elections saw the highest voter turnout per capita since 2012 — with 34.6 per cent of eligible students casting a ballot. This is up 11 per cent from the 2022 election.
12,725 students cast their ballot during the voting period, from Feb. 8 to 10, with 386 students abstaining from voting for USC president.
In 2022, 8,229 students voted, with only 6,875 choosing to cast a vote for a presidential candidate.
This year's election also included a referendum, regarding the addition of my VirtualDoctor, a 24/7 telehealth service, to students' PurpleCare health insurance coverage. Election years with referendums typically see higher voter turnout.
This year, the referendum saw 682 abstentions and 12,043 voters.
EGC chief returning officer, Mason Brown, said "The EGC is very pleased with the level of engagement from students across campus. This turnout has provided incoming Faculty Presidents and Councillors and the USC President-Elect with a strong mandate to act on their priorities next year."
Brown attributed the high number of voters to the longer election period, encompassing both campaigning and voting, as well as new initiatives including an Affiliate Town Hall and additional polling locations across campus.
Current USC president Ethan Gardner said this year's voter turnout could "make [him] cry."
"That's what student union is all about — student engagement, and having students on campus who really do care about the USC and who represents them."
In comparison to other Canadian universities, Western's voter turnout in USC elections is strong — sitting at an average turnout of 26.1 per cent over the past five years. This year, student elections at McMaster University and Queen's University saw voter turnouts of 10.5 and 17 per cent respectively.