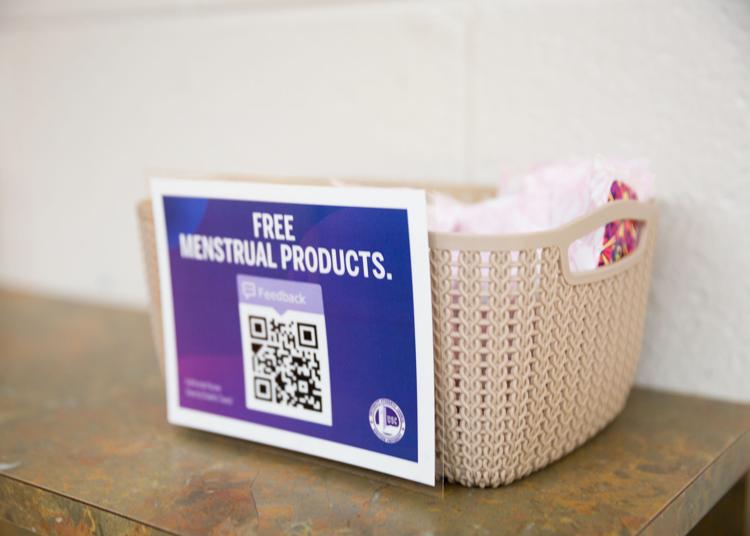 This week, the University Students' Council launched a free menstrual product pilot project that provides students with access to feminine hygiene products in all University Community Centre washrooms.  
To fund this pilot project, the USC secured a sponsorship from Tampax to provide 13,000 pads and tampons. All other costs of the project have been incurred by the USC. 
Carina Gabriele, USC student programs officer, explained that this project is not the first of its kind, as similar initiatives have been implemented at campuses across the country and within Western University itself. 
"We know that King's University College Students' Council is working with their administration to implement this in their bathrooms. Brescia [University College]'s doing it with their administration right now," said Gabriele. "People are recognizing how much of a gender-based issue this is and how important it is to be implementing it on post-secondary campuses."
In deciding on the future of this initiative, the USC will be looking to assess the usage in the various washrooms of the UCC, as well as any feedback from students.
"This [project] is solely to produce data and to get information about usage statistics. We've got a number of ways we're doing this. We've got QR codes on all of the baskets and additionally all of the posters," explained Gabriele. "We are keeping track of how frequently we're stocking, where we're stocking and, additionally, how are students feeling about it."
Gabriele expressed no concern with regard to overuse of the products provided, highlighting the importance of ensuring access to necessities such as feminine hygiene products.  
"I see this as necessary as toilet paper," said Gabriele. "Do we have that kind of question when it comes to toilet paper? I don't think that necessarily matters, and for the people that need it, they have it. And I think that's the most important part of the project." 
According to Gabriele, the USC hopes to expand the service into a university-wide initiative that offers menstrual products throughout campus. 
In addition to the newly launched project, tampons and pads are provided by Food Support Services — the USC's food bank — in UCC Room 258. To support this initiative, donation boxes are placed in the UCC atrium as well as in the USC office, located in UCC Room 340.