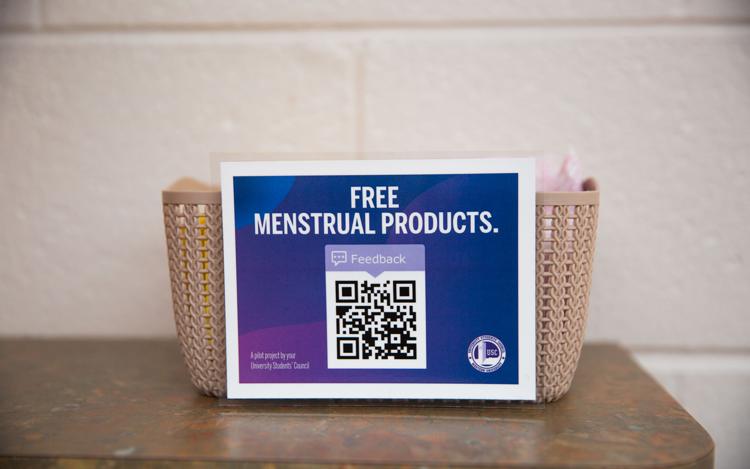 The USC is in search of help from an outside sponsor or the university to continue a program that gave free menstrual products to students.
The pilot project, started near the end last year, provided free pads and tampons in all bathrooms in the University Community Centre. 
Both sponsorships and donations helped to provide the products as it was not in the USC's operating budget to purchase them. There is no sponsor yet this year — so there are no free menstrual products in the building. 
Cecelia Liu, student programs officer, said the University Student's Council has not been able to find another sponsorship yet. 
Liu hopes that they will be able to find a sponsor within the next couple of months.
"This is a priority for me and my team...we are constantly and actively looking at different strategies ways in which bring menstrual products back," she said. "In order to not just provide them to students as a necessity, but to send the message to Western administrators that this is something that should be included in our bathrooms ."
The USC hopes to upgrade the program to include dispensers for the menstrual products that have ad space for sponsors in place of the small baskets the pilot project used. 
The USC is also pushing for Western to include menstrual products in their operating budget. According to Liu, negotiations are going well. 
Stephen Ledgley, Senior Media Relations Officer, provided a comment on behalf of Western University on the process.
"As agreed upon last year, the USC has completed a pilot year of providing these products and has provided a report to Western on both demand and a potential estimate of costs.  The University is still considering their findings and has not made any final decisions."
The USC hopes to have menstrual products back in the bathrooms by second semester but there is no set date at this time.
Any student who is unable to purchase mentrual products can contact the USC's food support services, as they provide both pads and tampons.