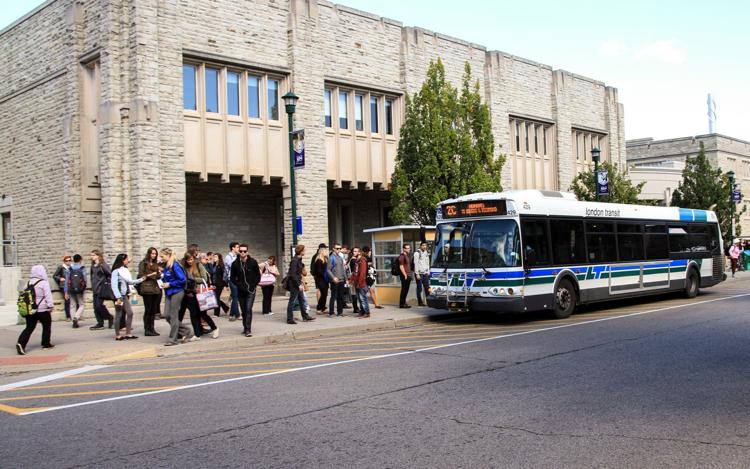 A tunnel slated to be built underneath Richmond Row has become the centre of transit debate in the city, potentially delaying London's bus rapid transit plans. 
The 900-metre long tunnel is supposed to run from the north-east end of Victoria Park (close to Symposium Café) to the north end of St. Joseph's Hospital (near Richmond St. and Cheapside St.). 
The tunnel is a sizeable part of the city's $560 million rapid transit plans, which have been submitted to the federal and provincial governments for funding. London itself is expected to contribute $130 million to the project.  
BRT was approved by council in May 2016. Although final routing decisions were expected in late March, it may now be delayed until June due to local contentions. 
The Richmond Row tunnel, alongside plans to convert King's St. near Budweiser Gardens in downtown London into a single lane of traffic, have spurred reactions from local businesses and city councillors. 
One of the alternate routes that could potentially avoid the Richmond Row tunnel construction goes up Wharncliffe Rd. and Western Rd. on the west end of campus, according to Ward 6 city councillor Phil Squire. 
In a letter penned to the mayor and city council on Tuesday, University Students' Council vice-president Jamie Cleary voiced support for the existing plans. 
"Routing which does not operate down Richmond Street would leave over half of the greater near-campus-neighbourhood population over two kilometres and a 25-minute walk from rapid transit," he wrote. "Additionally, it would be a great disservice to not ensure that St. Joseph's Hospital is easily connected to a rapid transit artery."
Squire, however, is of the opinion that the west-end route is a viable solution. 
"I still need to hear from the public in a meeting which we're going to have, and from the business community," he said. "I know the [USC] would prefer the Richmond route, I'm aware of that, so I haven't made a decision yet, quite frankly," he said.
The London Free Press reported that city hall officials will be meeting with Richmond and King's St. merchants in closed-door meetings to discuss the impact of rapid transit plans on their businesses on March 23 and 30. 
"The current routing decision would serve the largest proportion of Western students," Cleary said in an earlier interview.