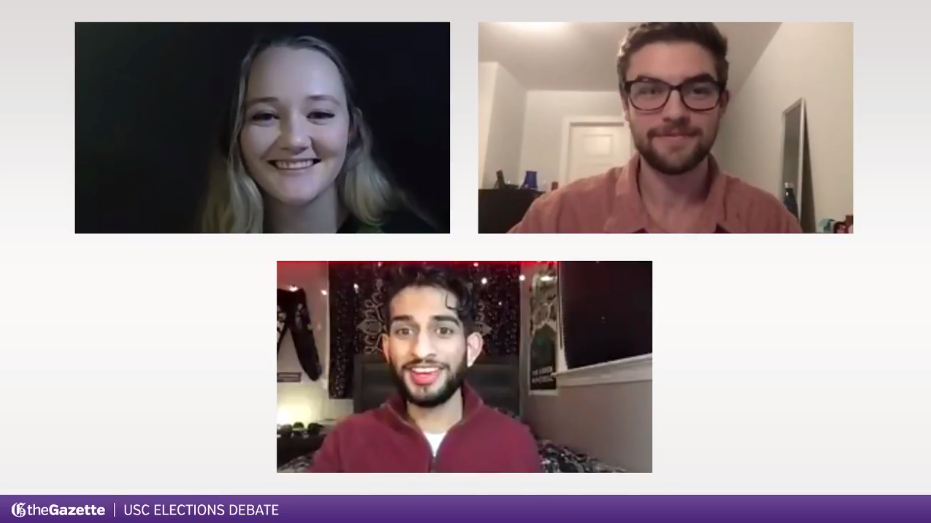 Three USC presidential candidates appeared on screen for the Gazette and Radio Western's USC media debate — which, for the first time, was streamed live from Zoom.
Candidates Callista Ryan, Parker Thomlinson and Zamir Fakirani answered questions about University Students' Council services, the feasibility of their platforms and their visions — if elected — for the upcoming year's student experience.
The three candidates touched on prioritizing community-based leadership and re-engaging with students after a year online in their opening statements.
"The USC presidency isn't about me — it's about us," Ryan said, reiterating Thomlinson's and Fakirani's sentiments.
The presidential nominees disagreed many times throughout the night, and several topics sparked debate, especially feasibility surrounding coronavirus restrictions and affordability of new initiatives.
Ryan's answers sparked the least debate from opponents — only being pressed once about the achievability of streamlining gender and sexuality resources into the Thames Hall renovation — which is set to finish late 2021, during the winning candidate's term.
The nominees passionately flaunted their platform points, addressing the importance of professional development, reforming Western University's racism reporting tool, affordability and mental health tools.
The first segment of the debate ended with a question asking candidates to comment on an opponent's platform point they disagreed with.
Ryan and Fakirani both critiqued Thomlinson, with Fakirani pointing out it would be challenging to convert the Purple Store into a Purple Thrift store, and Ryan striking down his proposal to expand the Mustang Express as logistically and financially unfeasible.
"There's a lot more pressing concerns in light of the pandemic that we need to be addressing, and I think there are smarter uses of our money," Fakirani said about the Thomlinson's Purple Thrift store. "There are so many grand ideas [in Thomlinson's platform] without identification for where this money will come from."
The first two rounds of targeted questions saw little contention from candidates and none moved to rebut their opponents' answers. But, the nominees stepped up in the final three rounds after the break, pushing back against opposing platforms.
A particularly fierce debate occurred during the discussion of Thomlinson's goal to streamline services for first-year students to make them easier to navigate, while also pushing for the creation of more mentorship programs.
Fakirani stepped in to say promoting more programs in a council that has seen historic disengagement from the student body is ineffective.
"We only see 7,500 students vote in our elections [and] we know the USC isn't representative of the entire student body — it is only representative of a small bubble of students who are hyper-engaged," Fakirani said.
Thomlinson defended his platform, saying he would use "unique" initiatives like putting logos on orientation materials and consulting with current vice-president communications Camilla Wong — which Ryan turned to press him on, saying this consistent work to rebrand the USC is already ongoing.
"It's hard to rebrand; it takes a lot of work, and I want to know if you've consulted in that area," she said.
Fakirani also stood up for Thomlinson when pushed about the London Transit Commission bus pass using his rebuttal period to support his opponent.
"Engaging negotiations in busing contracts involves a lot of information none of the candidates are privy to yet as we are not USC executives," Fakirani said. "I think it's really great that we are offered a subsidized bus pass at two thirds the full cost [and] I'm not sure that's a fair question to ask."
Ryan challenged Fakirani about his goal to have residence sophs held to the same standards as frosh, as sophs are currently held to stricter rules and harsher sanctions, as she pointed out sophs are campus leaders and must set an example.
"First-year students don't see residence sophs as first-year students, so how do you navigate that relationship between students?" Ryan pointedly asked Fakirani.
Thomlinson and Ryan pushed against Fakirani's plan to extend the Student Code of Conduct to sanction instances of off-campus sexual and gender-based violence. Thomlinson debated Fakirani's feasibility of reviewing Western's SGBV policy, pointing to the laborious process of reimplementing work already done two years ago — Ryan also had her say.
"You talk about the code of conduct and expanding to [include] sexual and gender-based violence, but what about acts of racism off-campus and violence in general — those things happen off-campus as well," Ryan said.
But Fakirani defended his position that off-campus sanctions must happen, citing that most instances of SGBV happen outside campus premises.
"Addressing SGBV is so much more serious than being upset at students for gathering on a street," Fakirani said, alluding to the former code of conduct sanctions for students surrounding Fake Homecoming on Broughdale Avenue.
Thomlinson continued to push Fakirani in following questions, most notably regarding his advocacy-focused campaign and how students can expect to see real results if Fakirani were to be elected.
"I decided to count the amount of asks that would be … outside your immediate control, and I came up with 70," Thomlinson said. "Your platform is 120 points, so it's a lot."
At the end of the debate, Ryan — when asked which of her opponents' platform points she would adopt if she could — said, after a long pause, Thomlinson's Purple Thrift store was especially attractive, even despite its low feasibility during coronavirus restrictions.
Voting for Western's next USC president will take place Feb. 1 and 2.