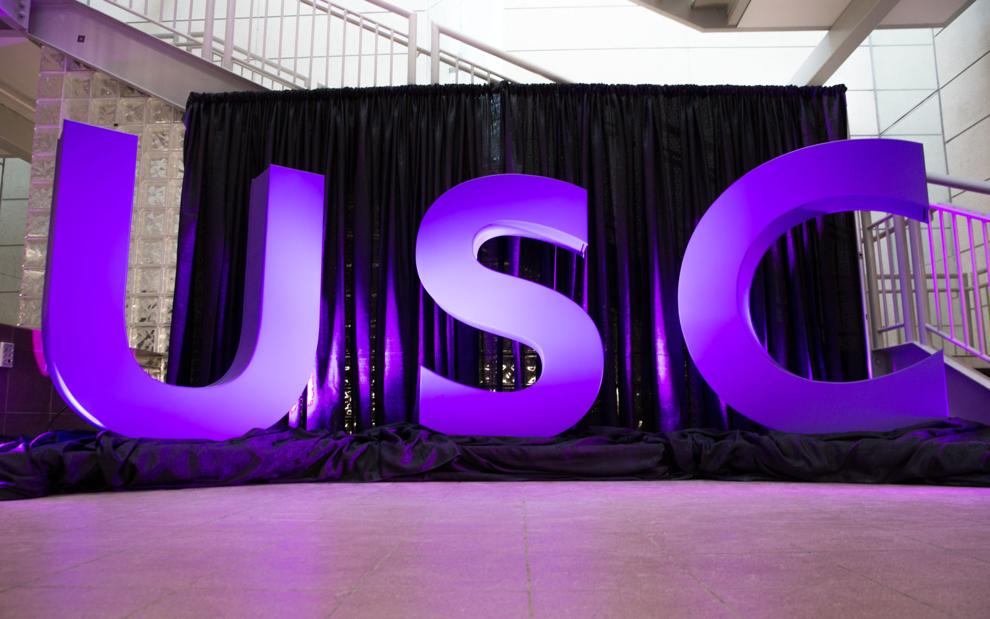 The USC voted to stop supporting Greek Life recruitment events and end subsidized space rentals for the organizations at Wednesday night's council meeting. The council's executive team also gave $10,000 to fraternities and sororities for their leadership to receive gender-based violence and suicide prevention training.
The motions come after increased scrutiny from students about the relationship between Greek Life and the University Students' Council after this year's Orientation Week. Despite being not formally ratified or recognized, the USC has granted Greek Life organizations special privileges for over a decade. 
"Based on the feedback that the executive team has received from students, including councillors, we felt it was important for us to have a conversation on the council floor about whether these specific special privileges should be afforded to Greek life," said USC president Zamir Fakirani.
Eighty-three per cent of council members were in favour of the motion to remove Greek Life's special privileges for room booking, with 10 per cent abstaining. The USC also voted end its support of Greek Life's rush week recruitment programming, with 76 per cent of councillors voted in favour of the motion.
The USC failed the third motion to remove Greek Life non-voting resource members from their seats on council.
Resource member seats allow representatives of Greek life organizations to attend council meetings and speak, without having voting power. According to Fakirani, these seats have been heavily underutilized.
"I've … received some questions about how frequently Greek Life leadership has made use of these resource member positions. And our attendance record shows that it's quite infrequent," said Fakirani.
The USC has also allocated $10,000 for sexual and gender based violence as well as suicide prevention training for Greek life leadership. The USC announced this donation to Greek Life in their executive reports, and it was not voted on by the council.
We are super proud to be offering LivingWorks Start training to Greek Life leadership and thank our partners at the USC Foundation for making this training possible! https://t.co/2deKZPYeWi

— zamir, he/him (@ZamirFakirani) October 28, 2021
Though the training will not be mandatory, leaders of the InterFraternity Council and Panhellenic Council — which represent Western fraternities and sororities respectively — have expressed interest in the program, according to the USC executive.
The USC also voted for president Fakirani to present a report to council in January evaluating the effectiveness of Greek Life's leadership training to determine whether council would continue to offer funding.
"I firmly believe that this training is an important step towards fostering a safer campus," said Fakirani.
Fakirani chose to abstain from all three votes explaining that he was "confused."
"I was elected on a platform of further building and solidifying our relationship with Greek life … I am genuinely confused and conflicted and I'm not sure what the outcome of this vote should be. And that's why I'm abstaining," said Fakirani.
Adam Miller, faculty councillor for Ivey Business School, was one of the strongest supporters of the proposals to end Greek Life's special privileges. 
"You also have to recognize that real students are harmed by the [organizations] … whether it is around sexual assault culture, whether it is around over encouragement to consume alcohol beyond what people are comfortable with stuff like that, that does exist within Greek students," said Miller. 
Science faculty councillor Maddy Dusick disagreed and explained that she believed it was the USC's responsibility to ratify a more formal relationship with Greek Life. 
"I don't think the way to go about doing it is separating ourselves from them, kind of taking our hands off the wheel and saying, oh, it's not our problem anymore, because it's kind of a lot of what this seems like to me," said Dusick.
Jack Reisman, president of the Interfraternity Council — which represents all Western fraternities — expressed frustration at the loss of privileges for Greek life organizations.
"We have always been afforded those special privileges to go on campus, to book rooms to conduct our sexual based violence seminars, [and have] professional seminars," said Reidman. "Why ... [are] those special privileges now at this time being [recalled] for us?"
Fakirani explained that he did not want to cut ties with Greek Life organizations, but rather define the USC's relationship with them.
"Numbers of fraternities and sororities are our constituents," said Fakirani. "If we are genuine about cutting from the cultural issues at play or university from sexual gender based violence to choose healthy consumption, we do need to work alongside all the members of our community."
Although Greek life organizations have the option to apply for club status with the USC, Fakirani said none have applied in recent years. 
USC clubs are offered access to Clubs Week, funding, subsidized room bookings, permission to promote and hold events on campus. Ratified clubs must submit a budget to the USC and abide by a set of policies, for example, having to hold elections to select the club's leadership.
"We have not received any applications in years prior for these organizations to become USC ratified clubs … If they do want access to all of these privileges, they can apply for club status. That is an option," said Fakirani.
Reisman said that while he could not speak for the sororities, the fraternities have no intention of joining the USC in a formal capacity, as "joining the USC in an official capacity might inhibit [the] ability for people to … really shine in [leadership] positions."
Despite changes to the USC's relationship with Greek Life, Fakirani said he believes sororities and fraternities are here to stay.
"We don't have the power to decide if they should exist or not," said Fakriani. "We don't have the ability to tell them how to run their organization. We also can't impose any policies upon them because we don't fund them. We don't ratify them. And they will exist whether or not we aligned with them."