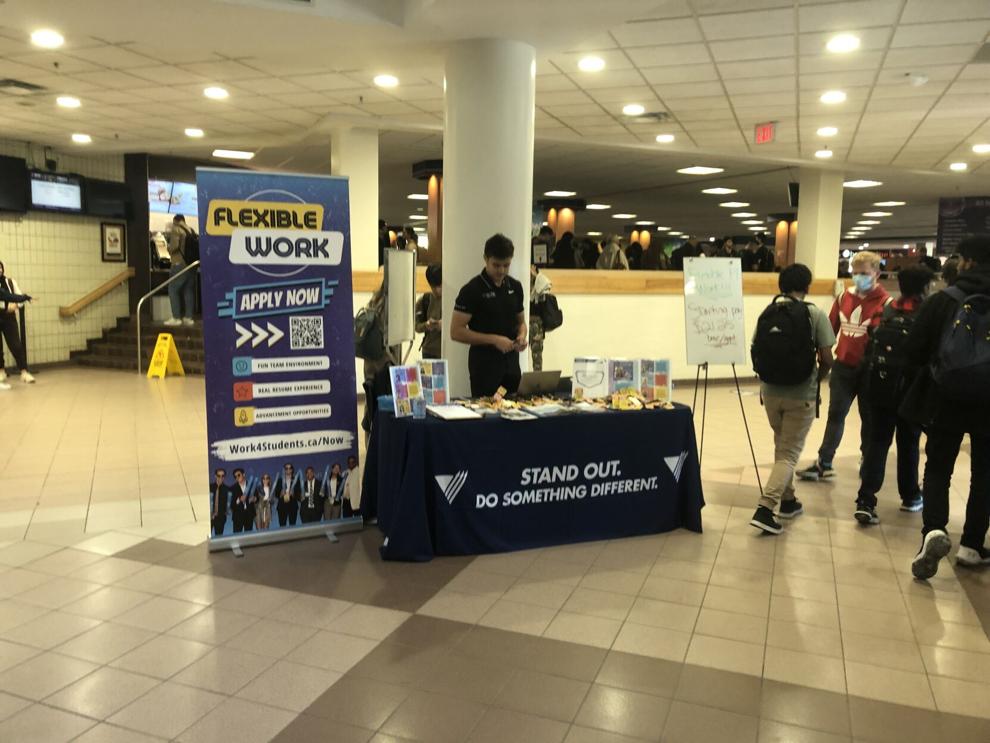 The USC says Vector Marketing, which has previously been accused of multi-level marketing, should not have been allowed to advertise paid work for students in the UCC atrium on Wednesday.
Vector Marketing — an alleged MLM promoting themselves as Work4Students — was in the University Community Centre on Wednesday recruiting Western University students to sell cutlery. The organization has been sued at least two times in the United States for not adequately compensating sales representatives.
According to the U.S. Federal Trade Commision, "MLM companies sell their products or services through person-to-person sales. That means you're selling directly to other people, maybe from your home, a customer's home, or online."
This is different from pyramid schemes, which are illegal and often disguise themselves as legal MLMs as "if the MLM is not a pyramid scheme, it will pay you based on your sales to retail customers, without having to recruit new distributors."
Keemia Abbaszadeh, vice-president communications at the University Students' Council, confirmed Vector Marketing "will not be returning" to the UCC, in a statement to the Gazette
Abbaszadeh said the USC conducts a vetting process before allowing any company to booth in the atrium, which was not properly followed in this instance.
"Had we followed this process thoroughly in this specific case, this company would not have been allowed to booth in the UCC … We will continue to follow this process more thoroughly in the future," said Abbaszadeh.
Specifically, the USC policy dictates a company must demonstrate it is not an MLM and must also sign an agreement indicating they are not engaging in an MLM. The USC also asks for a thorough review of all promotional material and the company must provide a reference from a previous institution they have worked with.
Vector Marketing spokesperson Sherri Dickie said they "haven't had an opportunity to speak with [their] contact" at the USC but would like to work with them to "get this situation resolved." Dickie said "it's not true" that the company is an MLM.
Vector Marketing is a subsidiary company of Cutco Corporation, which primarily recruits high school and post-secondary students to sell Cutco cutlery. Eighty-five per cent of Vector Marketing's sales representatives are students, according to the company's website.
Dickie says the company has worked with "so many Western students over the years" and noted the company's top student in both summer and fall 2021 was a Western music student so the company "donated $2000 to the Don Wright Faculty of Music." The top student in all of Canada for this year was also a Western student, according to Dickie, and the company plans to donate $1,000 to the kinesiology department. 
Western University has not responded to requests for comment.
Vector Marketing has been accused of being an MLM by multiple groups including in a 2020 Los Angeles Times article by columnist David Lazarus, who argued that "Vector's sales structure is an exact match for the [Federal Trade Commission]'s definition of a multilevel marketing company."
According to Lazarus, salespeople are encouraged and rewarded for selling to and recruiting friends and family; however "higher-level employees do not profit from the cash flow of subordinates."
Vector Marketing denies they are an MLM on their website, saying they are a "single-level direct sales company" selling Cutco products.
The company has settled multiple lawsuits accusing it of failing to adequately compensate its salespeople. One lawsuit from 2011 alleges that Vector Marketing "acted intentionally and with deliberate indifference and conscious disregard to the rights of all employees in paying training wages owed to them, failure to pay training wages upon the termination of employment." Vector Marketing settled for $13 million.
According to Dickie, Vector "settled the case, not as an admission of fault or liability, but to better invest their time, money and energy into their business."
The company's posters on Western's campus advertise part-time work for students with a base pay rate of $21.25 per appointment to make a sale have been on bulletin boards in the Natural Sciences Centre and Social Sciences Centre since the start of the school year.
Fourth-year Social Sciences student Chris Flannigan was looking for work and saw one of these posters on campus.
"[After applying for the job, Vector Marketing] replied immediately … saying I'd have an interview, which set off some alarm bells in my head," said Flannigan. "The [company] was really eager to interview me the next day, so I was thinking … this is a little different from every other job I've ever applied to."
Flannigan started researching the company online and ultimately backed out.
According to the company's website, their vision is "to be universally recognized as the Premier Student Opportunity in Canada."