The University Students' Council student fee will increase by more than $30 per student next year, according to last night's council meeting.
While the USC student fee for main campus students was $828.77 this year, president Tobi Solebo announced it will rise to $856.22 in 2018/19, however that figure doesn't take into account the Radio Western student fee, which will be determined after next week's referendum. Overall, the USC student fee will increase by a minimum of $38.42 next year.
USC president, Tobi Solebo, said the fee hike stems from Ontario's minimum wage increase and major errors in last year's budget. Solebo said the error caused the USC to under collect by roughly $140,000, which now needs to be made up.
Erin McCauley, USC secretary treasurer, said the error was found several weeks ago, and council deliberated on how to deal with that error for the past week.
"A large part of the increase is due to evening out that error from the previous year," McCauley said. "Also, we did see the increase in the minimum wage, and it should be expected that every year the budget should increase due to inflation."
Social science councillor Jared Foreman asked Solebo to elaborate on the error. 
Solebo said something was missed, resulting in the missing $140,000 and the USC has cut its operational budget as much as possible to compensate. 
. @tobisolebo on budget error: "we found some things and some places that were double counted." This amounted to $140K uncollected, that students will pay for in next year's student fees.

— Martin Allen (@_martinallen) February 1, 2018
The exact nature of the error is currently unknown. The USC did not immediately respond to a request for comment.
Western University currently has the third-highest student ancillary fees in the province. 
More Gazette coverage to come regarding the student fee increase.
New, public student programs officer election ballot
The USC also passed a motion to make future SPO election ballots public by request.
Vice-president Landon Tulk brought the initial motion forward, requesting that each councillor's ballot becomes public after the new SPO is elected.
The motion was divisive. Some councillors argued a public ballot could change the way councillors vote while others argued that councillors are voting on behalf of students and, therefore, the ballots should be made public for transparency reasons.
Music pres. Tang: "my opinion clearly doesn't matter, and my vote doesn't either"; says this is part of a larger problem of ignoring smaller faculties. Tang has been arguing that those with little funding, small faculties, most reliant on SPO help.

— Martin Allen (@_martinallen) February 1, 2018
Eventually, council passed the amendment and the motion to make the SPO election ballots public, by request, 10 days after the election.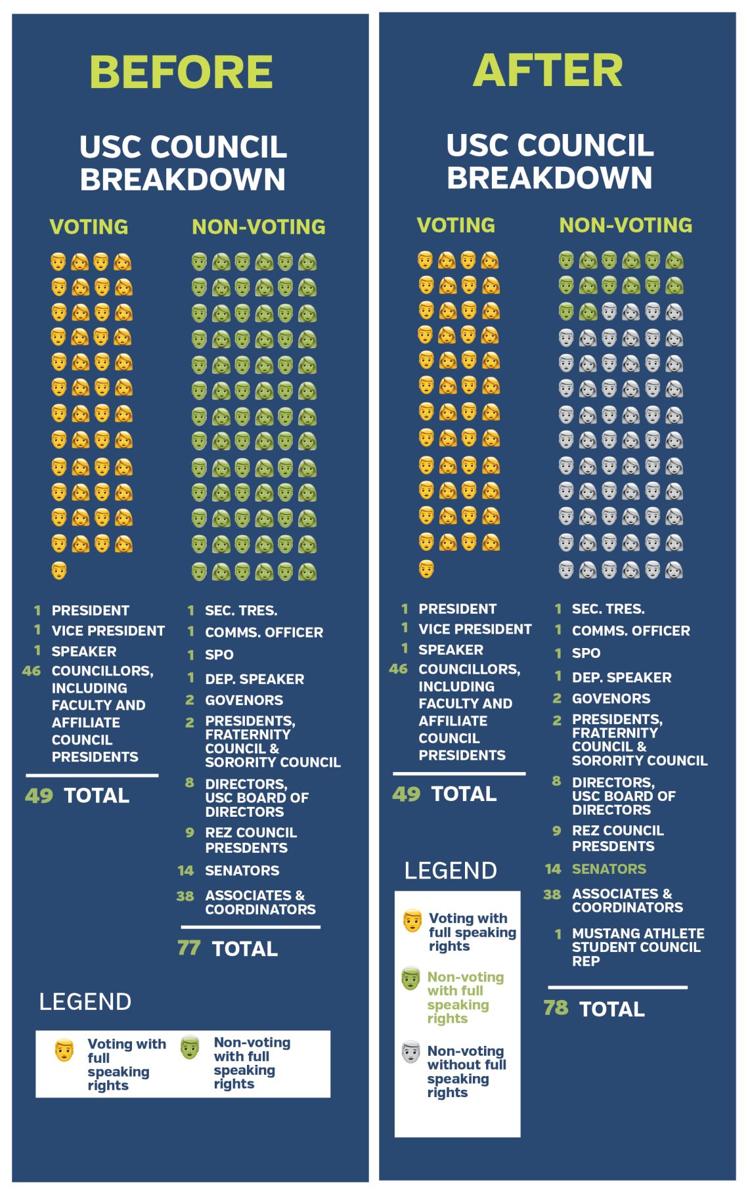 Council composition change, restriction of speaking rights
Council also passed several motions that changed the USC's composition and member speaking rights.
One motion stripped 63 non-voting, resource members of speaking rights during council's debate periods. Previously, all resource members, such as student board of governors representatives, could attend council meetings and speak at all times, but not vote.
USC social science councillor Keaton Olsen said the decision to create this motion stemmed from a desire to keep the members with full speaking rights proportional to the student body at large. 
"[Resource members] can throw off the proportional representation, skew debate and open up the debate as well so it lasts longer," Olsen said. 
Student senator-at-large Maailah Blackwood spoke against the motion, noting that senators are student-elected as well. She argued that senators offer USC councillors relevant information that helps inform their decision-making during debate.
The motion eventually passed with an amendment that acknowledged student senators will retain full speaking rights while every other resource member's will now be limited.
Council also passed two motions, introducing one new resource member and proposing another. There will now be a Mustang Athlete Student Council representative and council will also discuss adding a new international student representative.
Editor's note: Maailah Blackwood was a Gazette photo editor in 2016/17.
Correction (Feb. 1, 2018 at 1:00 p.m.): This article has been updated to reflect discussions about a new international student representative will move forward at the committee level. It was also updated to correctly reflect the CHRW student fee and it's impact on the total student fee next year.