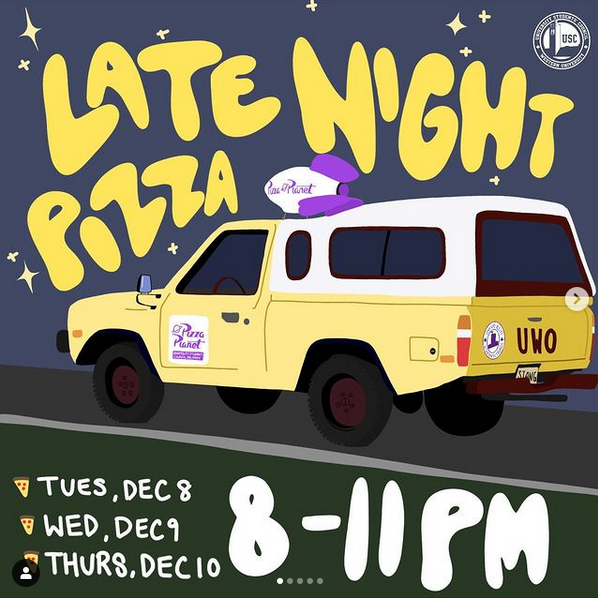 The USC is bringing late-night pizza and wellness kits to student neighbourhoods this year, a pandemic replacement for their traditional late-night breakfast exam destress event.
The event — running Dec. 8 to 10 — is meant to support students' mental health at the end of the semester. Alongside delivery of free cheese pizza, students will receive wellness kits which will include stress balls, tea, snacks and mental health resources.
Matt Reesor, University Students' Council president, said he hopes to bring "the student experience to students' front doors."
"In past years we've done the late night-breakfast during exam season and we really wanted to keep that tradition alive, because it was something that all of us loved and wanted to figure out some way to do that this semester," said Reesor. "Pizza seemed like a great way to go in terms of following health and safety guidelines."
According to Reesor, the USC will deliver food to the front doors of students in three main student neighbourhoods from 8 p.m. until 10 p.m. each night for the next three days.
They're planning to start in old North on Tuesday, passing Broughdale Avenue, then Huron Street and ending at the entrance to Gibbons Park near the end of Talbot Street.
The pizza truck will go downtown Wednesday night, visiting St. George Street, Victoria Park and Delilah's.
Thursday, they will head to the south side of campus, starting with the Red Bricks parking lot on Western Road, making their way to Sarnia Road and then wrapping up at West Lions Park on Wharncliffe Road.
A detailed map for each neighbourhood can be found on the USC's Instagram and will be updated with stories to give a rough idea of when students can expect the truck.
"We hope to see students come out and take advantage of this opportunity," said Reesor. "Students are incredibly stressed during this time so we want to do as much as we can." 
The event takes a different approach than their previous Barbeque on Broughdale event, which was cancelled last-minute after a coronavirus outbreak in Saugeen-Maitland Hall.
The USC hopes delivering food to students outside of their homes will prevent "community gathering" and better comply with new health and safety guidelines.
"We are coordinating to ensure we are following COVID-19 guidelines,'' said Reesor. "We have pivoted our approach to delivery to make it no-touch, no-gathering and to be as safe and clear as we possibly can."
The Spoke and Wave are preparing the pizzas — the staff have been working throughout the entire semester and are "extremely well versed in [COVID-19] precautions."   
 "Anyone handing out those pizzas will be wearing masks and sanitizing any high touch surfaces, wearing gloves, keeping as separate as possible," said Reesor, confirming the deliveries will be "no-contact."
"Hopefully it brings a little bit of joy and a break for everyone who's grinding through exams for the end of the semester," said Reesor. "We want students to know the USC is always there for them, even from a distance."
No RSVP or sign-up is needed to participate, students can simply listen for the Christmas music coming from the delivery truck and pop outside their doors.