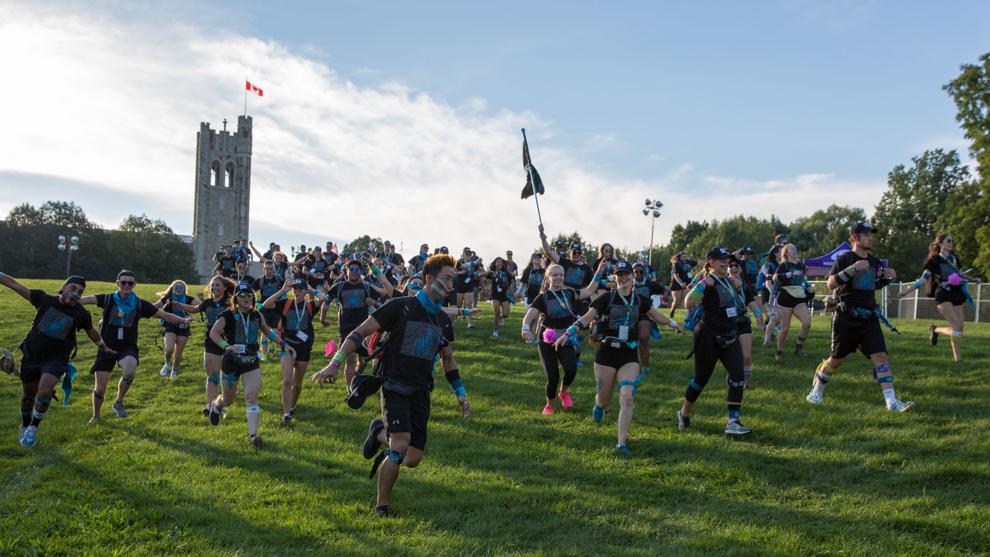 Changes to next fall's orientation program were met with confusion and complaints at Wednesday's University Students' Council meeting, as student leaders raised concerns over  soph accountability, fatigue and student support.
Earlier this week, Western University announced their decision to cancel live-in residence sophs for next fall, an announcement that coincided with USC's plans to trim faculty soph contracts to just one week.
Despite faculty sophs working one week contracts, USC vice-president of student programs Hannah Tobias-Murray, said they will still be held accountable to the existing soph behaviour management policy all year.
 "In terms of behaviour that contradicts the values and beliefs of the orientation program … [the current mechanisms] won't change," said Tobias-Murray at the council meeting. The VP student programming oversees the USC's role in the orientation program and all faculty soph positions.
The soph behaviour management policy investigates complaints brought forward against sophs. The highest sanction under the policy is de-sophing or removal from the orientation program.
The USC did not clarify how they would be able to hold faculty sophs to the policy after the end of their Orientation Week contracts. It is also unclear what policy sanctions would look like for students no longer bound by soph contracts.
Student Support Services will take over faculty sophs' academic mentorship role, and faculty sophs will now serve primarily as social support during orientation.
During the year, Student Experience will run the Academic Success Program, employing academic mentors to provide direct insight and support to students for first year courses. These paid positions will be open to upper-year students.
"Sophs are heavily encouraged if they do want to provide more in-depth support … [to] engage with that program as well," said Matt Reesor, USC president.
On faculty orientation day, faculty sophs will engage students with ice breakers and help them feel welcome in the morning. "Professionals" from students' faculties will then provide more standardized programming during the latter half of the day.
Although sophs will not be responsible to mentor frosh beyond orientation, they will be allowed to keep in contact with them.
"A lot of upper year students take on a mentorship role … we don't intend on telling sophs that they can't take on [that role]," said Tobias-Murray.
Faculty sophs may also hold events in coordination with their faculty council, but without funding from the USC.
According to Tobias-Murray, the USC made the decision to reduce faculty soph contracts to relieve burn out among student leaders and to allow the USC to keep a closer eye on the sophs they oversee.
"There needed to be more direct supervision of orientation student leaders with the people who employ them," said Tobias-Murray. "So that they have more direct support, ownership, and frankly responsibility and accountability to make sure those student leaders are supported."
Tobias-Murray hopes that offloading the responsibilities of faculty sophs will help clarify the roles and lighten the workloads of orientation staff as well as sophs.
"We experience a problem in the planning of orientation week where our staff … [and] our student leaders are overworked," said Tobias-Murray. "What concerns me is that the well-being of our students needs to be as important as the week itself that we produce."
Some USC councillors were concerned that relieving faculty sophs of their later duties may force residence sophs to also provide academic support.
"The burden is going to go to the [residence] sophs to help their frosh because they still have the commitment," said Ethan Chen, Social Science student councillor.
Tobias-Murray explained residence sophs will receive mental health support, even as they no longer live in residence.
Councillors were not involved in the decision to cut down faculty contracts, as the executives made the change without bringing the matter to council for debate or vote.
Other students were concerned that a decision to suspend live-in residence sophs will deprive first years of the support they need.
"Sophs are the first friend many first-years have on campus. We become confidants, mentors, and sometimes lifelong friends," said Zachary Train, a former faculty soph who does not hold a position on council.
The USC has no authority over the residence soph program as Western runs it directly.
An anonymous Instagram page, Quarterback, released a petition Tuesday, calling on Western to revoke the decision and allow sophs to live in residence with their frosh in the fall.
"When a first year is puking, a soph is there to hold back their hair, calm them down and keep them safe," the petition reads. "This decision indivertibly will kill the residence sophing program at Western University in the long run."
The petition received over 1,800 signatures in the four days since it launched.
According to Tobias-Murray live-in residence sophs are set to return for fall 2022 as Western has promised them next fall's change is a "one-time deal."
Changes to the faculty soph program are expected to continue going past next fall.