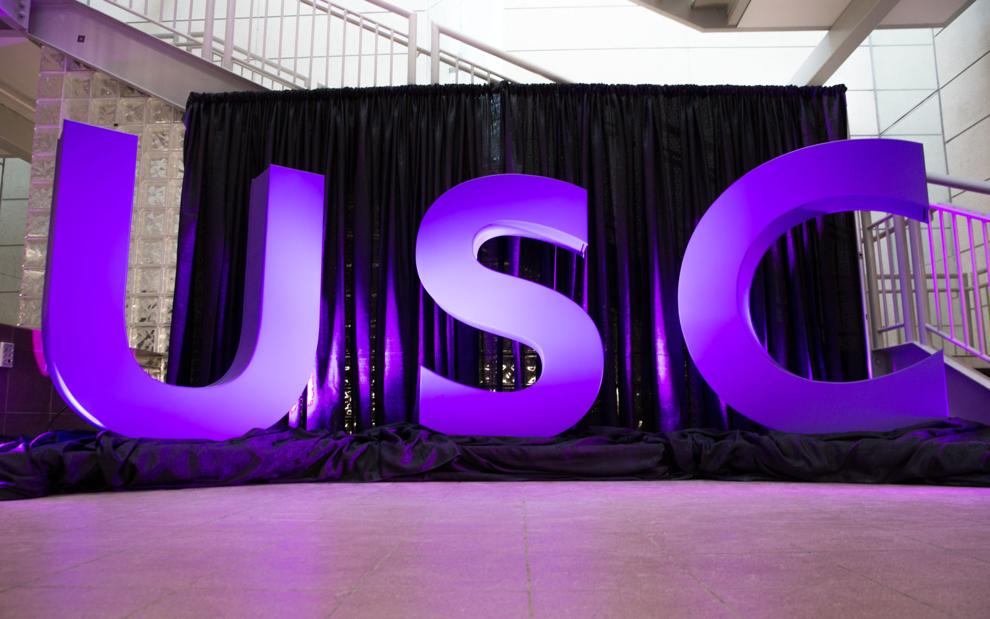 The University Students' Council voted against opposing Western's mask and booster mandates. But the evening's final motion, calling for more transparency and communication from Western about their policies, passed unanimously.
Peter Kermack, a Social Science councillor initially proposed the motion to oppose Western's mask mandate in last week's council meeting, citing backlash from students. Chris Mohan, an Ivey Business School councillor, introduced the motion to oppose Western's booster mandate last night, saying his council's survey of Ivey students found 55 per cent were opposed to it. Both motions were intensely debated and failed within a five per cent margin.
Despite the votes, USC president Ethan Gardner clarified the USC is still "undecided" on its position to either be neutral or support the mandates. 
"It's incredibly difficult to have one very strong stance that's going to support all the student body," said Gardner. "We are not going against the mandates, but because again, there's no one stance that's going to represent everybody unless a councillor next month brings forth a new motion."
Mohan, Gardner and other councillors questioned how the university would respond to Kermack's motion to oppose masks mandates and the timeline for advocacy on the issue. The motion failed, only receiving 36 per cent of councillors in favour and 53 per cent in opposition — the remaining five per cent abstained.
Following Kermack's defeated motion, Mohan proposed the USC oppose Western's booster dose mandate, citing survey results from Ivey students. 
Mohan said a survey with over 500 respondents — which he said was approximately one third of Ivey HBA students — showed 55 per cent were in opposition of the booster dose mandate, with 25 per cent in favour and 20 per cent with no opinion. The survey was only accessible to those with Ivey email addresses. 
"There are two clear concerns that we've heard from students, the primary of which is that no other university has pursued this policy," said Mohan. "The second primary concern is around the continued necessity for the mandate." 
Mohan said many students he's heard from acknowledge the need for the first two vaccine doses when the alpha, beta and delta coronavirus variants were the dominant strains as the vaccine "prevented not only severe effects from the virus, but also transmission."
But Mohan believes the third dose's effectiveness in preventing transmission "no longer warrants a community-level mandate." He cited medical experts and infectious disease specialists who he said have also questioned the booster's effectiveness, including Dr. Martha Fulford, who spoke at the student-led protest demanding Western roll back their mandates at Western on Saturday.
Health Canada recommends everyone who is eligible receive two vaccinations and at least one booster dose against coronavirus, and continue to wear masks in indoor public settings.
Michael S. Silverman, the Infectious Diseases chair at Western's Schulich School of Medicine and Dentistry, said in the USC's last meeting that the science shows three doses are significantly more effective than two doses for individual protection. 
"The [Center for Disease Control] no longer considers two doses as being fully vaccinated. One has to have had a booster to be considered fully vaccinated," said Silverman.
Mohan's motion also failed shortly after, with 53 per cent of councillors voting in opposition. The speaker did not publicly announce votes in favour and abstentions. 
Arts and Humanities president Sydney Turner proposed Wednesday's final motion, advocating for Western to be more clear with transparency and communication when they decide on policies that affect students, such as the vaccine and booster mandates. 
"We have had a difficult time coming to a consensus on our part … but one consensus that we have been able to draw is that students feel ill-informed and that the Western administration has not been transparent or clear enough as to why these policies have been implemented and … the necessity of them," said Turner. 
"I think the USC has [an] obligation to provide that transparency when Western administration fails to do so," she added.
Turner said there has been consistent feedback from many of her constituencies that the university's announcement was "late and without warning." Western announced in an email to students on July 21 that the university will provide an update on the policy during "the week of Aug. 8." The update was not announced until Aug. 22. The motion passed unanimously and included six action items.
The USC will release a statement "outlining why the booster vaccine is necessary, given the direction of health experts." The council will also release a separate statement "condemning" Western's lack of transparency and consideration in their decision.
Gardner said the USC has already begun meeting to discuss the statements and plans to release them within the week.
The USC will advocate for "clearer and more transparent communication" from Western on their mandates and for student leaders to be consulted on future university policies that affect students. 
The USC will encourage Western to provide clear parameters and make sufficient accommodations for students with exemptions.
The council will also release a statement encouraging the university to extend the booster dose grace period to 30 days from the day the policy was released — Aug. 22. This would give students in residence until Sept. 21 to get a booster dose, who currently need to be vaccinated before move-ins, which start Saturday.
Gardner said the statement to extend the grace period is "the higher priority because it's something that needs to be happening soon." He believes that the motion is important so they can book an appointment at the on-campus clinic and said having unvaccinated students in residence "is not the biggest risk." 
Gardner and the USC are also working with Western to advocate for international students who have received COVID-19 vaccines not recognized by the Canadian government.