Campus Police are investigating suspicious clipboards being placed in classrooms promising a "management opportunity" and requesting personal information.
The sheets purport to be from a Canadian company with 35 years of experience, but contain no other identifying information. They offer $15,000 to $20,000 for full-time summer employment. Each clipboard has grey sheets of paper with a chart asking for first and last names, cellphone numbers, faculties and cities of residence for summer of 2019.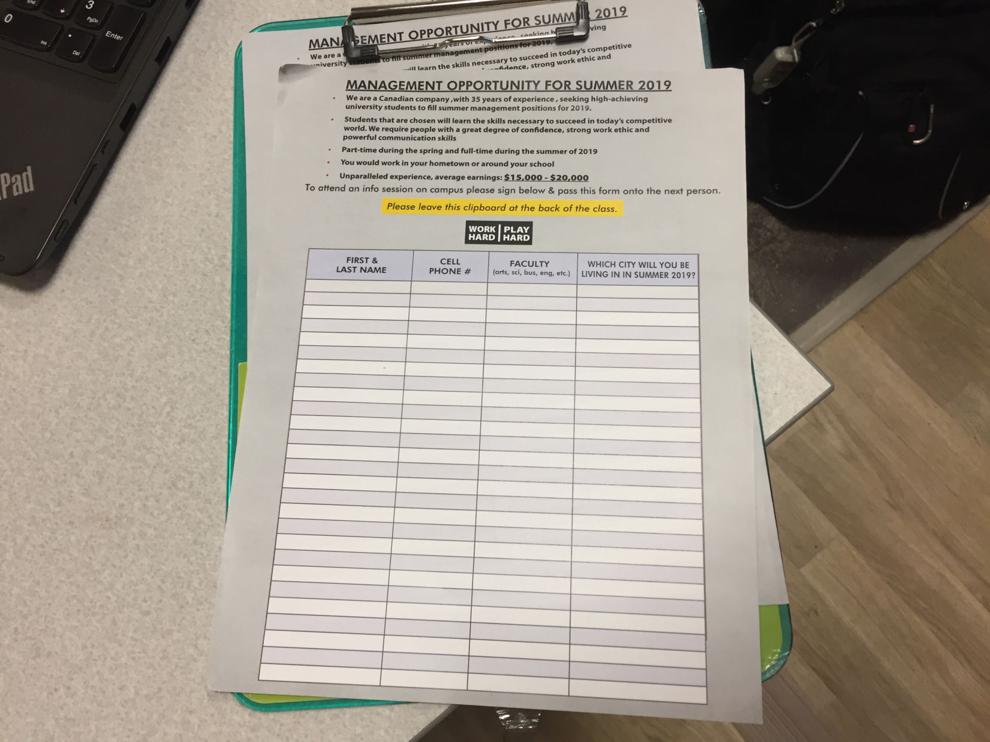 Constable J. C. Aubin of Campus Police said they were given descriptions of an individual but have not identified any suspects; they also have no information regarding an intent or any other leads. Aubin said they will continue investigating.
Over 10 professors and students said they saw the clipboards, most in the Social Science Centre, but others reported seeing them in the Natural Sciences Building, including in economics, geography, sociology, health sciences, political science, computer science, mathematics and engineering classes. The earliest alleged sightings was on Sept. 6.
All who remembered seeing a person carrying the clipboard said it was a young man. They gave varying descriptions about his physical appearance.
The chairs of multiple social science departments said the dean of social science sent a mass-email to notify faculty.
A professor warned their economics students via an OWL announcement about an alleged incident.
"A young man discreetly entered the classroom and placed a clipboard on a desk, quietly asking students to fill it out," the announcement reads. "The same man who entered the classroom suddenly appeared, snatched the clipboard and took off out the back door."
Liam Webber, a fourth-year psychology student, said he saw a young man pass one of the clipboards around his geography class.
Webber said the class' professor noticed the clipboards, and said no legitimate business would ask for information without identifying themselves, all while the young man was still in the room.
As of this evening, there were two clipboards in Social Science room 2050, a large second-floor lecture hall. The clipboards were in the room throughout at least two lectures.