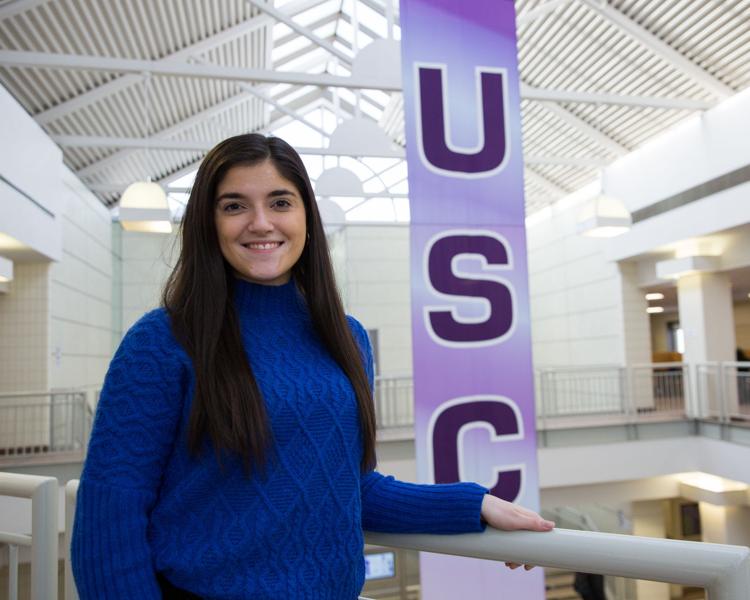 Victoria Barroso has been on council since she began university.
The fourth-year biology student and current Science faculty president announced her campaign for University Students' Council president this week.
Barroso's involvement with her high school's students' council pushed her to pursue a spot on her faculty's council as soon as she arrived on Western University's campus.
And when a friend encouraged her to run for science councillor in her second year, her eyes were opened to the wide world of student government. She hasn't looked back since.
Her years moving through the ranks as a USC councillor for two years and then Science faculty president — along with years of leadership experience as a residence advisor and leadership director with council's Early Outreach program — have prepared her to take the helm.
Barroso said one of her key goals is to increase council's visibility around Western, especially among other student organizations and clubs. This means both empowering clubs to become more involved with council and increasing student feedback.
"I feel like the USC reaches out to students all the time but I want to change that question and ask how we can bring you into the USC," she said.
Student feedback is especially important when Barroso looks ahead to updating the USC's strategic plan next academic year; a plan that allows her to look several years into council's future and priorities.
And along with student feedback, it's important to Barroso that students become more familiar with the USC provides.
"Every day students are interacting with the USC whether they know it or not, whether it's a service or directly with the USC or a club," Barroso said. "I think the USC has a great platform to do that, I think we just need more student input."
Barroso's commitment to inclusivity and accessibility — one of her seven platform points — also focuses on opening up the USC to new voices, in order to better represent its constituents.
"One of the reasons that I'm running is that there's been no women running the entire time I've been here," she added about her platform pillar on inclusion. "I think students need to see themselves in the organization to believe in it."
Another of Barroso's platform pillars is to focus on the environment and sustainability, something she promises she'll push the school to focus on as well, in order to remain "a more forward thinking and leading institution in Canada."