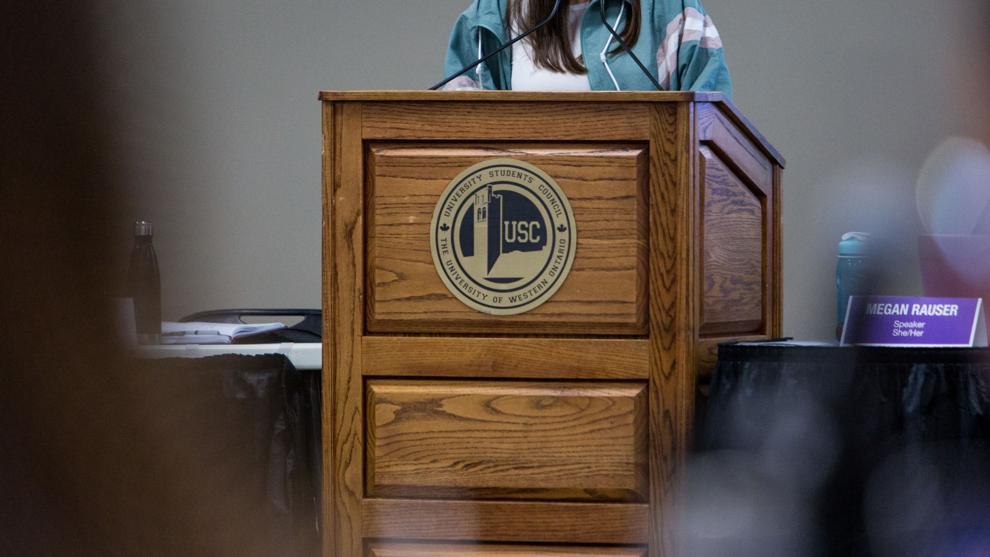 This year's remote State of the USC address recapped a year marked by distance and last-minute changes as the executive weathered Western's first-ever year of online learning.
In typical 2020 fashion, the University Students' Council held their penultimate year-in-review event over Zoom on Jan. 20. Each executive gave a brief report on the accomplishments throughout their terms — which are coming to a close soon as next year's president Zamir Fakirani begins his transition into power — with a focus on their response to the coronavirus pandemic.
Vice-president student support and programming Hannah Tobias-Murray started off the night, talking about many of the challenges the USC faced planning student events — especially running Western University's first-ever mixed-model Orientation Week.
"Our year started off with a blended, in-person and virtual OWeek, and as far as I know, the first and only in the country."
The first presentation comes from VP Student Support and Programming, who talks about the adjustments needed ti make campus accessible during the pandemic

— Kirat Walia (@KiratWalia2) January 21, 2021
Tobias-Murray complimented her orientation staff team, along with the USC events and production department, for creating new and interesting events — which even included a drag show. She also discussed new anti-racism training initiatives for orientation leaders, as the USC and orientation staff brought in speakers such as Eternity Martis for soph training.
Vice-president communications and public affairs, Camellia Wong, discussed her drive to increase engagement with students online, leading to a 40 per cent increase in the USC's social media engagement. Wong attributed her success to the USC's new student engagement committee, a group designed to increase engagement through events such as socially-distanced neighbourhood pop-ups.
"For us, student engagement has been about creating as my touchpoints with students as possible, through as many people, places and spaces as possible," said Wong.
The committee also used social media to push student advocacy.
Through several consultations with students, key issues- such as affordability and equity- were highlighted — pushing the USC to develop the National Debt-Free Degree campaign to shed light on students' calls for financial aid and assistance. The campaign was able to organize nine student unions and 250,000 students across the country.
USC president Matt Reesor spoke after Wong and made note of the Western and USC community's resilience throughout the pandemic.
"If I had to create a Spotify wrapped of my vocabulary in the past year, 'pivot' was without a doubt number one. Pivot, pivot, pivot. But in all seriousness, that one word holds one of the proudest achievements I have of my team, and one thing I am so proud of each and every Western, Huron, Brescia, and Kings' student for. This year has been one for the books, and flipped every plan we had on its head in the span of a week."
Vice-president governance and finance Marc St. Pierre spoke about the economic uncertainty that came with the pandemic and the need for the USC and the university to be flexible with their budgets and other financial decisions.
"As we continue to look forward to the years ahead, the USC may continue to take many forms. But one thing will remain, and that is our focus on the students of Western, Huron, Brescia, and Kings'. This is why we have decided, building for our future, with the upcoming budget, not only a guiding financial document for the organization for the year to come, but also a strategic pillar to help set the foundation of the USC for the future that lies ahead."
This sentiment was especially true with the budget, which St. Pierre believes is a strategic pillar for the future of the USC.
Mackenzy Metcalfe attended numerous virtual visits with other Canadian universities and levels of government as part of the Undergraduates of Canadian Research Intensive Universities, and as vice-president external affairs in the USC.
Metcalfe also met with members of parliament and working with USC staff to schedule a virtual lobby week with partner student unions, where they discussed initiatives like creating standardized training for universities as well as sensitivity training for student leaders and faculties.
"I can say though the topics we advocate on have not changed, the manner in which we perform that advocacy and the urgency of our concerns have changed dramatically."
Provincially, with the Ontario Undergraduate Student Alliance, Metcalfe prioritized racial equity, lowering the cost of education, improving campus mental health resources and heightening the quality of online education.
This is the first year where the vice-presidential role was split in two, creating two advocacy specific roles. This council restructuring also moved the new roles out of student elections, leaving the positions to be filled by a council vote.
Victoria Barroso, vice-president university affairs, discussed her work to reimagine the university's budget submission, refocused on academics and restructured their approach to focus on equity based advocacy.
She especially highlighted her work with student senators to find an alternative to Proctortrack, as well as advocating to improve self-reported absences and a longer winter break.
Through her work with Ethnocultural Support Services, Barosso was able to include the need for an associate vice-president equity, diversity, and inclusion in the university affairs portfolio, who would be responsible for mandatory anti-racism training for faculty and staff, and an accessible anti-racism reporting procedure that holds perpetrators of racial insensitivity accountable.
Reesor closed the event, taking the virtual stage to thank the audience for listening to the executives' speeches and spoke to the work that still lies ahead.
"We're really excited we got to share this evening with you and we really look forward to the remainder of the year working with you all, whether that be students or community partners or administration, we are really looking forward to the next four months."