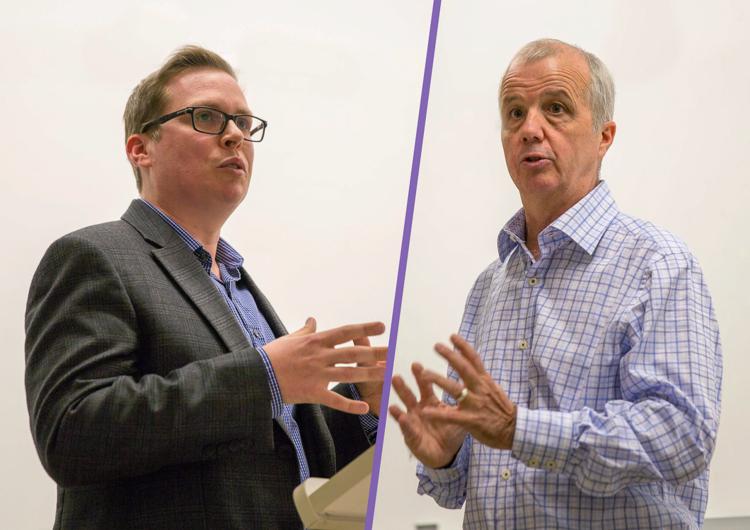 The Science Students' Council and the Social Science Students' Council organized a debate between London's Ward 6 councillor candidates Mike Bloxam and Phil Squire on Thursday night.
The debate occurred in the University Community Centre. Western University is located in the Ward 6 region, and with London nearing its Oct. 22 election, Frank Ye, SSC president, and Jared Foreman, SSSC president, hoped to engage students with issues that affect their university lives.
The debate prioritized student safety, affordable housing, job opportunities, Bus Rapid Transit and FOCO. Questions were asked anonymously by students through a Google Forms link.
Squire, current Ward 6 councillor, said he intends to maintain an "equal relation" with students to keep them involved in city politics. 
"It is hugely important to have them involved," Squire said. "There are issues that are not going to come to the attention [of the councillor] unless there is a strong communication with students. I intend to work with the USC and the university to maintain that connection."
BRT is a pressing issue for the city and has been a popular topic of debate during the municipal election. Bloxam, who supports updating London transit with high frequency buses, said it will be reliable for students with its time-of-arrival precision. Squire agreed that the new transit plan is better in time-reliability but won't be faster than the current one. He also stated that there is no official route-agreement within the university and will be difficult to manage one with high-traffic streets such as Wharncliffe Road and Western Road.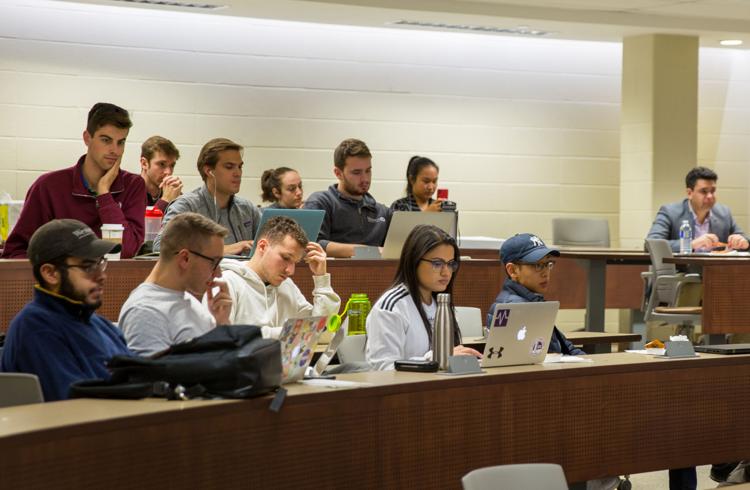 When asked about his plan to ensure affordable housing for students, Squire said that, unless he gets private developers involved, it will be difficult to solve this issue.
Bloxam said he intends to work with city council to build affordable housing units near campus. He also said that students won't have to restrict their housing options to areas near campus because BRT will get them to university faster from other locations.
"This [BRT] will allow students to disperse themselves more around the city, and the campus housing rent will hopefully drop a little by then," Bloxam said.
Moreover, both candidates agreed that job opportunities for recent graduates can be created with cooperation from the city by attracting businesses to settle in London, thus strengthening the working relationship between London and students.
On student safety, Squire expressed his worry concerning home-invasions and assaults, and he emphasized the importance of reporting these to the London Police Service so they can allocate forces to affected areas. Bloxam agreed and encouraged students to use the Safe City London app to report unsafe situations in any location.
Regarding FOCO, Bloxam stated that he'll ensure this is a properly organized event by working with the USC, Western and the city for student safety. Squire said moving the HOCO date without student consultation was a mistake. He said that "we have to manage it better instead of preventing it."
Ye believes bringing municipal politics onto campus through the debate provided students a beneficial opportunity.
"As presidents, we felt it was our duty for students to engage with important topics that affect them," he said. "So Jared and I partnered to get [Bloxam and Squire] involved in this election."
There have now been at least three student-driven events focused on the municipal election: Pints & Politics, the mayoral debate at King's University College and yesterday's Ward 6 debate.