'We need OSAP': Ford's announcement cuts through campus
Changes amid sweeping new educational policy has the campus and local communities fighting back.
Sitting back has never evoked change. That's why about 100 Western students protested on Friday at Concrete Beach to show their concerns about the Progressive Conservative government's new policy changes, which may have huge impacts on Ontario's education system.
Premier Doug Ford's new tuition policy changes include eliminating free tuition for low-income students, reducing tuition fees by 10 per cent for the 2019 academic year, eliminating the six-month grace period to repay loans and implementing mandatory and optional student fees, among a slew of other changes. This means students relying on the Ontario Student Assistance Program must worry about paying off their student debts even before they graduate, whereas before, students had six months to repay their loans without accruing interest.
But it's not just students who are affected: staff, faculty and university education as a whole may suffer from this change.
Not just students
According to the Toronto Star, a 10 per cent tuition cut would take about $360 million away from universities and $80 million from colleges.
With a 10 per cent tuition decrease, universities and colleges may see larger classes, cancelled courses, more contract faculty and precarious work as administrations struggle to deal with the impacts of revenue cuts.
"[Students] are also graduating immediately having to pay interest, and the Doug Ford changes will make that debt even greater," said Peggy Sattler, MPP of London West, at the student protest. 
Furthermore, the government also included a stipulation that allows students to opt-out of certain ancillary fees that are deemed "non-essential."
The Ontario Undergraduate Student Alliance said that they understand the government's desire to save students money by providing them with an option to opt-out of non-tuition ancillary fees. However, OUSA strongly emphasizes that this "provision will not only reduce the levels of essential student services and make support services more expensive for individual students," but will also shift the need for such services onto the provincial government.
At Western, this could potentially impact the University Students' Council's ability to provide services that support students. Even if one assumes services relating to mental health, safety and mobility are deemed essential and, therefore, not be negatively affected, other services — such as bus pass distribution, the USC health and dental plan, the clubs system and employment and experiential learning opportunities for students — may be.
Feeling heavily impacted by this, two Western University students gathered others angered by the changes — via social media and word of mouth — and took to the streets with banners, signs and Western Marching Band members to have their voices heard.
Anti-Ford protest, streets
Bridget Collrin, a fourth-year international relations student, and Lena Gahwi, a fourth-year international relations and women's studies student, boldly stated their opposition to Ford's new policies.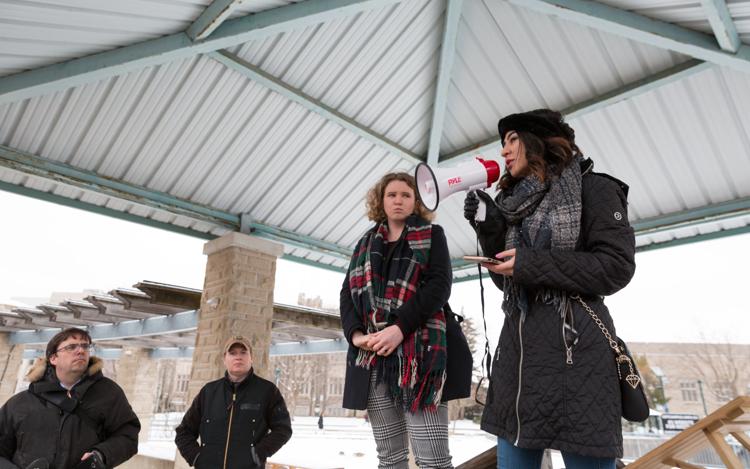 "The government should be empowering us to lead healthy lifestyles, and not making it more difficult," said Collrin during the speech before the march across campus. "We will not stand quietly while a disengaged government pretends to be for the people. We are here and we are angry."
Two of London's MPPs also marched in solidarity with students. MPP Terence Kernaghan of London North Centre and Sattler, both Western alum, did not shy away from the fight for students.
"Doug Ford is trying to muzzle students. We will not take it. This rally just proves that Doug Ford is going to have a lot of opposition on his hands," said Kernaghan to the crowd. "Cutting OSAP grants and eliminating the grace period is a deliberate attack on students."
An email from provost Andrew Hrymak to Western's faculty stated that Western has "a robust planning process with mechanisms at our disposal to prioritize expenditures thoughtfully and prudently." 
The email continued, "While yesterday's news is challenging, we have many means within our control to continue shaping how we deliver innovative and cost-effective programs and services that support our collective goal to achieve excellence in teaching, research and service."
Post-graduation
Ford's new policy means students who graduate in 2020 will no longer have the opportunity to stabilize themselves financially within a six-month period prior to paying their student debts. This could put pressure on students as some may need to work precarious jobs in fields they are not necessarily passionate about in order to start paying their student debts. 
"Doug Ford thinks that people should be searching for a job while they're studying for their final exams," said Kernaghan. "Graduating from university should be a hopeful time, an optimistic time. It shouldn't be a time of anxiety. You shouldn't be worrying about paying off your student debt before you've even had a chance to attend your convocation ceremony."
Even though some students might find jobs immediately after graduation, it may be harder for them to find a better job or move up the "professional" ladder with the preoccupation of loan repayment.
Mitch Pratt, USC president, said in a statement, "The USC and this executive, are committed to ensuring that the daily differences we strive to make in your life, through our various services, do not disappear. We're here to listen as we gather more information and find answers on your behalf."
Around campus
Governments raise tuition so university funding comes from individuals, not the government, says Bob Andersen, professor of sociology and dean of social science at Western. Some students from low-income families afford university through grants, but as of now, with grant cuts, many students may not be able to afford post-secondary education. Andersen explains that, as a result, student tuition must be paid with less support, student debt becomes larger and, therefore, students from low-income families may be less inclined to pursue post-secondary education.
It would seem that Ford's changes make it even harder for students from low-income families to get a post-secondary education. With their futures uncertain, student action seemed inevitable.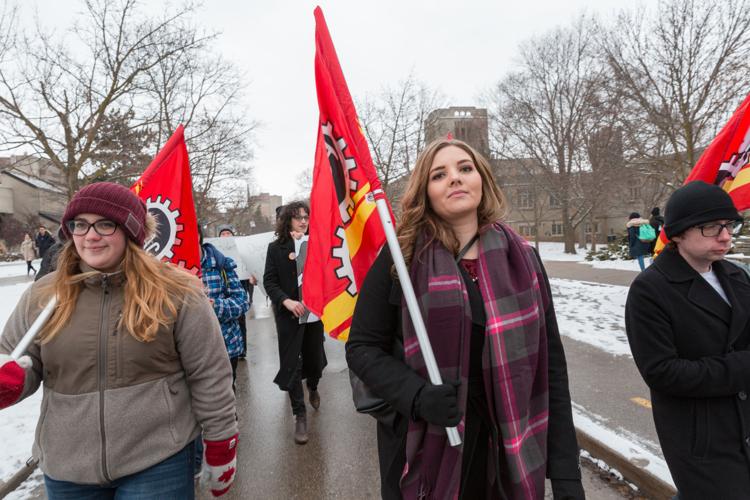 "A decrease in tuition benefits all students," said Danny Chang, OUSA president and USC vice-president, in a statement. "However, we are concerned about the negative impacts that the announced changes to OSAP will have for students and families, particularly around debt. We look forward to sitting down with the government to discuss student concerns over what this means for the quality and affordability of our education."
A 10 per cent tuition cut means cheaper education, but it also means Ontario universities and colleges will have to cut their operating budgets. That could mean anything from cutting some of the 200 clubs that exist on campus to cutting staff, faculty, courses and university services.
"Universities and colleges will have less money to spend. They're going to have to be more efficient. They're going to have to find alternatives for revenue," says Andersen.
As universities and colleges are now responsible for deciding mandatory fees from students, which fund campus organizations, this may mean students can opt out of fees that are meant to hold school administration and the provincial government to account.
"[Ford] wants free speech on campus, but he's jeopardizing the very funding that allows things like the Gazette to function," said Gahwi. "If you don't have student writers and student thinkers and have their voices out there, then where's the free speech at all? Without transparency, then we won't be able to know what's going on."
Further, these changes affect services that improve the overall student experience for members of many campus groups.
"We're here because we're directly impacted by the changes through the ancillary fees and how they are being able to be opted out of," says Quinn Fleming, the director of the Western Marching Band and second-year teachers college student. "Cutting education never comes to any benefit. This is not where we should be going."
Through unity and demonstration, these students are determined to keep the Ford government accountable for their actions.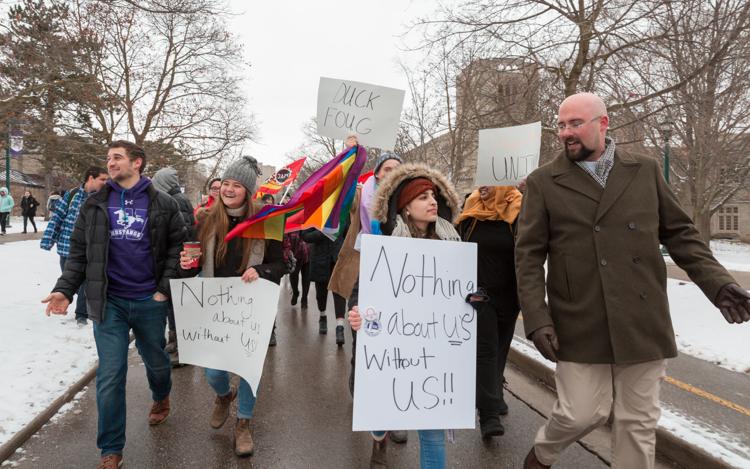 Students like Collrin and Gahwi are adamant that conversations like these should continue, and they want to focus on the fact that they need to demonstrate rather than sit back. Gahwi believes the things that Doug Ford does in a month will take years, maybe even decades, to undo, so she stresses students need to have their voices heard by keeping the conversation going.
"But we have to do more," says Gahwi. "We have to break down the doors of every MPP; we have to fill their inboxes with emails; we have to show them what we are made of. Pick up that phone and call your MPP, support candidates that will fight for our futures, but most importantly, do not sit on the sidelines."