Seventeen days after students' course content disappeared from OWL, Western's administration says the changes are to make OWL maintenance easier and to simplify students' access to current course materials.
In an Aug. 25 internal memo, Janice Deakin, Western University's provost and vice-president (academic), said the university is reverting back to its initial practice of removing content from OWL — Western's online learning management system — shortly after courses are completed. She explained that OWL was never intended to be used as an archive for course materials, but is to only be used as a system for current classes.
Deakin also clarified that the removal of OWL content was not due to the court outcome of Access Copyright versus York University, although there does appear to be a connection between the OWL changes and copyright laws. The memo stated that in the past, Western's practice of removing all course material from its online learning management system after course completion served to address matters related to copyright and teaching considerations. Further, last week, a Western administrator stated the changes were related to changes in Canadian content access rules and copyright. At the time this article was published, Western's administration has not responded to the Gazette's requests for comment and further clarification.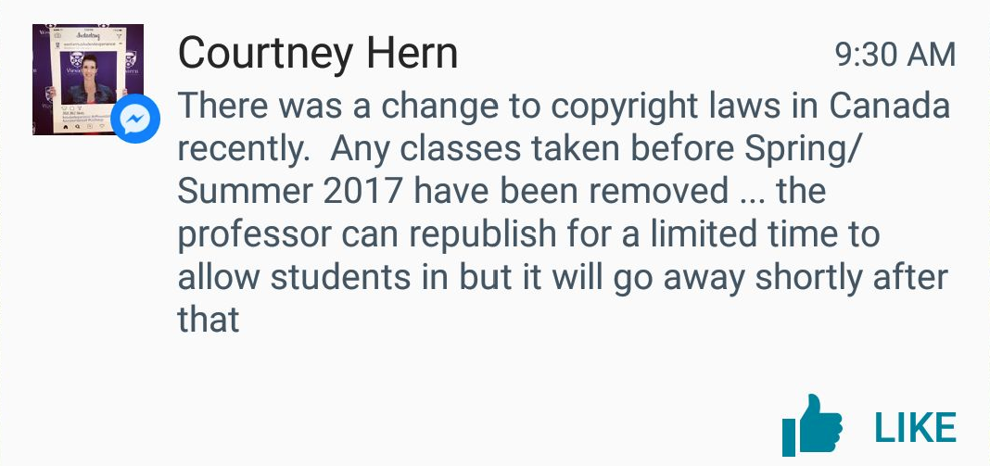 Although the memo doesn't explain why students weren't notified before OWL content was removed, she stated Western regrets that the automated process was not preceded with any prior communication.
"We recognize this has had negative implications for some members of our community — particularly students who have become accustomed to relying on OWL as an archive for old course materials — and we apologize for the concerns this has raised," Deakin said in the memo.
Without prior warning, many students were left scrambling over the last few weeks to search for journal articles and other resources to aid in their studies, graduate applications and exams. 
To address students' concerns, Deakin said that some course materials may still be available upon request: "As a first step in addressing these concerns, Western Libraries staff will be available to assist students in accessing some course reading materials formerly archived on OWL; this can be done by contacting wlfeedack@uwo.ca."
The memo is attached to this article.
The Gazette will continue to follow this story and publish updates and comments as they become available.