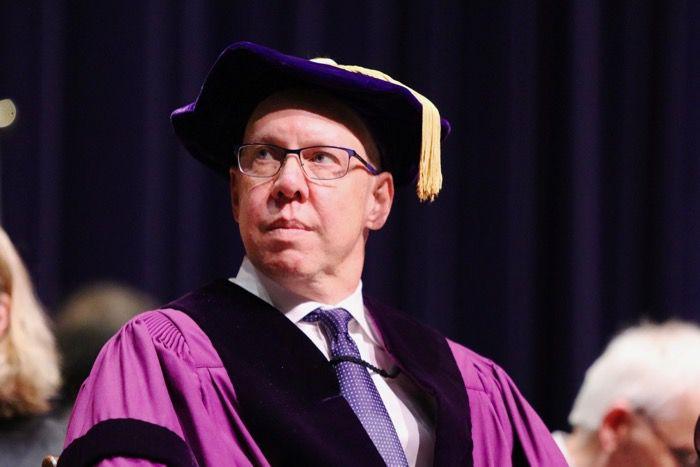 Western and a convocation speaker apologized Tuesday after the speaker said female Western students are "among the best in North America."
Aubrey Dan received an honorary Doctor of Laws degree on Friday and addressed graduates from the faculties of Arts and Humanities and Social Science. He is a Tony Award-winning producer, businessperson and philanthropist. He made the comment two minutes into his speech, referencing his time at Western University in the 1980s.
"According to Playboy magazine, at that time, [Western's] women were among the best in North America. And obviously, they still are," he said.
The remark received some laughs from the crowd; Playboy, a pornography and lifestyle magazine, also ranked Western University a top-10 party school in North America in 2011.
Dan Aubrey's remarks about females at Western for which he and Western would later apologize. Via Western University.
Four days later, on Tuesday, Western published Dan's apology within a statement of their own.
"I am sorry that anyone was offended by the comments in my speech, which was far from my intention. My remarks were made to provide a context of what went through my 19-year-old mind when deciding back in 1983 to go to Western. Nothing to do with being sexist at all," he said. "My comment was in reference to a compliment and nothing else. I am an egalitarian." 
The speech was covered by Western News, operated by the Western administration, who covered the speech but did not mention the comment directly. They published a full video of his address, which includes the comment. 
In their statement, Western wrote:
"Western values a respectful learning and work environment and we sincerely apologize to those who attended this Convocation ceremony and all others who were offended by these remarks."
They added that they have a long relationship with Dan, including his philanthropy, which is partly why he was honoured with the doctorate of laws.
The DAN department of management and organizational studies was re-named after him in 2017 after his support of the program. Queen's University's drama and music department was also named after him following his $5 million donation in 2016.
He graduated from Western in 1985 with a bachelor's degree in administrative and commercial studies.