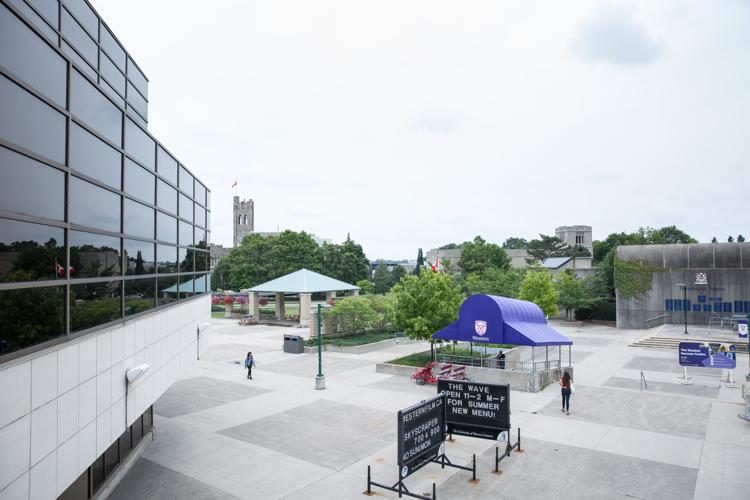 As students flood back to London this fall, ready to bask in the student lifestyle after six months of quarantine, Western is already making plans in case they have to shut campus down again.
The "second wave" is what medical professionals are calling a potential second peak of coronavirus cases, which many project will come hand-in-hand with this year's flu season. To prepare for this possibility, Western University's top brass are planning for a phased shut down of campus, which includes suspending in-person classes and closing campus buildings within the first four hours of declaring an outbreak. 
A directive must be given by either the province, local public health authorities or Western's president Alan Shepard in order to declare a coronavirus outbreak and begin the phased shutdown, according to a report presented to Western's Board of Governors. The report does not clarify how many cases would constitute a community outbreak.
The university's Emergency Response Team — led by vice-president operations and finance Lynn Logan — would notify students of closures. Emergency notices have previously been communicated through mass-alert emails sent out to the community.
"We can't speak about specifics or hypothesize about what might happen," said Logan. "What is important to know is that Western has a very robust emergency management response program that is already in place." 
In addition to cancelling in-person courses and shutting down campus buildings, the report states that all students living in residence must report to their dorms within the first four hours of an outbreak and await further instruction, though Housing and Residence Services will continue operating through all phases of a shut-down. 
Western projects 70 per cent of residence will be occupied this fall, with 3,800 students expected to live on-campus according to Chris Alleyne, vice-president of Housing and Ancillary services. But, even with 30 per cent fewer students, the university is making plans to respond to an outbreak in its dorms.
According to the board's report, any student living in residence who tests positive for COVID-19 will be provided "a single room space with a private bathroom and meal delivery service," where they must stay until they have completed a 14 day quarantine and gone 24 to 48 hours without showing symptoms. Students in residence who have been exposed to the virus will be tested and similarly quarantined until their results are returned. 
"We planned as best as possible at this point," said Alleyne. "We have … a very robust emergency operations group that will be monitoring and managing the situations with the experts from the medical profession."
Students living off-campus who are exposed are also required to quarantine for 14 days before returning to the community.
After the first few hours, a campus shut down would slow dramatically — as researchers would take the next five to seven days to safely shut down non-essential labs and projects. A week after an outbreak is confirmed, campus is set to return to running only its essential services.
"We're still going to take care of our students," said Logan. "And we're going to do that in a way that is the Western way, which is caring, first and foremost, for the health of our students."
---
This article is part of our annual Frosh Issue, read the full issue online.