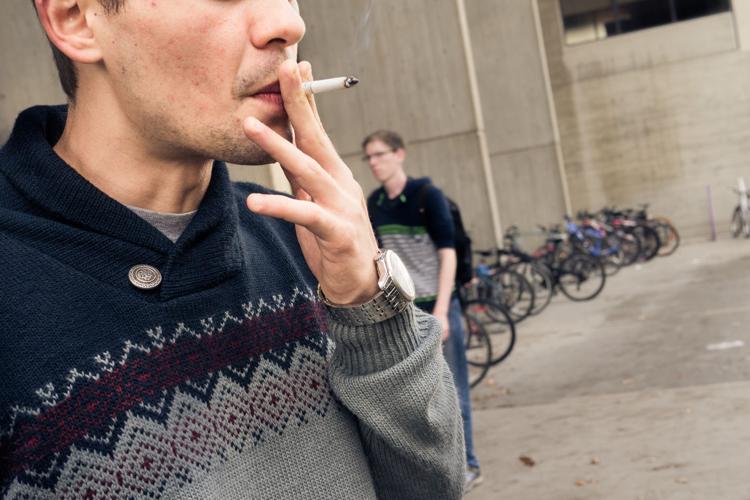 Western's on track to be smoke free by July 2019, and new changes are effective immediately.
Effective March 2, campus smokers are asked to keep at least 10 metres away from any campus buildings. This first phase in changing Western's smoking policy moves smokers away from buildings, addressing concerns about smoke filtering into buildings.
On July 1, smoking will be limited to designated smoking areas on campus, the number and location of which are currently being determined. On July 1, 2019, the smoking areas will be phased out and removed, and Western's campus will become officially smoke-free. Western announced its decision to go smoke free in October. 
The move to a smoke-free campus will make Western one of twenty-one universities and colleges across Canada with 100 per cent smoke-free campuses, including McMaster University and St. Paul University in Ontario.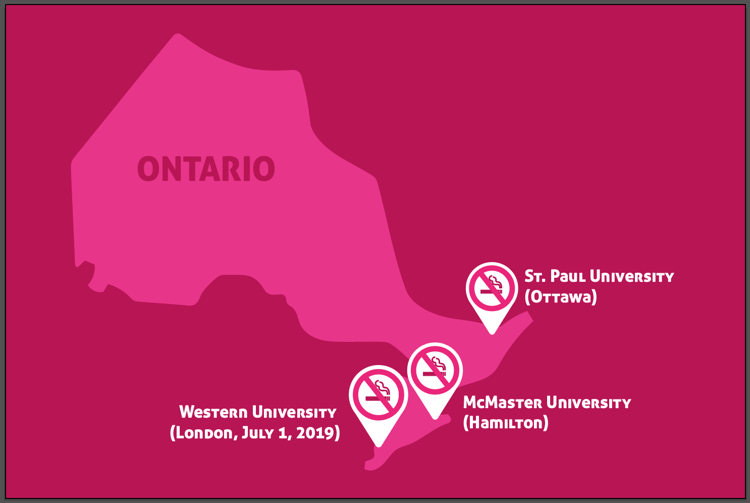 Rob Cunningham, a senior policy analyst for the Canadian Cancer Society, sees the move to smoke-free campuses as an accelerating trend at Canadian institutions.
"It's a great policy," said Cunningham. "Western wants to be a leader among universities, and while it's not going to be the first university to have this policy, it'll be among the first in Ontario. And it's inevitable. The sooner we do it, the better."
Making campus smoke-free has numerous health benefits, Cunningham noted. In addition to preventing the effects of second-hand smoke, the policy is beneficial for students under 19 and smokers wishing to quit. The smoke-free environment could discourage younger students from smoking as well as provide motivation for current smokers to quit.
Western will also be introducing new enforcement strategies in the fall of 2018. Individuals will be walking through campus and directing people to designated smoking areas, an idea which was supported by a majority of respondents in the 2016 survey.
"We recognize the move to being smoke free will be a difficult transition for some members of our campus community," said Jane O'Brien, Western's associate vice-president of human resources. "In addition to a phased-in approach to a smoke-free environment, we will be working to ensure students, faculty and staff are aware of smoking cessation supports available to those who wish to quit smoking."
For current smokers wishing to quit, Western will be promoting support services and smoking cessation programs.
On March 21, Western's Public Health Program will be holding a day of education, led by master in public health students and the University Students' Council's Student Health Promotion Group. The event will include information booths in the University Community Centre and Student Services Building, as well as an information session and a panel to discuss the movement to a smoke-free campus.
"Our goal during the transition to smoke-free will be to inform, educate and encourage people to help us create a healthier campus," said O'Brien. "We're a large medical and health sciences university, and so a healthy community is very important."