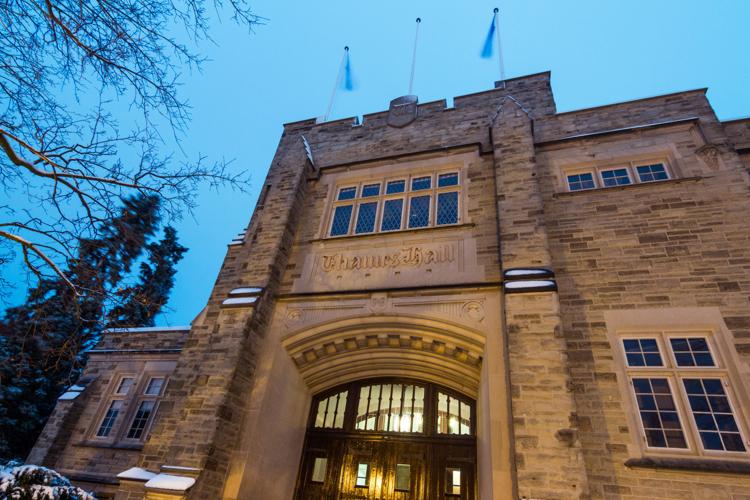 Western is moving forward on a one-stop location for mental health services one year after the USC said Western should foot the bill.
Thames Hall will be renovated to house the Health and Wellness Centre in early 2019. Of the estimated $35 million for the entire Thames Hall renovation, $20 million is for the wellness centre. 
Currently, Western University's mental health services are spread around campus, leading to calls for their consolidation. Student Health Services and Psychological Services are managed separately in two different physical locations; the wellness centre will be the new physical location for both.
In September 2017, Western went to the University Students' Council to fund roughly half of the $20 million renovation cost, which would increase student fees for 10 years. That proposal was ultimately rejected, as councillors thought another increase in student fees was unreasonable; Western's student fees were already one of the highest among Canadian universities.
Additionally, much of the USC argued that the wellness centre is an essential service, which they said should be funded by Western and not the USC; Science Students' Council president (now USC vice-president) Danny Chang led the charge in refusing the university's motion.
But in April of this year, seven months after the USC rejected the plan's initial funding model, Western's Senate and the Board of Governors approved the renovations being funded entirely by Western. 
Chang said he is glad to see the centre becoming a reality under its current conditions. 
"It wasn't about the actual centre.... It was about the proposal," he said in an interview.
Student Health Services and Psychological Services, the centre's main units, are now managed under Western's Student Experience portfolio, which includes services such as Indigenous Services, Propel, Sport and Recreation Services, Student Success Centre and Western Chaplains.
Associate vice-president of Student Experience Jennie Massey explained the wellness centre is crucial for students' success at Western.
"Our vision is for more students to be thriving more often. To achieve this, we need to be more proactive and broaden our responsive care solutions, ensuring students who need additional help and support receive the appropriate type of care in a timely fashion," she said.
She said one of the main goals of consolidation is to make Western's various services more organized and accessible.
Chang agreed the relocation of the two services cuts confusion for students struggling with wellness, including mental health issues.
The idea for the physical renovation and administrative changes to Student Health Services and Psychological Services began back in 2015. Along the way, consultations with more than 500 staff, senior leaders and students were made in addition to 1,500 received responses from a campus-wide email survey.
Some of the development process coincided with the release of Western's comprehensive Mental Health and Wellness Strategic Plan in 2017, which made recommendations to the university for dealing with wellness on campus.
Western is going to measure the centre's effectiveness in three-year assessment cycles by measuring the university's "Thriving Quotient." The quotient assesses factors about students like engaged learning, academic determination, positive perspective, social connectedness and diverse citizenship.
The renovations will start in early 2019 and are scheduled for completion by early 2021. All of Thames Hall will be renovated. Roughly one-third of Thames Hall's square footage will be for the Health and Wellness Centre, while the rest will remain for Kinesiology and general use.
Update (2:26 p.m., Nov. 19): the article was updated in paragraph nine to clarify the management of Student Health Services and Psychological Services, and specify the services under Student Experience.