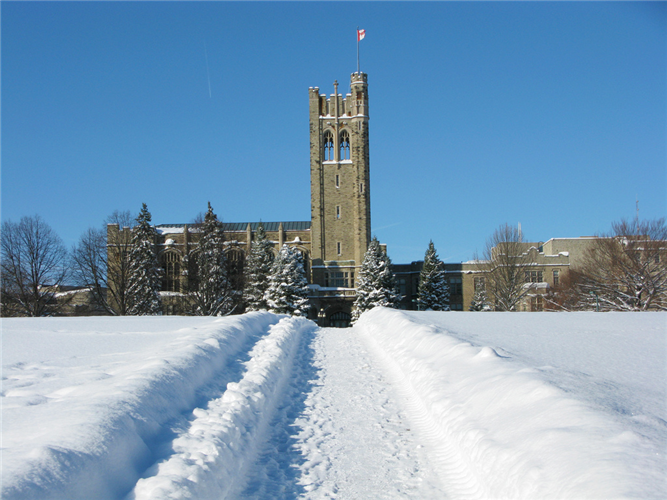 After pleas from students, Western announced that campus is closing as of 12:30 p.m.
This was announced via Twitter at 11:45 a.m. and students began receiving email updates around noon.
UPDATE: As of 12:30 pm today, all classes and scheduled on-campus events for students, faculty and staff are cancelled. Expected to be back to regular schedule & operations on Thursday. More info & updates at: https://t.co/gBNNVcGB3T #westernu #ldnont

— Western University (@WesternU) February 6, 2019
According to Western University's weather update, London is experiencing freezing rain causing hazardous travel conditions.  
All of campus will be closed for the rest of the day, with services resuming tomorrow. This includes food services, libraries, affiliate campuses, the Rec Centre, labs, tutorials and midterms.
A press release from Western News stated that "while services were in place for the morning commute, weather conditions are not improving. The university is not able to maintain walkways to a suitable level due to the persistence of the freezing rain."
This closure comes after outrage on Twitter from students concerned for their safety.
It's one thing not to cancel classes... but to send students to school without salting the ground to even TRY to ensure safety? I've seen 4 people fall and its not even 10 am.

— Cass (@Cassiekerec) February 6, 2019
I am glad that you have cancelled classes as of 12:30pm, but the weather conditions have been this dangerous all morning. What are you going to do to ensure that students who were unable to get to their pre-12:30pm classes are not penalized for absences? @WesternU

— Nokuzola (@ZolaaNcube) February 6, 2019
Nearly all institutions across Ontario cancelled operations today due to weather conditions, except Western. This is ridiculous.

— Aurora (@_auroraly) February 6, 2019
Among other schools closed are: the University of Waterloo, Wilfred Laurier University, McMaster University, Ryerson University, University of Toronto's Mississauga campus, Conestoga College, Fanshawe College's Simcoe campus and London's Thames Valley District School Board.