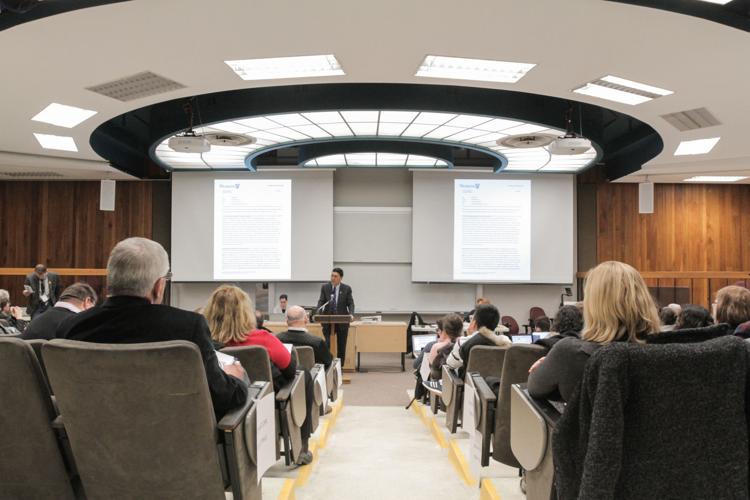 Western is poised to lose $10 million more in funding than they expected as part of a surprise, sweeping new tuition framework the Ontario government announced Thursday.
University president Amit Chakma spoke on the cuts in a Senate meeting Friday. He said Western University met with a provincial official and was briefed that $268 million from their budget will be subject to the new 10 per cent tuition cost cut. In their modelling of future budgets, they had assumed tuition prices would increase by the normal three per cent annually. 
Though they anticipated the Progressive Conservatives to cut them by up to $30 million for 2021, Western's new figure is $43 million.
"The short answer is: yesterday's announcement is more severe than we had planned," said provost Andrew Hrymak, taking questions from senators.
Chakma added that they were told that government grants, a crucial revenue source for universities, are not expected to change.
A meeting with the deputy minister for post-secondary education, Chakma says they were told grants should not be cut. "It could have been worse...it could still be worse."

— Martin Allen (@mtrallen) January 18, 2019
But he insisted that until Western has a government order "in writing," no one can be sure of the specifics. Universities were put in a similar position in September, when the government mandated via a press release that they make free speech policies; in that month's senate meeting, administration officials could not yet answer crucial questions the province's release raised.
Western will spread its total cuts across two years' budgets and could reach into their surplus, he said.
Senators did not ask the president about the pricing of international student tuition, which is not affected by the PCs new framework; though, previous frameworks did not regulate them either. After the meeting, Hrymak said that Western has increased international fees in keeping with other Ontario universities and that different disciplines call for different prices.
"It's a balance: if we price tuition too high, and they have alternatives, then they will go to other providers. We also want to make sure we're capturing the appropriate amount of tuition revenue to support the programs," he said. "It's not going to be borne by one group to address what happened yesterday."
Tuition price cuts were one of several changes announced in a bombshell press conference held by Ontario's minister for training, colleges and universities, Merrilee Fullerton, on Thursday. She also revealed that the PCs would axe a Liberal-era free tuition program for students whose families earn less than $50,000 and that students can now opt out of ancillary fees, which fund many student services.