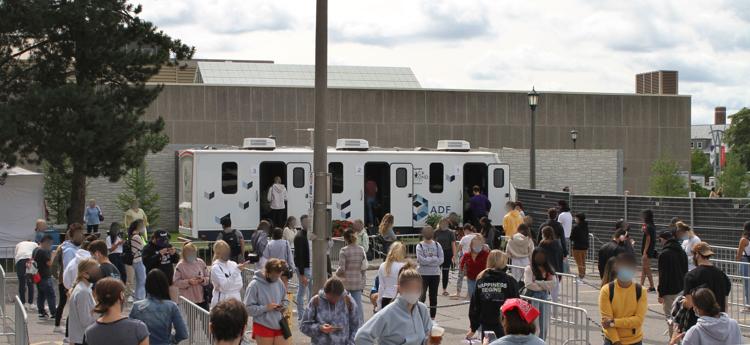 Western upped the capacity of its mobile COVID-19 testing unit to 500, more than double Monday's 237 tests. 
The increase comes after the unit was overwhelmed by demand on Monday, resulting in wait times of over four hours and some students being turned away entirely. 
"We're delighted to see this many students taking the situation seriously and eager to get tested," said Jennie Massey, associate vice-president of student experience. "Testing is one important strategy in mitigating the spread of [the coronavirus], so today we are thrilled that we are now in the position to essentially double the number of tests."
The university will also start giving tickets to students who are promised a test that day. The ticket will hold their place in line, allowing them to leave and come back at a more convenient time before the testing centre closes at 7 p.m. that day. 
Around 250 tickets remain as of noon Tuesday, according to Massey, and she is unsure whether the unit will surpass capacity today, though the unit is "prepared for 500 students to stop by."
Massey explained Monday's delays were caused by a limited number of staff available to sign students in, but the university has doubled the number of staff available for Tuesday, allowing them to up the number of tests available. The mobile unit is still testing three or four people at a time. 
Monday's numbers were also a "significant increase in demand" according to Massey, as the weekend prior only saw 115 students seek testing over a two day period — less than half Monday's count, which represented 33 per cent of the total tests performed in London.
The university will be reevaluating the number of tests administered daily and continue collaborating with the Middlesex-London Health Unit to ensure campus testing sites are able to meet demand over the coming weeks. 
The mobile unit began  testing on Friday — the MLHU declared a community outbreak over the weekend after five Western students tested positive for the virus.
In a tweet, Western University confirmed the unit will be attempting to facilitate more tests each day as the school prepares to open additional testing centres on campus. 
Despite the overwhelming wait times and chance of being turned away, Massey said, "If a student is concerned, they should come forward to get a test." 
"We all have a shared responsibility to keep yourself safe, to keep our friends safe, to keep our community safe. I'm really pleased to see Western students stepping up and taking that responsibility."
With files from Hope Mahood, Coordinating Editor.