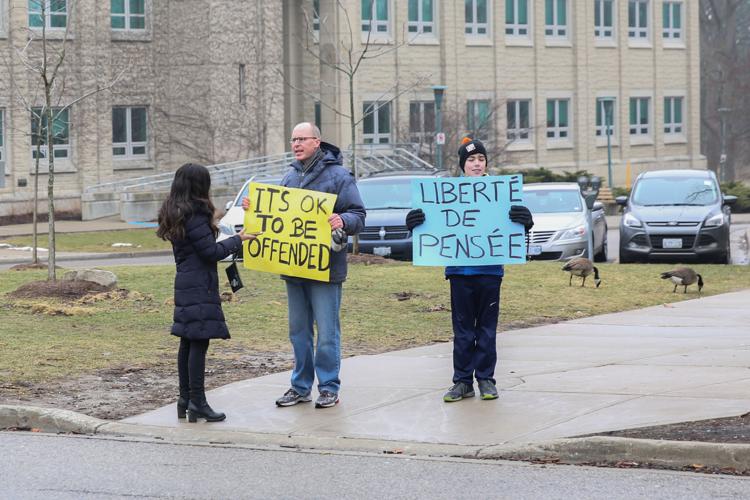 Western released the first draft of its newly ordered free expression policy in an email to students Monday evening.
The Ad Hoc Committee on Freedom of Expression, which wrote the draft, was created in September after the provincial government ordered universities to create a policy protecting free speech by Jan. 1, 2019 or risk losing funding. 
Before Reading Week, the committee oversaw campus consultations to involve students and faculty in the creation of the policy. Based on these consultations and independent research from the Ad Hoc Committee, the first draft has been written with the Jan. 1 deadline fast approaching.
The policy maintains that all members of Western University have the right to freedom of expression, including controversial and offensive ideas, as "university is to provide an open and inclusive environment in which debate, challenge and disagreement should be expected."
While this does include the freedom to criticize and contest ideas, it would be against the policy, as drafted, to prevent others from expressing their views. Freedom of association and assembly are also protected in the policy as a complement to expression.
In term of regulating freedom of expression, the policy cites the criminal code as the main regulator for restricting freedom of expression. Further, it includes "hate speech or incitement to violence; or which constitutes harassment or discrimination; or violates protected confidentiality interests," as other indicators.
Western will intervene in these situations if they threaten the physical safety of the community or if these actions encroach on others freedom of speech. The policy was careful, however, to prevent Western from creating precedent from these interventions as they are to be "interpreted and applied narrowly."
The draft also acknowledges that some forms of expression can "shock, anger, intimidate, exclude and contribute to the marginalization of" students, but it commits to creating a supportive environment for those negatively affected rather than restrict these forms of speech.
The new policy would not override the student code of conduct, nor does it change existing collective agreements with faculty.
Already approaching its penultimate phase, six weeks after it was ordered, the policy will be presented to the Senate on Oct. 19 for debate, where it could be passed on to the Board of Governors for final approval.
Students can respond to the policy in town hall consultation sessions occurring Oct. 18 from 11:30 to 1:00 p.m. and 4:30 to 6:00 p.m. in the McKellar Room in the UCC.