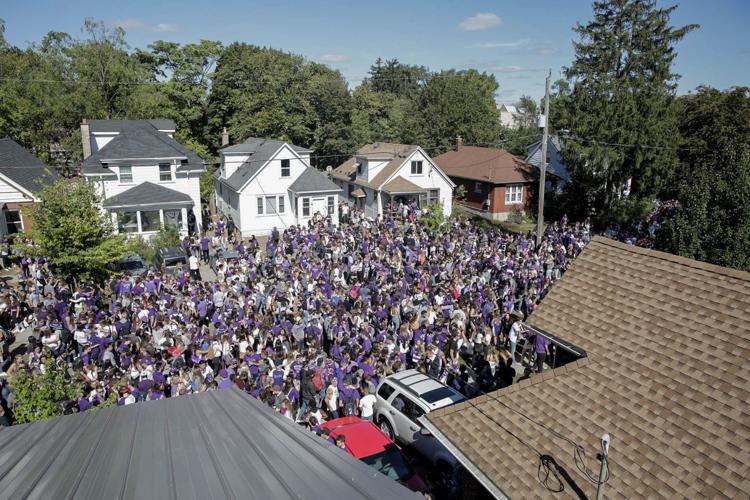 Western University's second "fake Homecoming" was larger than 2016 and resulted in more EMS calls this year. 
The number of EMS calls and people in distress was significantly higher this year, according to Sandasha Bough, London Police Service media relations officer. By 6 p.m., paramedics had received 33 calls from around campus, and when they arrived, they had little to no access to Broughdale Avenue.
Foco 2017
Despite the best efforts of the university and local law enforcement, Western's second ever FOCO seems to have been just as big of a party as the first one.
Bough said there were notable delays getting to individuals in distress. Only one ambulance was able to respond directly to an incident at Richmond Street and Broughdale Avenue. For the rest, ambulances had to park at least a block away and carry on by foot in order to reach those in need of care.
"That's causing a significant time delay in getting that person the assistance they need," said Bough. "We had EMS going through back yards, we had them coming through side streets and parking far enough away that they were able to get to places walking through the crowd of students."
Bough said at least three pedestrians were struck by vehicles on Richmond Street, accounting for three EMS calls. She said the majority of EMS calls were alcohol related — calls due to unconscious individuals and people who had consumed too much alcohol. Approximately 11,000 people turned out to celebrate FOCO today, up from approximately 10,000 in 2016, according to London Police Service.
"We're not trying to discourage people from having a good time; what we're trying to discourage them from doing is causing issues when it comes to getting someone assistance," said Bough. "Even though we put out a number warnings in relation to that, it didn't change what happened today, and that is a concern for us. Some of those people may not have gotten to the hospital as soon as they could have or should have."
While the police are still processing the charges, Bough also said there were number people charged because of criminal and Liquor Licence Act infractions.
Recent honours business administration graduate Chris Kim specifically came to Western to celebrate FOCO.
"[Western administration's warnings] didn't do much to deter students from partying. If you look around, you can see that it's pretty busy, but it's a good time," said Kim.
First-year students could also be found celebrating FOCO, despite not having been in university at the time of Homecoming's official September date.
"Everyone talks about [FOCO]. All our sophs were saying it was something you couldn't miss," said Victoria Ashey, a first-year psychology student.
Bough also mentioned the difficulty of staffing two Homecoming events, both FOCO and HOCO. With the delay of the official Homecoming celebration, Bough said that the city had to use more resources to control the rowdiness.
Kim agreed, saying that Western created two events where students could party, instead of just one.
"It definitely didn't go any better than years past, and in fact when we're looking at those EMS calls or people in distress, it definitely was a negative this year," said Bough.
With files from culture editor Vivian Cheng.