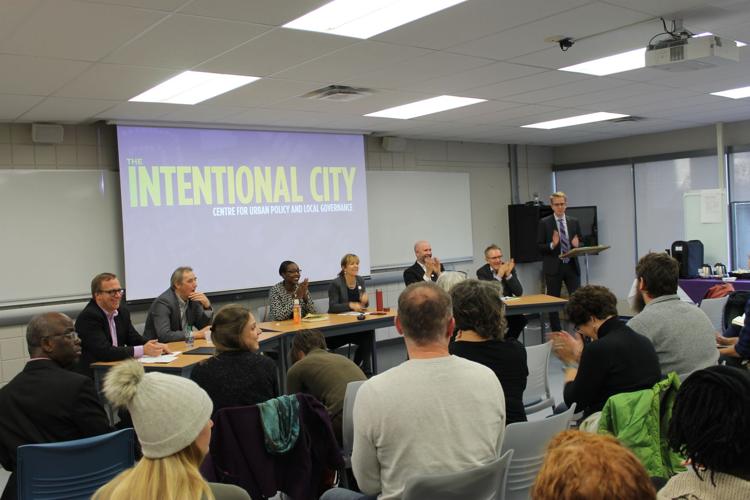 The Centre for Urban Policy and Local Governance hosted its launch event on Nov. 23, consisting of a panel discussion featuring Western University professors and London community leaders.
The centre, which will focus on issues of local governance and policy making, is a part of Western's newly formed Network for Economic and Social Trends. NEST is an initiative created by the Faculty of Social Science aimed at facilitating interdisciplinary collaboration and research. 
"We wanted to come up with a way to work with our colleagues in other departments on urban questions and also be able to reach out to the world of practitioners … so that we could focus a lot of what's happening here at Western … in a way that would be useful to the real world," said Zack Taylor, Western political science professor and director of the CUP-LG. 
The hub provides graduate students in the local government program with the opportunity to work alongside post-doctoral fellows and faculty members on governance issues relevant to the London community.   
While opportunities at the centre are currently geared toward graduate students, Taylor hopes that as projects come together, research assistant positions will become available for undergraduate students. 
The conception of CUP-LG will allow for greater collaboration between Western and the community through research projects commissioned by local or provincial governments. Taylor highlighted several critical issues affecting the City of London that the centre hopes to tackle. 
"London has all kinds of big-city problems. We have very high rates of … homelessness [and] opioid addiction. We have the lowest labour market participation rate of any metropolitan area in the country," said Taylor. "The city has very much suffered from the industrialization over the last 30 years,". 
Another issue of interest to the centre is London's recent use of the ranked ballot system in its most recent election.
During the panel discussion at the launch event, Taylor announced that, early next year, the centre will be hosting a workshop with city staff to draw lessons from their experience administering this new electoral system. The findings will be available in a public report.
While the centre was initially formed to address issues affecting the immediate community, it aims to expand its focus in hopes of generating research of provincial and national significance. 
In addition to research, Taylor expressed that the CUP-LG plans to hold more public discussions similar to the launch event, that bring together Western faculty, politicians, local activists and the general London community. 
"I think the packed room we had on Friday [at the launch event] showed that there's a real appetite for constructive conversations," he added.