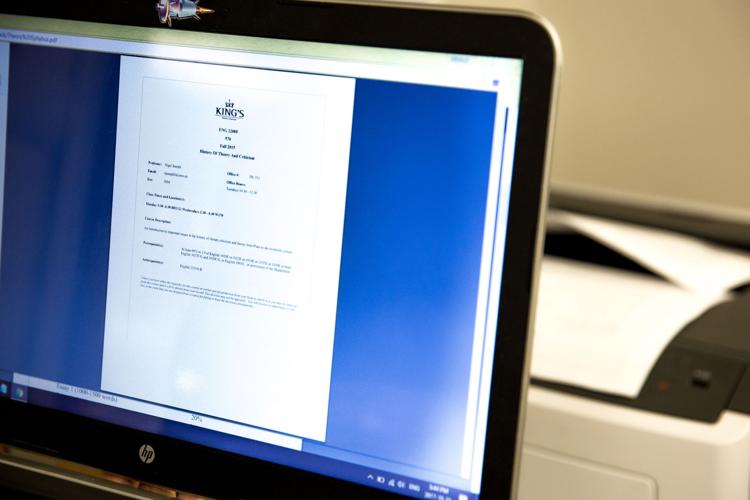 Course selection can be stressful. When a course doesn't publish its syllabus, it becomes even more frustrating. But going forward, students will have access to a syllabi database for courses offered at Western.
The Office of the Registrar worked with the University Students' Council and Western Student Senators to create a comprehensive database that will contain syllabi for each undergraduate course taught since 2012. The goal is that at least one syllabus, usually the most recent version, for each course will be available.
The current version of the syllabi database can be viewed through students' online student centre by selecting "Course Syllabi."
"When I'm looking to enroll in a class, one of the first things I'm going to do is search online for 10-30 minutes to see if I can find some kind of syllabus," said Landon Tulk, vice-president of the USC.
Tulk said by creating an official, centralized database, students can avoid this time-consuming process and focus on other tasks.
Maailah Blackwood, a Western student senator-at-large, was chair of the working group that researched and advocated for the database.
"I think one of the most important parts that students should take advantage of is knowing how you're going to be evaluated," said Blackwood.
Blackwood recommends that students look over syllabi ahead of time and identify the types of courses they want to take; whether it be essay and discussion-oriented or lecture and exam-focused.
"Another advantage is knowing when the assignments are going to be … so you can use a syllabus to plan out your schedule," said Blackwood.
According to Tulk, the registrar is still waiting for permission from some faculty members, so not all course syllabi are available at this time.
"We're not at 100 per cent yet, but we're going to work towards that over the years," said Tulk. 
Editor's note: Maailah Blackwood was a Gazette photo editor in 2016-17.