Western Engineering professor Jason Gerhard passed away Dec. 31, 2022, following a years-long struggle with brain cancer. He was 53 years old. 
Gerhard came to Western University in 2007 as a Canada Research Chair in geoenvironmental restoration engineering. He received his PhD in civil engineering from Queen's University in 2002 and worked at the University of Edinburgh from 2002 to 2007. 
At the time of his passing, he was a professor of civil and environmental engineering at Western.
Gerhard co-founded Western's Research for Subsurface Transport and Remediation Group, which he co-led with fellow engineering professors Clare Robinson and Christopher Power. 
As part of RESTORE, Gerhard worked to develop technologies used in waste management and co-invented new forms of thermal remediation technology. He was awarded millions of dollars in research funding, including a grant from the Bill and Melinda Gates Foundation to "reinvent the toilet."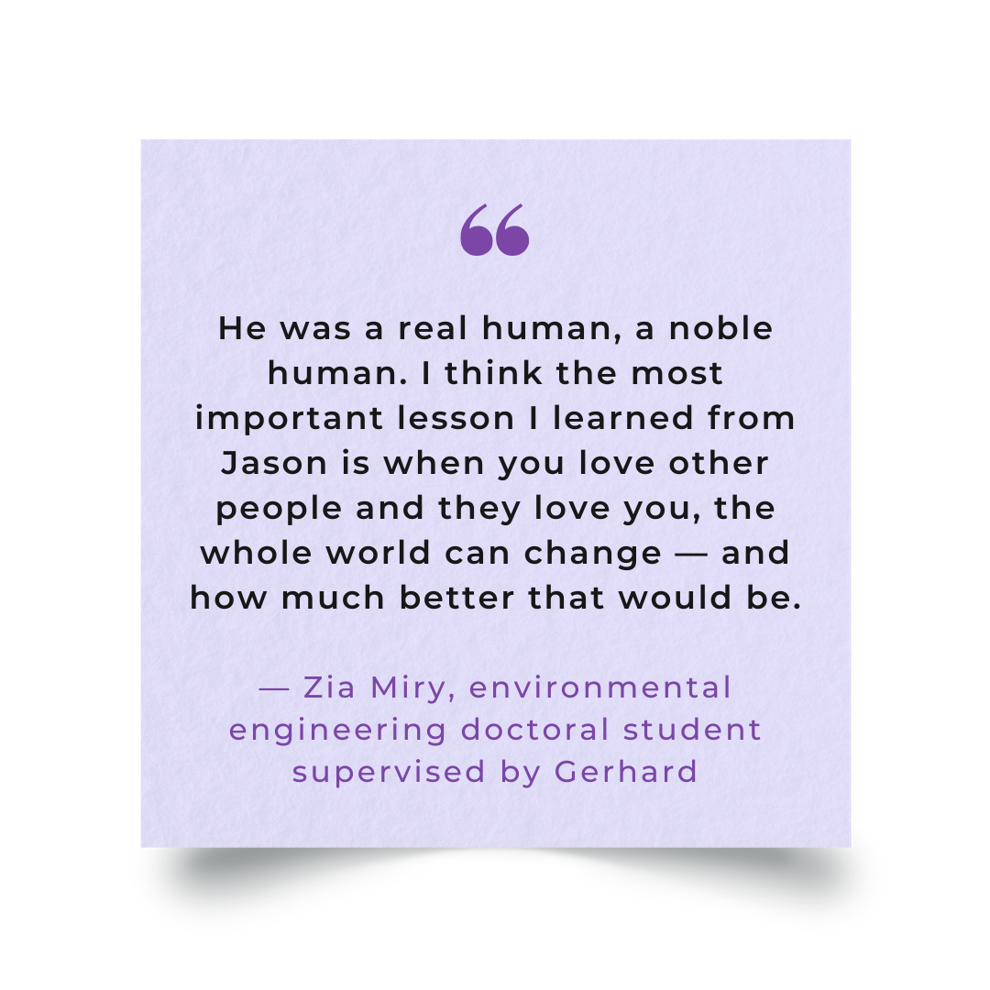 Tarek Rashwan, a lecturer at the Open University in England and former student of Gerhard's, said the late professor had an "an amazing mind for science." 
"He had all different kinds of questions," said Rashwan. "And he always knew where the interesting part of the question was — he always knew the things that we needed to look at more closely."
Gerhard's co-directors at RESTORE agreed. Power called Gerhard "very, very curious" and described him as having "real intellect."
"He was an incredible leader, and a real champion for the environment and for sustainability," Robinson said. "But his real passion, I would say, was mentoring and making a difference in students' lives."
At Western, Gerhard taught undergraduate environmental engineering courses and supervised over 75 graduate students. He also served as the civil and environmental engineering department's graduate chair for several years. 
Ashraf El-Damatty, chair of Gerhard's department, described him as "one of the best teachers in the faculty." He said Gerhard's teaching evaluation scores were some of the highest he'd seen and noted he was a recipient of the Faculty of Engineering Teaching Award.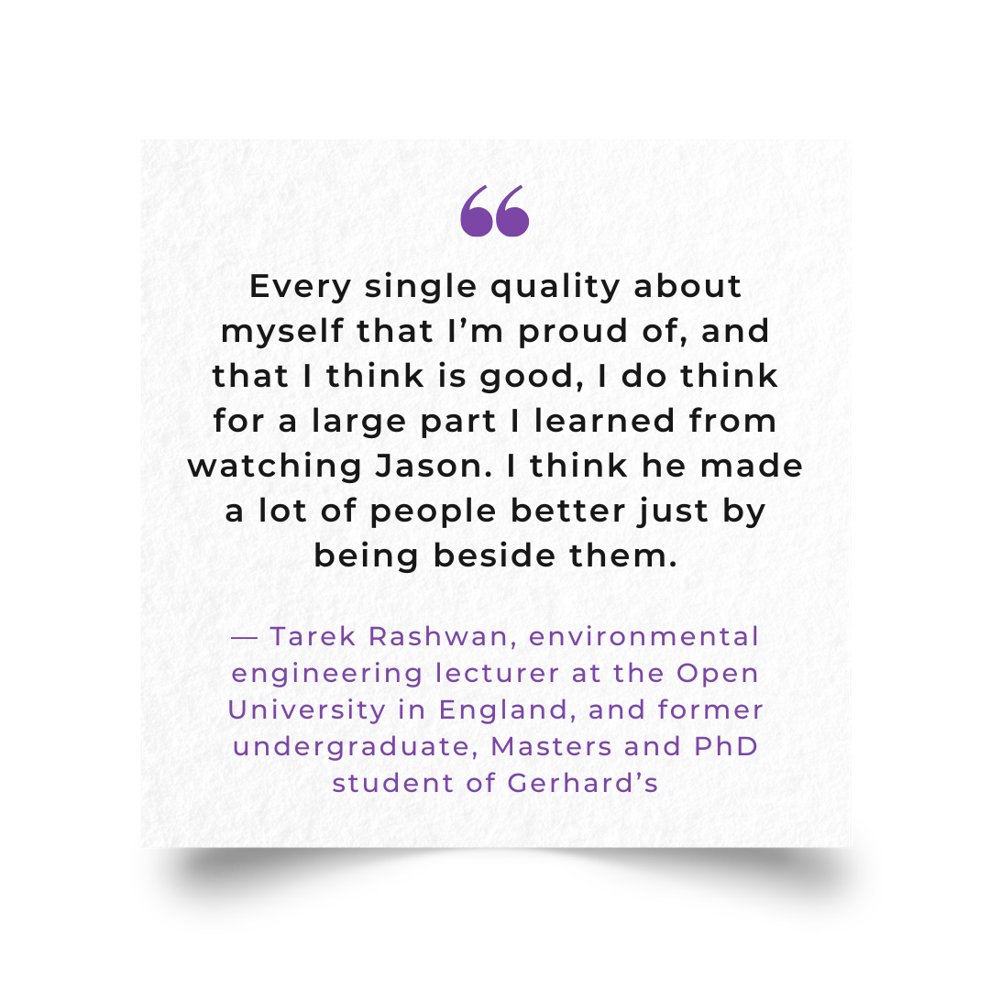 "But more importantly, you could sense how he was a good teacher when you talked to his students," El-Damatty said. "You could see he cared a lot about his students. And the students really loved him."
Gerhard's graduate students remember his interest in their lives outside of the lab. 
"His office was always open to us," said Angelos Almpanis, a doctoral student who was co-supervised by Gerhard and Power. "And he would come into our office at least once a week with his big smile, asking how we're doing and how everything was — not about research, but about us."
And when his students faced difficulties — whether financial, personal or academic — Almpanis said Gerhard "was always there to provide the solution."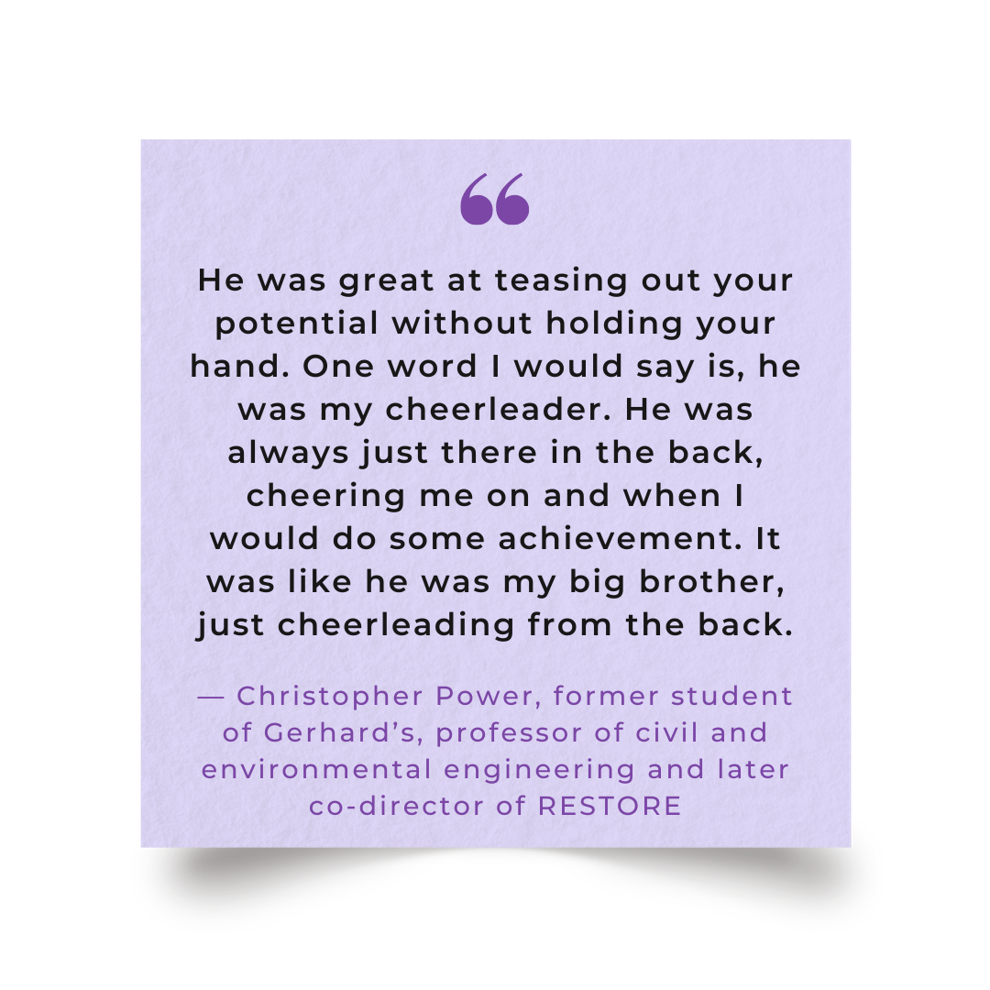 Many of his graduate students, including Almpanis, were international students, and said Gerhard was a source of support for them as they navigated their lives in Canada.
Jiahao Wang, another one of Gerhard's doctoral students, recalled Gerhard asking about his financial situation, which was complicated by his fees as an international student and money spent on English lessons.
"He said, 'Jiahao, don't worry about money. You came here for research, for doing experiments, you're not here to solve financial issues. So here's the funding for you,'" Wang recalled. 
Outside of his academic work, Gerhard was an engaged Western community member and advocate for environmental sustainability. A year-round cyclist, he was a member of the Western Active Transportation Society.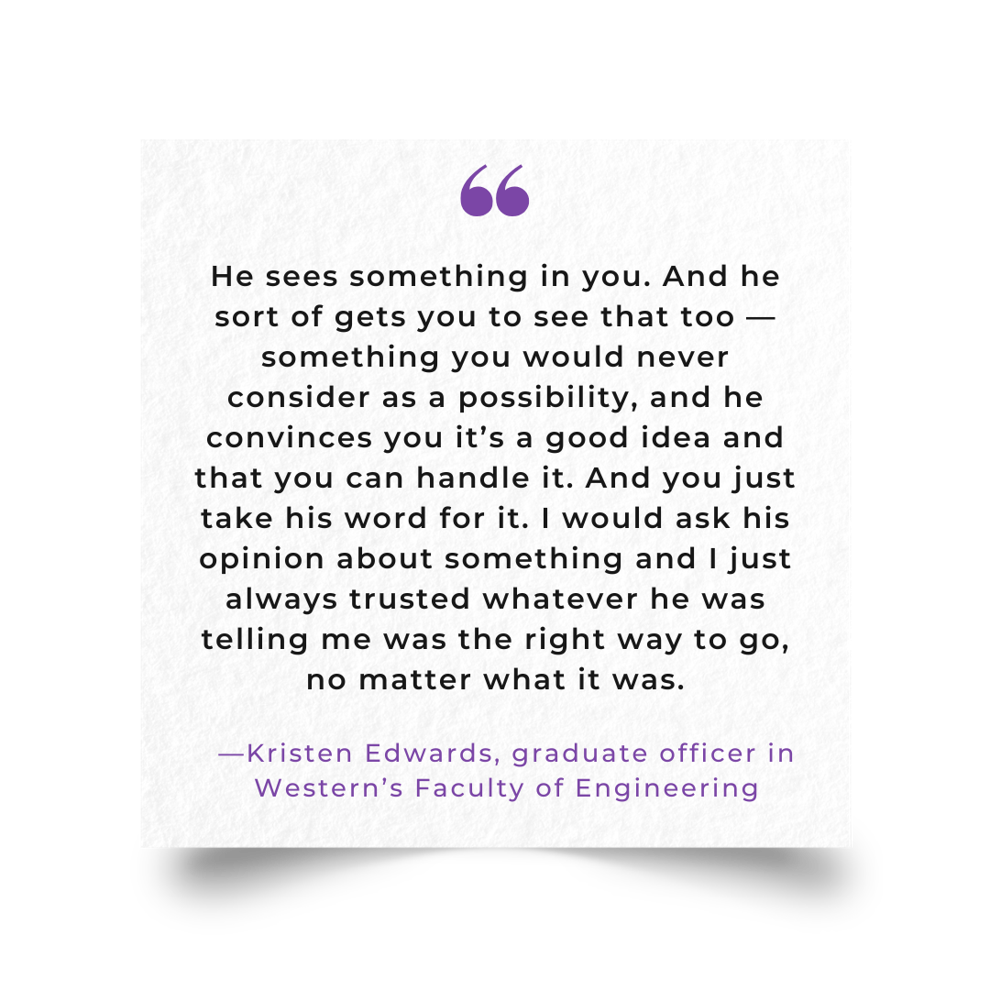 "He was really focused on the environment," said Kristen Edwards, a graduate officer for the Faculty of Engineering. "Probably the funniest memory I have of him at work was, we had a big research symposium and everyone's black tie, everyone's wearing suits. And he and [Christopher] Power, after the dinner was done, they literally were on the ground sorting the garbage, pulling all the recycling out of the garbage in the middle of this research dinner."
Gerhard was diagnosed with brain cancer in December 2020 and passed away 25 months later. Even as his cancer progressed, his students and colleagues recalled his continued positivity and kindness. 
"When he first got sick … he said to make sure my students are taken care of, that there's no interruptions with their funding," said Edwards. "So even when he was going through something so terrible and scary, his first thought was to take care of everybody else."
His graduate students remembered him showing up to lab meetings and hosting social events despite his illness. 
"He didn't want to worry us until he could not handle the situation anymore — when he was in a hospital bed," said Wang. "[Gerhard] always thought about other people, not himself."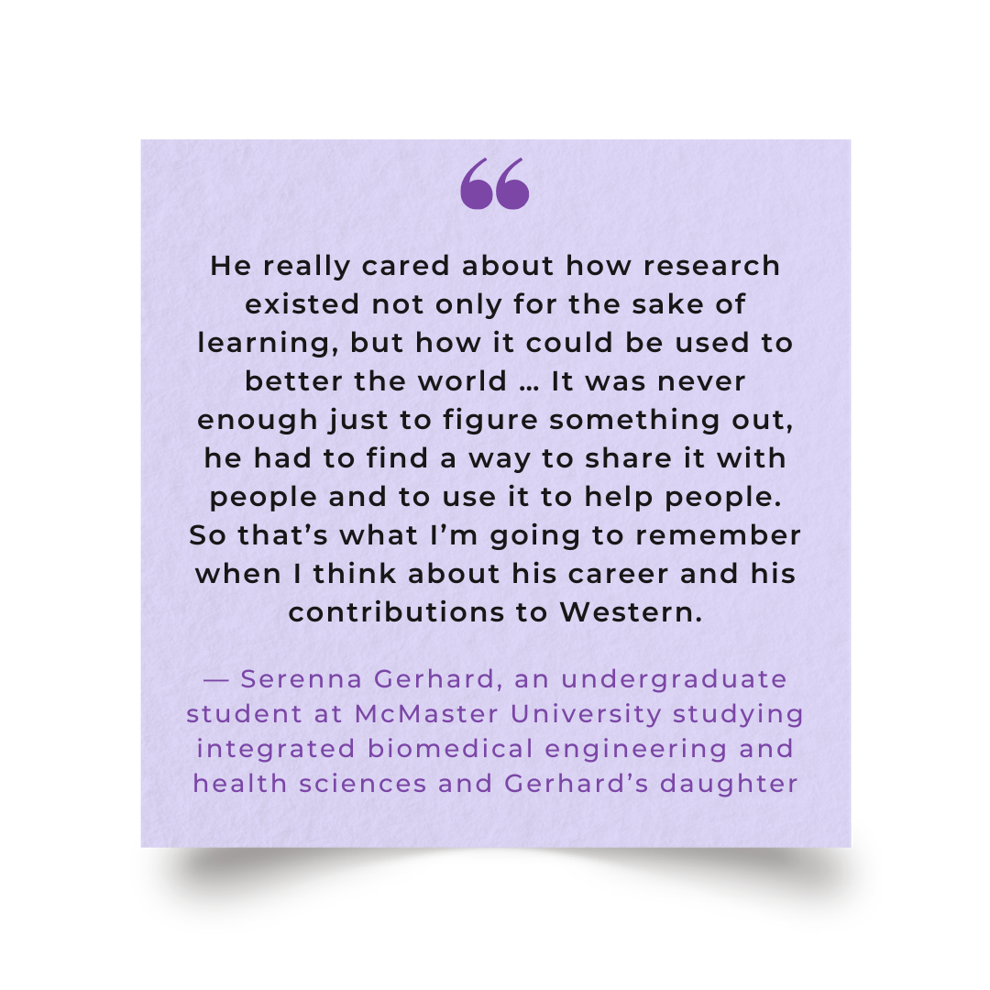 Gerhard is survived by his wife and two children. His daughter, Serenna, an undergraduate Engineering student at McMaster University, described him as "caring, loving, generous, funny, patient and thoughtful."
Serenna said an important part of her dad's legacy is his care for students. 
"Students should know that they have people rooting for them, who are in their corner. There's wonderful professors out there that really care about their students, who really want to see them be successful. And my dad was definitely one of them."