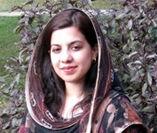 Madiha Salman, a Western University civil engineering PhD candidate, was among the four killed in London's worst mass killing while on a walk with her family Sunday evening. She was 44.
Her husband Salman Afzaal, a physiotherapist who graduated from Western's health sciences program in 2010, their 15-year-old daughter Yumna Salman and Afzaal's mother were also killed in the attack. 
The couple's nine year-old son, Fayez Afzaal, was the only survivor. He is currently in hospital with serious but non-life-threatening injuries. 
Salman is remembered as "a scholar and pillar of the city's Muslim community, friend and colleague," according to the London Free Press. 
"Madiha Salman … was in the process of working towards finishing her exams to obtain her PhD at Western University in Civil engineering; she was a brilliant scholar and a caring mother and friend," said Aisha Afzaal, who set up a GoFundMe webpage where the family is accepting donations.
Salman settled in Canada with her family in 2007 after arriving from Pakistan. She completed a master's degree at Western and was pursuing a PhD in civil and environmental engineering.  
Salman's research as part of the engineering faculty's RESTORE team involved developments in "self-sustaining treatment for active remediation technology," which stemmed from her passion to protect natural resources, especially in response to environmental issues around groundwater contamination.
Western confirmed the family's connection to the university Tuesday evening. The victims' relatives initially requested the family remain unidentified. 
News of the hate-motivated attack made international headlines and Prime Minister Justin Trudeau called it a "terrorist attack" when he spoke in the House of Commons Tuesday morning.
"Their lives were taken in a brutal, cowardly and brazen act of violence," Trudeau said. "This killing was no accident — this was a terrorist attack motivated by hatred in the heart of one of our communities." 
London Muslim Mosque held a vigil honouring the victims Tuesday evening. Ontario Premier Doug Ford temporarily alleviated coronavirus restrictions that ban gatherings of more than five people only for the event. The vigil drew large crowds of mourning community members and saw both Trudeau and Ford attend along with other prominent politicians.
The family was intentionally targeted because of their Muslim faith, according to London Police. The suspect, who struck the family in a pick-up truck, was arrested shortly after the attack and has since been charged with four counts of first-degree murder. 
Western will lower its flags to half-mast and illuminate University College in green to honour Salman and her family. The university is offering crisis counselling to students affected by the attack at 519-661-3030 and through email at health@uwo.ca.