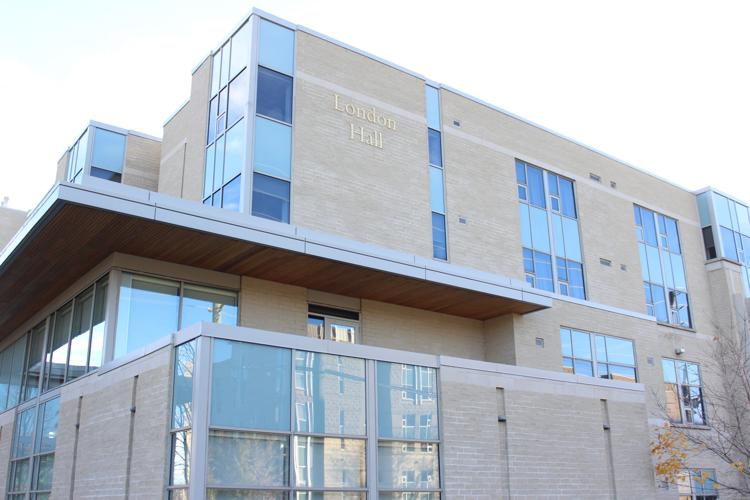 Upper-year residences are opening their doors to frosh this fall as the university experiences a "higher than anticipated" enrollment of first-year students.
In an email sent to incoming first-years July 8, Western University gave students the option to apply for accommodation in London Hall and Alumni House — though spots are limited.
Enrollment confirmations from Ontario high schools students have increased nearly 28 per cent for Western's 2020-21 academic year, despite initial concerns that online learning could deter incoming students
"The number of students accepting a residence offer has exceeded our residence capacity," said a representative from Housing and Ancillary Services, in an email to the Gazette. "In addition, to support public health and physical distancing due to the COVID-19 pandemic, we have had to de-densify our residences, decreasing the overall capacity of our buildings."
The move to de-densify residence buildings is part of Western's ongoing plan to adapt campus for life under the coronavirus. In late June, the university confirmed that all traditional-style residences would be limited to one student per room, eliminating roommates.
First-years living in upper-year residences will be joined by Residence Advisors and sophs, and the university is promising that frosh who choose to take advantage of their offer will receive "all of the typical programs and events usually offered within the residence community" and be able to fully participate in Orientation Week. 
Housing also sent an email to upper-year students who were set to move into London Hall and Alumni House in September, offering them the chance to change their accommodation to some of the university apartments, Bayfield Hall and Lambton Hall.
Both upper and first-year students who chose to change accommodations will pay the rate of their new buildings, which could be up to a $2,300 difference. 
First-year students who do take advantage of the offer to live in Alumni House and London Hall will remain there until April and will not be asked to move after first semester, even if social distancing is no longer required in traditional residences. 
"Once students make connections with their floormates and develop a sense of community within their new homes, we will want to continue to ensure that social connection and continuity allows them to thrive," said Housing.
This fall will also see changes for students living in regular first-year residences. Aside from the lack of roommates, incoming students can expect lower room rates as a direct result of the university's de-densification efforts. Students living in traditional residence "super-singles," double rooms with only one resident, will pay the same amount they would with a roommate. Additionally, students living in traditional single rooms will receive a $960 discount to reflect their reduced square footage compared to their super-single counterparts.
Roommates will still be allowed in hybrid-style residences, Perth and Ontario Hall — but only if both roommates requested each other when applying for housing. Fall 2020 will see no random roommate assignments. 
The university is also making other plans to minimize the risks posed by the pandemic — including regularly sanitizing common areas and providing two reusable masks to all residents.
Housing is also preparing for the event of an outbreak in residence, saying they will follow a protocol where a sick community member will be isolated in a "secured location outside of residence," following the advice of local health authorities.
"If a community member gets sick, Western will follow the lead and guidance of the Middlesex-London Health Unit," said Housing. "Our students' health and safety is our priority, and it's also a shared responsibility."