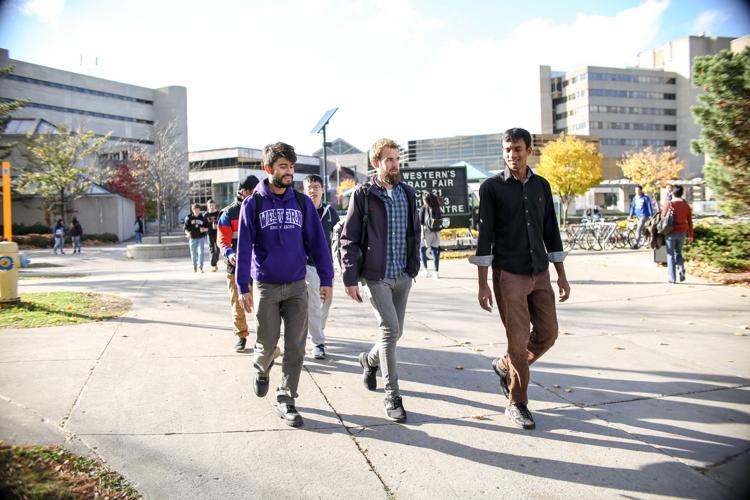 While Western's international student enrollment has ballooned in recent years, the university still has a way to go. 
On Nov. 27, Maclean's released numbers on the Canadian universities with the most international students. Out of 49 schools, Western University ranked 19th in total percentage of first-year international students, with 11.5 per cent. Western ranked 25th in terms of international graduate students, with 22.3 per cent. 
While Western ranked 19th nationally, its own enrolment of first-year international students has quadrupled since 2009. Western's proportion of first-year international students was 2.4 per cent in 2009/10, and it was up to 11.4 per cent in 2016/17. Today, most of Western's international students are from China, India, South Korea, the United States, Pakistan and Syria.
Western's president Amit Chakma has spearheaded Western's international student recruitment. Going forward, the university is focused on continuing to internationalize Canada's student experience and become a global university, as outlined in the 2014 international strategy plan. 
Carolyn Ford, director of international undergraduate recruitment at Western, explained that the university has marketed its programs and services using many different channels, such as fairs and social media. Ford said Western is aiming to reach 15 per cent undergraduate international student enrollment by 2020. 
Ford added rankings cannot adequately reflect the experience that international students are receiving in post-secondary institutions. 
"Western truly aims to deliver an international experience to our Canadian students and an authentically Canadian experience to our international students," said Ford in an email. "The level of welcome and support to international students is not a number that can be measured solely by the number of students enrolled or percentage of the student body."
To expand Western's international profile, Ford said the university is hosting the 2019 annual conference of the International Association for College Admissions Counselling. She said compared to the past, Western is offering more resources and support for international students. For example, enrolment at Western's English language centre is its highest-ever this year.
"[Western] is known for being a really inclusive environment," said Matthew Bazely, director of the Western English Language Centre. "Parents like the fact that London is a smaller city and that there is a high level of safety for their children to study here, but the students love it because we're close to Toronto. When they need to go shopping or have a craving for some kind of food, Toronto's not so far away."
According to an International DP Education report, Canada has become one of the most popular study destinations for international students. As a nation that value diversity and multiculturalism, Canada is also known to be a safe, politically stable and friendly environment.