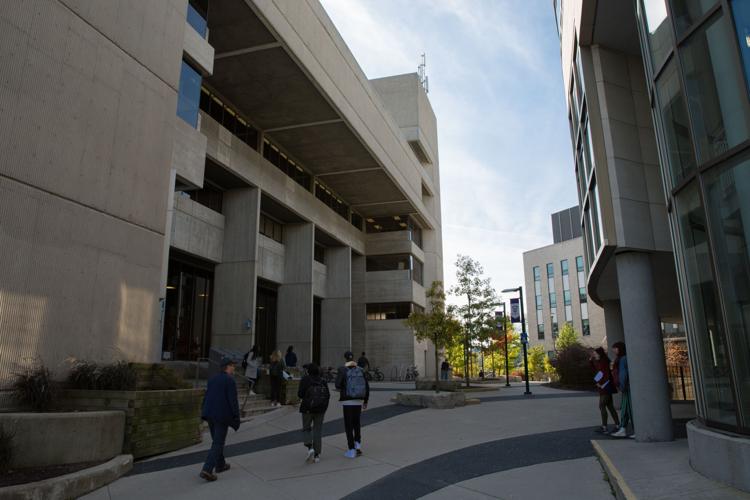 Western said it researched with telecommunications giant Huawei, which is believed by many intelligence agencies, including Canada's, to be an ally of the Chinese state.
The world's second largest manufacturer of smartphones, Huawei has drawn controversy wherever it has spread its enormous research and development networks — often into universities in the Western world, whose academics work with Huawei scientists.
The United States, Australia and New Zealand all bar or limit research with the company, but Canada does not. These countries, along with the United Kingdom, were also present in July and April of 2017 when Prime Minister Justin Trudeau was briefed by the countries' spy directors about Huawei's risks to national security.
According to a Globe and Mail report, "many in the international intelligence community consider Huawei to be closely linked to a Chinese government seen as one of the leading state sponsors of cyberattacks and corporate espionage."
Later, in October 2018, the Canadian Security Intelligence Service briefed the U15 — an association of Canada's top research-intensive universities — with the same message. Western's former vice-president of research John Capone could not attend the meeting and Western was notified by other means.
Amid CSIS' warnings, a number of top Canadian universities — including the University of Waterloo, the University of British Columbia and McGill University — have worked with Huawei.
Western University confirmed Tuesday that it has researched with the company in the past, though they are not currently. They declined to say when the research took place or who took part.
"Western's usual process for accepting and supporting research empowers ... our researchers to decide whether or not to take on projects," said Keith Marnoch, Western's director of media relations. "We are in regular communication with the government of Canada, the U15 and Universities Canada regarding how academic research may impact national security issues."

Beyond security concerns, Huawei has been repeatedly accused of intellectual property theft, and its research with Canadian universities has largely assigned IP rights to Huawei, even though the work is underwritten by tax dollars.
The company is also the nexus of an international skirmish between the U.S. and China which recently entangled Canada. In December, a Huawei executive was arrested in Vancouver for extradition to the U.S., who allege the company broke trade sanctions against Iran. Since the arrest, a dozen Canadians in China have been detained in retaliation, and one was recently re-sentenced to death after an earlier drug trafficking conviction.
What Huawei wants
Beyond surpassing Apple for the world's number-two spot in the smartphone market, Huawei became the world's number-one manufacturer of telecommunications equipment in 2012 — the hardware that moves cell and internet signals around the globe. The previous leader had been Sweden's Ericsson.
Huawei is in search of market dominance over highly anticipated 5G technology for smartphones, which is set to carry more data and do it faster than 4G. Huawei spent a quarter of its Canadian research and development budget on the pursuit in 2018: 566 Huawei employees in Canada now wield triple the funding they did in 2014.
The leaders of all six American intelligence chiefs specifically warned the U.S. Senate Intelligence Committee that Huawei's 5G technology could be used for espionage. Two senators on the committee then called on Trudeau to halt Huawei's 5G progress in Canada.
Canada's intelligence experts have expressed similar concerns.
"It is hard for me to believe that a company such as Huawei would not do the bidding of the Chinese government and would not build trapdoors into its technology on behalf of the Chinese government," a former director of CSIS told the Globe.
Concerns like these culminated in the U15 warning in October. Since the meeting, Queen's University confirmed they are taking on projects with Huawei, though they did not say if they were related to 5G research. Twenty academics from McGill scheduled a follow-up meeting with CSIS officials.