With Western University set to approve a new Open Space Strategy, students can expect to see several big changes on campus in coming years.
Western's campus will undergo a series of renovations over the next decade in accordance with its Open Space Strategy, introduced in Western's Strategic Plan in 2014. The plan includes several major alterations, such as becoming more pedestrian friendly and moving parking to the campus' perimeter.
What is the Open Space Strategy?
The Open Space Strategy is a document outlining how campus will evolve in coming years.
Led by a team of Western staff, faculty and consultants, the strategy aims to improve Western's open space areas and accommodate continuing student growth.
Approved by the Board of Governors in Western's 2014 Strategic Plan and explained in greater detail in the 2015 Campus Master Plan, the Open Space Strategy has been in the works for several years. The full strategy is set to be evaluated by the BoG on April 26, and if eventually passed, will green light several major changes to campus. 
What changes does the strategy propose?
The plan is built upon 10 "big moves":
Prioritize pedestrians
Accommodate bus rapid transit
Reduce cut-through traffic
Position parking on perimeter
Maintain vehicle access
Allow for service access
Improve accessibility
Complete the bicycle network
Emphasize landscapes
Engage the river
What should you know?
Students, staff and faculty should expect a pedestrian-focused campus with more gathering spaces.
The plan defines open spaces as areas on campus that support and encourage pedestrian movement and activity. This includes possible gathering areas such as Concrete Beach or the Social Science plaza and the walkways that connect them.
Michael McLean, director of facilities, planning and design, is a member of the team tasked with revolutionizing Western's open spaces.
"There are a lot of under utilized spaces on campus," McLean said. "There will be a priority in design function and use of outdoor places on campus that will enhance places for students, pedestrian circulation and gathering spaces."
Campus traffic, bus routes and pedestrian paths will be greatly affected by the plan. 
Campus traffic
A major component of the Open Space Strategy is to relocate some of the parking in the campus core to its exterior.
"There are a number of smaller inefficient parking lots in the core of campus. Typically, our perimeter parking lots tend to be a lot bigger," McLean said.
To compensate for the loss of inner-campus parking and vehicle access, McLean said that the Chemistry Building's parking lot and the Huron Flat Parking lot were the first choices for multi-level parking structures.
The relocation of parking locations on campus will allow for more open spaces on campus and reduce possible collisions between pedestrians and vehicles. McLean said the university is currently unsure of how it will approach ride sharing services, such as Uber. For example, these services may be allowed at specific times in the day; emergency and delivery vehicles access will not be restricted.
The plan also proposes a reduction in cut-through traffic.
"A previous traffic study indicated that upwards of 40 per cent of traffic at peak times could be considered cut-through traffic," McLean said.
One way Western is proposing to reduce cut-through traffic is specified pick up and drop off points on campus. The plan suggests access to campus will be facilitated at five designated points: University Hospital, Alumni Hall, the Recreation Centre, Social Science Centre and University Drive.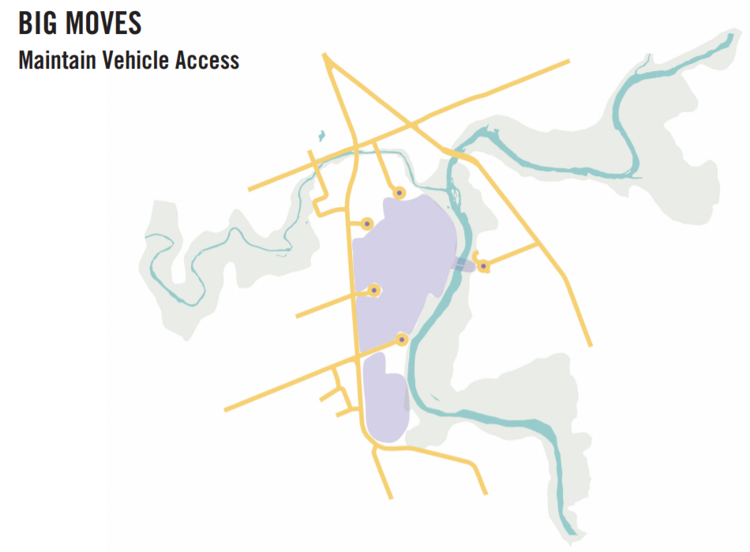 McLean explained that existing entry points into campus were considered when choosing these locations. These drop-off points will allow vehicles to pull over to the side of the road, turn around and head back out of campus.
"We also recognize that while there is a desire to reduce cut-through traffic, there will be people who will continue to drive to campus, and we need to accommodate parking," McLean said.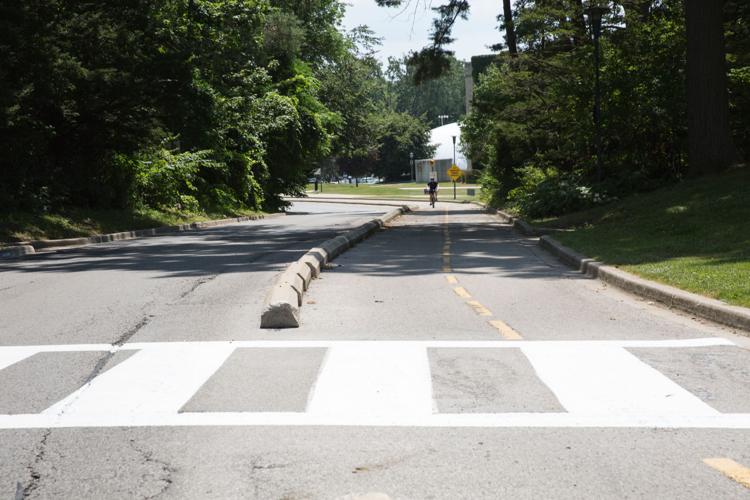 Bus routes 
Most local buses will be restricted from entering campus grounds. Instead, Bus Rapid Transit will run through campus.
The plan suggests four stops that serve the campus: University Drive, Lambton Drive, Western Road and Elgin Drive.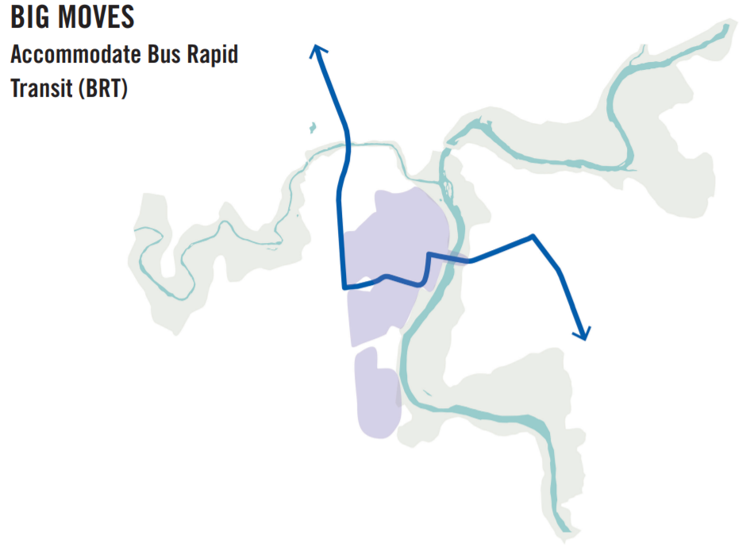 It is anticipated that local buses will remain on the campus' perimeter, with the exception of the bus route to University Hospital.
According to McLean, BRT is a city initiative and the university is working with London to accommodate it. There is one route through campus that the board has approved that effectively travels in both directions across campus using Lambton Drive and University Drive.
"We've been working with the city for a number of years and looking at how best to serve the university," McLean said.
Open space
The plan also emphasizes more spaces on campus for students, faculty and staff to gather. For example, these are some of the suggested changes: 
For example, vehicle access around University College and Kent Drive will be restricted, apart from service and emergency vehicles.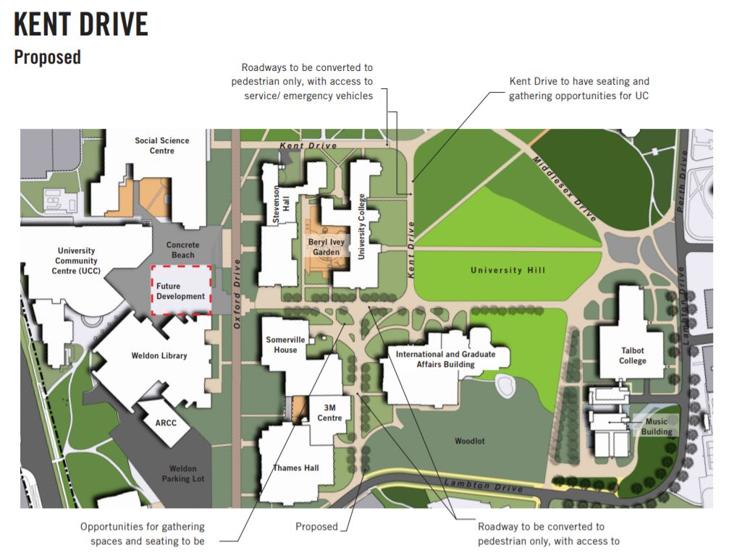 Similarly, Oxford Drive will become exclusive to pedestrians and cyclists with wider paths connecting the road to other open spaces on campus. Students may also look forward to proposed study areas outside Weldon Library and a renovated Concrete Beach.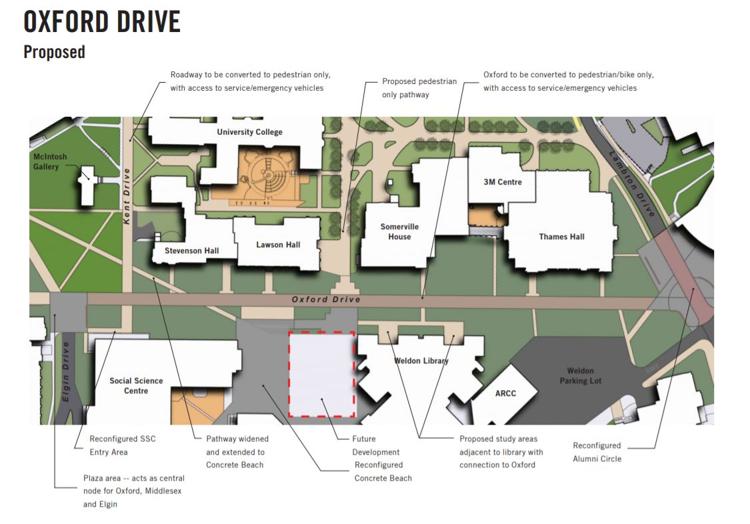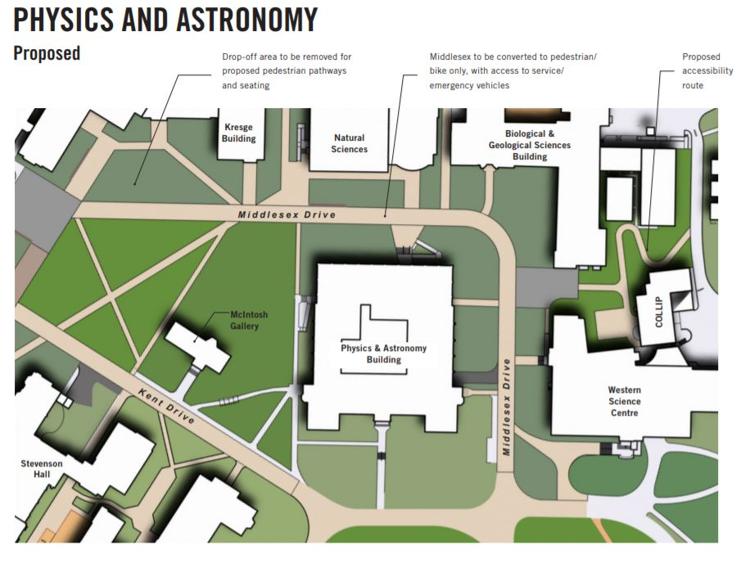 While initiatives outlined in the Open Space Strategy are 10-year, long-term priorities, the strategy includes several quick pilot projects that will happen within two to three years.
"The one I would mention is the area just in front of the Physics [and Astronomy] Building. It is a large area of asphalt which is currently used for contract renovations, but we'd like to implement a pilot project here," McLean explained.
According to McLean, putting up seating and relocating some of the campus food providers, such as the farmer's market, may produce an open space that's usable year round.
The Open Space Strategy would also complete Western's bike network.
"The bicycle network on campus right now does have some gaps. It's inconsistent, and connection needs to be made between the campus and the city's cycling network," McLean said.
Further, the strategy proposes wider roadways for more safety and for vehicles and buses to share the road with cyclists.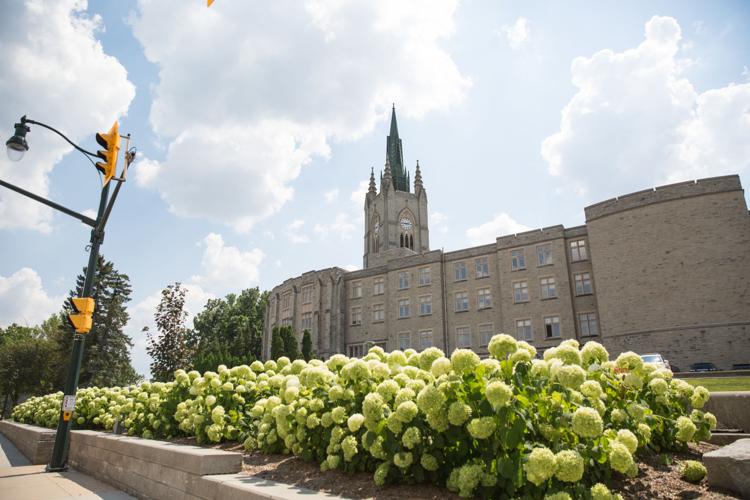 How to get involved?
McLean invites all students to contribute to the Open Space Strategy.
The team is continuing consultation on campus. It continues to remain active on social media platforms and a website has been made available with the strategy's draft report. 
Interested parties can email suggestions to openspace@uwo.ca.