When members of the Ontario parliament returned from winter break on Feb. 19, they were met with nearly 200 students gathered outside the legislative building in Toronto.
The protesters were assembled in the centre of Queen's Park, hoisting signs and chanting "the students, united, will never be defeated" in front of a barricade of police and security guarding parliament. The faction of students from around the province congregated at its capitol to fight a series of Progressive Conservative grasps at colleges and universities.
In the crowd was a coterie of Western University students — one doctoral, two graduate and two undergraduate. They were veteran organizers in the London area, coordinating local marches for various activist groups and unions. After realizing the movement needed leadership, the five banded together to form the London Student Coalition.
Despite their persistence, the coalition was never content with the turnout at their rallies. Eventually, they reached out to similar groups across Ontario, leading them to the march in Queen's Park hosted by the Canadian Federation of Students.
The march on the capitol was the biggest demonstration the LSC has been a part of. The coalition members encircled a small raised platform at the foot of the legislature's steps, listening to speakers from the CFS.
Unknown to the LSC, a group of six demonstrators from four different coalitions were inside the building, being escorted by police out a side door. Their banners and antics had gotten them ejected from the gallery, and a video circulated in a media debacle raised the protest's profile even more.
Amid an ensuing political battle between students and lawmakers, the LSC felt onlookers had missed the point — nothing had changed in the legislature, PC policies were still rolling out and they were still disappointed in the march's turnout.
For the LSC, a movement that started as ragtag marches around London evolved in Toronto, but didn't achieve enough. The coalition is turning back to grassroots activism, sobered but determined to prepare for a long-term battle.
"I have no illusions that we're going to get our demands," said Ari Vangeest, a master's student in sociology and one of the LSC's founding members. "I have no illusions about the Canadian Federation of Students' petition — I mean it's a really good statement, but really this is about building the ground game for four years from now, to oust the government."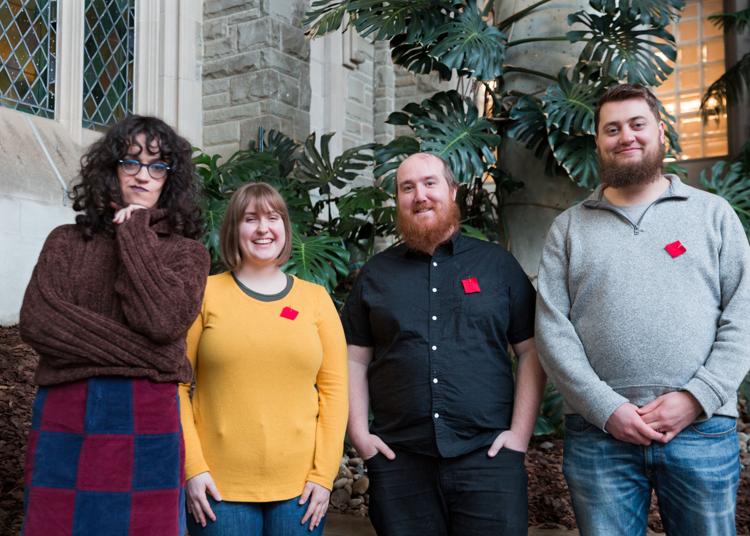 London takes action
Premier Doug Ford has tampered with education since his election in the summer, from the repeal of the 2015 sex education curriculum in elementary schools to a directive mandating that post-secondary institutions create free speech policies.
Most recently, the PCs announced changes to the Ontario Student Assistance Program that eliminates free tuition for low income students and shifts to a loan-based program instead of grants. Additionally, a 10 per cent tuition decrease for students will take $360 million from universities, as schools are expected to absorb the loss of funding. The Student Choice Initiative has been implemented simultaneously, allowing students to opt-out of ancillary fees that currently fund student unions.
Ford claims that the students were consulted on these changes, but many students assert otherwise, protesting with the slogan "we the students do not consent."
As a shop steward of the sociology department for Western's Public Service Alliance of Canada's Local 610 and the secretary of the London North Centre riding association for the New Democratic Party, protesting is nothing new to Vangeest. He can be spotted at nearly every social movement held on campus: from bolstering pro-choice signs in front of Western Lifeline booths in the University Community Centre to working alongside PSAC in solidarity with postal workers in December.
Vangeest used his years of experience to guide the LSC and shape the student protest movement around education, while also amping up the crowd with a megaphone at marches.
"The way you win elections in Canada is you knock on doors, you talk to people, you shake their hands, you look them in the eye and you tell them what you're going to do," he said. "And then you have a rally in order to energize your base, but you don't have a rally in order to bring people in… That's what we have to be doing for the rest of the year."
Experience, or lack thereof, is the reason the coalition assembled just two months ago, after a dismal rally on Concrete Beach on Feb. 4 left protesters searching for leadership. The event was organized by Students for Ontario, a group based outside of London. The combination of novice protesters and organizers who were unfamiliar with the city resulted in a small turnout with no guiding force.
After seeing the disorganization of the rally, the five students decided to form a coalition that would become a recognizable face for the movement.
Alexis Pronovost, fifth-year English and creative writing student and founding member of the LSC, has been active in her opposition to Ford since his election in the summer. Growing up in London, Pronovost is confident she knows how to reach out to her community.
Pronovost was a recipient of OSAP throughout her undergraduate degree, and she credits the program as the only way she was able to pursue post-secondary education.
Fourth-year history student and LSC founding member Rosa Kniivila is in a similar situation. Before the changes, she received free tuition from OSAP, as she is not financially supported by her family. Under the new OSAP structure, Kniivila already works more hours than she is in class in addition to volunteering. The cuts mean that she may not be able to finish her degree.
"The way that things have been working so far is that I've been surviving, but barely," she explained. "I would like to see a time where I don't have to work more hours than I'm in school just to make ends meet."
The three students are joined by PSAC 610 members, master's student Everett Newland and PhD candidate Jody Tomchishen, to make up the coalition's founding members.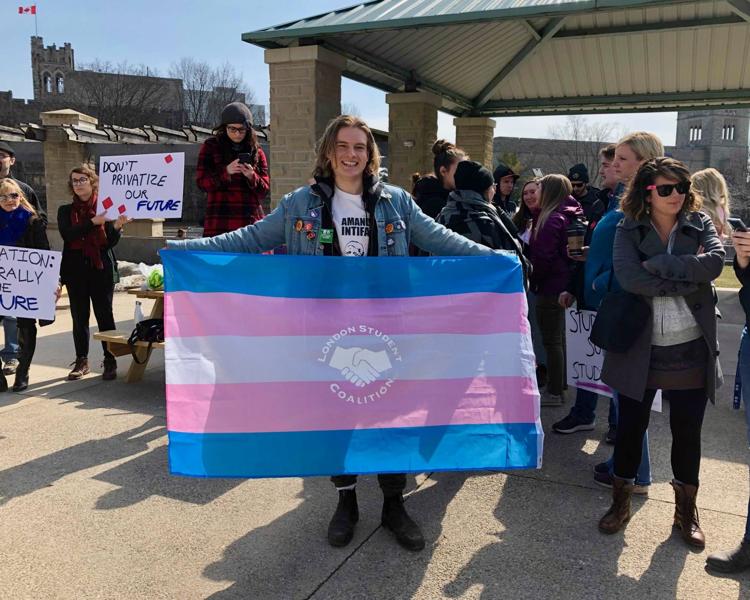 Students take Queen's Park
Student protest groups are cropping up all over the province to combat what they consider undemocratic changes to the education policy. In their first coordinated dissent, CFS Ontario, aided by groups across the province (including the LSC), organized a rally to welcome back MPPs to Queen's Park.
Western's Society of Graduate Students are a member of CFS, while the University Students' Council is not.
The turnout, however, was disappointing to organizers. Advertised as a cross-province march, the rally only saw approximately 200 students, most from schools in the greater Toronto area commuting to the city. The coalition believes the reading week date worked against them, as students had left the city for the week, especially after other student-led rallies on Queen's Park saw much greater audiences.
"With the cuts that are going on, I was expecting the entire park to be filled," Vangeest commented.
The march began in Toronto's Yonge and Dundas Square, winding through University Avenue and eventually arriving outside Queen's Park by noon. The rally featured speakers from the CFS as well as their petition outlining five demands for the government: offer more grants than loans, eliminate tuition fees for all students, increase public funding for public education, protect students' independent voices and defend the right to organize. The objectives are part of CFS' We the Students: Week of Action campaign.
The demands are campaign promises for the CFS' petition, which was signed by each LSC member.
Although MPPs were encouraged to sign the petition, the CFS made clear that the rally would not be a soapbox for politicians. Instead, they emphasized the student aspect of the movement.
"The cuts to education are not an excuse… for politicians to get up on a platform and make a speech for a photo-op," Pronovost said. "It's not about the politicians. It's about how these cuts are affecting these individual students' experience and that's what's more important."
Politicians from the NDP and the Liberal Party have since signed the petition, including the head of the federal NDPs, Jagmeet Singh, and London North-Centre MPP, Terence Kernaghan.
Inside the capitol, student protesters disrupted the legislature, making headlines in a national news cycle. According to Chitta Chowdhury, a second-year political science student at the University of Ottawa and member of the Ontario Student Action Network, the disruption was planned a week prior.
In total, six students collaborated in the stunt, hailing from four different groups: OSAN, Hamilton Student Mobilization Network, Independent Student Solidarity Collective at George Brown College and the Revolutionary Student Movement at York University, alongside Susi Hermanns, who members said was an independent protester.
The students held a banner reading "free tuition now" and chanted "No cuts, no fees, tuition should be free," at the MPPs and the Premier below the gallery.
The demonstrators said they had not planned for the now-infamous independent protester to break rank. Hermanns yelled "Doug Ford, you can kiss my ass," while being removed from the legislature for the disruption. She later contradicted the reports, tweeting "I said Doug Ford is a fucking cracker. I said nothing about kissing ass."
I said Doug Ford is a fucking cracker. I said nothing about kissing ass https://t.co/Au0lmTRhmy

— susanna (@BlRDHOE) February 19, 2019
In eyewitness videos, Hermanns can be heard shouting phrases which sound like both quotations.
#BREAKING: Student protest erupts in house while Premier Ford talks about post secondary tuition...protestor says "Doug Ford can kiss my %*#" #ONPoli pic.twitter.com/BaF7Cbip5G

— Travis Dhanraj (@Travisdhanraj) February 19, 2019
Student protesters are getting thrown out of the legislature's gallery. "No cuts, no fees, tuition should be free." #onpoli pic.twitter.com/k913692Kel

— Emma Paling (@emmapaling) February 19, 2019
Ford responded severely in legislature, claiming the students have been "indoctrinated" with socialist ideas and that "they should have their mouths washed out with soap."
The Minister of Training, Colleges and Universities Merrilee Fullerton told the CBC that she respects the students' right to protest while ensuring they "maintain respect for the processes within the chamber."
Student activists, the same one Premier Doug Ford recently described as Marxists, are ejected from the legislature after interrupting question.#ONpoli pic.twitter.com/NoKOXA4h46

— Colin D'Mello CTVNews (@ColinDMello) February 19, 2019
There has been strong support for Hermanns, who is a woman of colour, but her critics have called it a racial slur against the Premier. Faith Goldy, known white nationalist and former Toronto mayoral candidate who publicly holds white supremacist beliefs, commented in a video on Periscope that the disruption was "a racist verbal attack that occurred in Ontario's legislature." Goldy was banned from Facebook on April 8 under their "Dangerous Individuals and Organizations" community standards policy for her far-right political commentary.
When asked about what Hermanns yelled in the legislature, OSAN members stood by her.  
"We do defend that action. We don't think that swearing is as bad as actually damaging people's lives, which is what Ford is doing," Chowdhury stated. "So we don't think that telling Doug Ford to kiss our ass when he's actually ruining our lives is that terrible."
Chowdhury is not upset with Ford's socialist quips either, saying some of her peers in the disruption embrace even stronger titles.
"I mean, if he's scared of socialists, he should be a lot more worried about us… [The protesters] either fully identify as communist, as anarchists, or anarcho-communists," she said. "So being labelled as a socialist is not an insult at all."
This comment follows on the heels of Ford's claim that student unions get up to "crazy Marxist nonsense" in an email to his supporters.
Chowdhury clarified that OSAN is not a communist group.
Members of the LSC also defend the disruption with mixed reactions. Kniivila believes this makes no difference in relations between students and legislators, while Pronovost is skeptical of the public reaction to the outburst. Pronovost believes response focused primarily on the act of swearing rather than the motivations for the protest.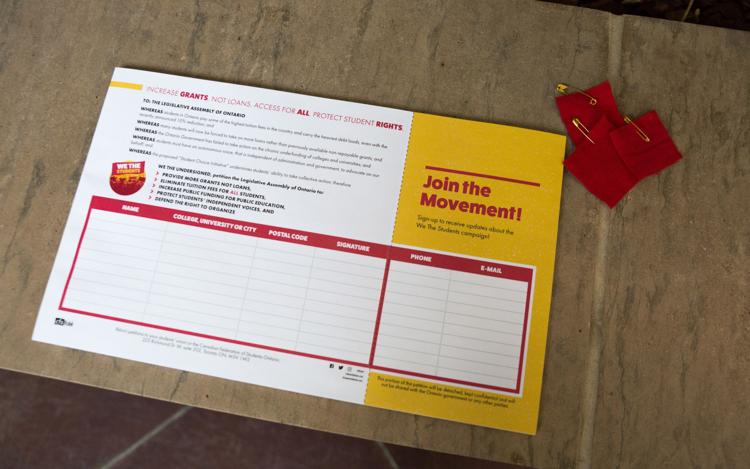 Looking forward
Just a month after their national media moment in February, the LSC held their final rally of the school year — and are finally pleased with the growing turnout. On March 20, SOGS and the LSC hosted a student walkout. This protest was in conjunction with CFS' province wide event.
Approximately 200 Western students and staff participated in the walkout — Western's largest anti-Ford protest yet — on Concrete Beach before marching down University College hill. The protesters bore signs and flags and sang.
President of SOGS, Mary Blake, hosted the rally, accompanied by speeches from LSC members Vangeest and Newland among other union addresses.
"We have seen through the rhetoric of branding of the so-called 'student choice initiative' as being for students," she shouted into the megaphone. "And we have seen through the rhetoric of replacing OSAP grants with loans as making it somehow more accessible."
Her speech was met with a chorus of howls from rally-goers, who yelled "shame" at the Ford government's changes. The LSC had previously been skeptical about hosting a walkout, as they didn't feel they had robust student support. After ending the academic year with a bang, the coalition is looking at how to keep the momentum going.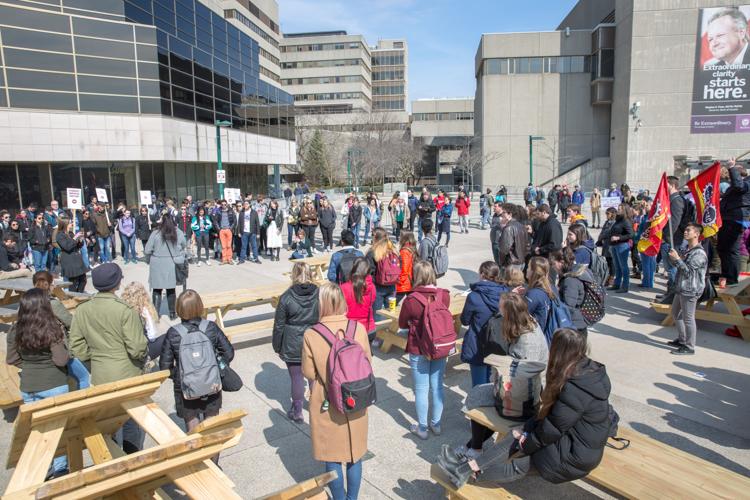 Following Vangeest's advice on how to win elections in Canada, the LSC will also be focusing on shaking hands and educating the masses, and only hosting the occasional rally to energize their base.
Kniivila believes that an educational approach will prevent students from becoming burnt-out with the movement. Protests, "while great group therapy sessions" she explained, are not sustainable if the movement does not grow and attract more voices. The LSC recognized this will be at least a four-year struggle, so the focus needs to shift to longevity.
The LSC plans to share information about the cuts and how they will affect campus life through University Community Centre booths and petitions. They intend to speak to incoming university students, as these cuts will also affect the next generation of high school students now searching for a way to fund their education.
The coalition also supports many activist events in London, making appearances at climate change rallies outside City Hall and occupying conservative MPP Jeff Yurek's office in St. Thomas with members of their community on March 8.
Supporting other protest groups and movements is a high priority for the LSC, because as Vangeest suggests, the students are just one piece of the puzzle in the provincial government's war waged on social programs.
"This is a movement by and for students, but students can't forget that there is a broader struggle going on and we are a factor in that."
Despite the disappointing turnouts and program funding cuts from the provincial government that seem to be never-ending, Pronovost remains persistent.
"We're going to continue making noise about it until something changes."
Update: Paragraphs 3 and 22 were updated to clarify the students' studies.