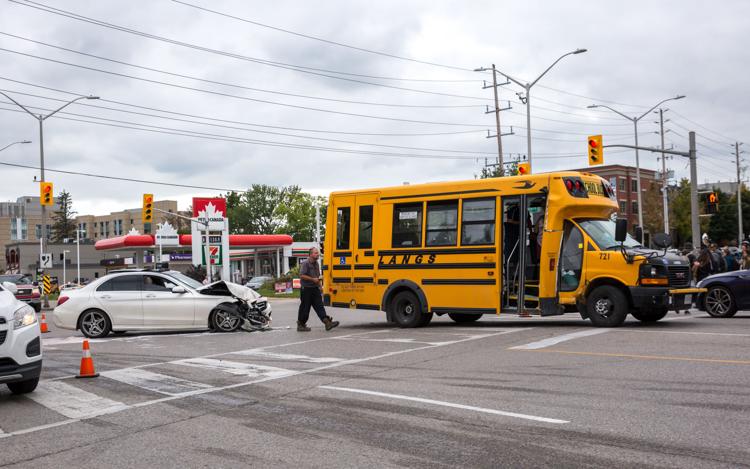 A school bus and a sedan collided at the intersection of Western and Sarnia roads at around 4:00 p.m. Wednesday.
Fanshawe students Beant Singh and Satvinder Singh were in the sedan. They said they saw two to three children in the bus and that no one was hurt.
Around 4:30 p.m., one child emerged from an ambulance parked nearby, escorted by two paramedics. Though his condition was unclear, he walked on his own from the scene with no obvious injuries.
The two men said they collided with the bus as they were both turning on a yellow light. The intersection is a busy juncture on campus that has seen major accidents before.
Accident at Sarnia & Western. Firetruck, ambulance, and multiple police cruisers on the scene. pic.twitter.com/UHaQQaZGfD

— Martin Allen (@mtrallen) September 12, 2018
Accident at Sarnia & Western, September 12
A schoolbus and a sedan collided around 4:00 p.m. on Wednesday the 12th.
Firefighters and police officers on the scene declined to confirm any details about the incident, including whether anyone was injured. In total, one fire truck, an ambulance, and multiple police cars were parked in the intersection. Both car and pedestrian traffic continued around traffic cones that encircled the vehicles.
The bus door was bent and its windows were shattered in the crash, and two adults appeared to be surveying the damage inside. At around 4:40 p.m., a tow truck removed the bus from the crosswalk.
The sedan, a white Mercedes, had its front-right bumper heavily damaged.