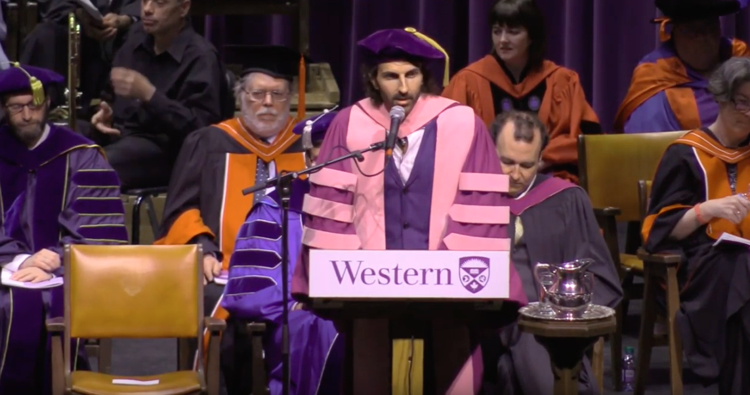 Western University and a convocation speaker apologized on Monday for lewd comments made to graduating students and their families, just months after another speaker objectified attendees during Western's last convocation.
Canadian composer and BA'94 Stephan Moccio began his speech by reminiscing about a sign he saw while first coming to Western University which thanked fathers for "dropping off their virgin daughters." 
Later in his speech he recalled a denigrating song describing residents of Delaware Hall, which was an all-female residence just four years before Moccio began studying.
"Ooh-ah, deli is the res, ooh-ah, deli is the res, you move to the left, you move to the right, peel your banana and oomph take a bite," he repeated to the audience. 
Western uploaded the full video of Moccio's speech on their channel, with his remarks occurring at 1:06.
Moccio's comments prompted an apology just hours later from President Amit Chakma, who called them "unacceptable." Moccio himself expressed regret and said he apologizes without hesitation to the entire Western community.
The incident is Western's second convocation blunder in as many ceremonies. In October, alumni Aubrey Dan made comparable comments to his own audience.
"According to Playboy magazine, at that time, [Western's] women were among the best in North America. And obviously, they still are," he said. 
In Dan's apology, he said the remark was meant as a compliment and added that he is an egalitarian.