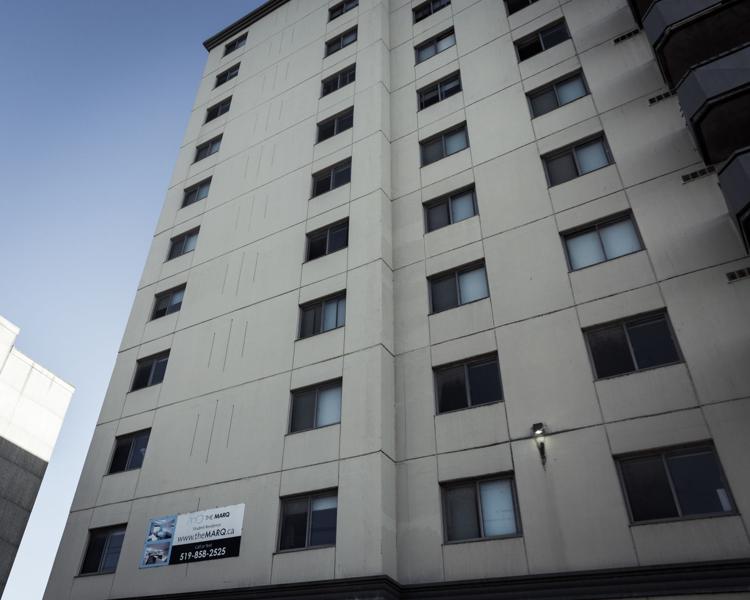 A Western student assembled a residents' association to inform tenants of their legal rights concerning windowless bedrooms.  
Jeremy Roberts, a graduate student at Western University, created a webpage to shed light on living conditions in The Marq — a student apartment complex in the spotlight for renting out illegal windowless bedrooms.
It encourages tenants to reach out to the Landlord and Tenant Board to request a rebate or termination of tenancy if their bedroom is not up to code.  
Presumably, a large number of residents have been living in bedrooms without windows — conditions that violate provincial and municipal building codes. Amid an investigation initiated by the city's bylaw office, The Marq's owner asked for 10 months to fix the rooms.
Roberts recognized that a significant portion of tenants are international students who may be unaware of their rights to organize. 
"You don't go to a new country and think I'm immediately going to file some sort of administrative action against my landlord," he said.
Roberts points out that the site is not intended to provide legal advice and is instead a starting point for residents who are unsure how to proceed.
According to Roberts, the site has received about 500 views since going up on Oct. 28, but few have reached out. 
"I think there's a reason for that," he said. "I think a lot of people are just not familiar because they don't follow [the news] that closely."
He hopes to distribute flyers in the building to bring the website to tenants' attention. 
A residents' association meeting will also be held in the building on Nov. 7.
Roberts hopes to help residents receive the compensation they are due as Centurion Properties Management has been renting out units without windows at the Marq since taking ownership in 2012.
"This isn't intended to cause problems for Centurion — it's intended to help them rectify a long-standing one."