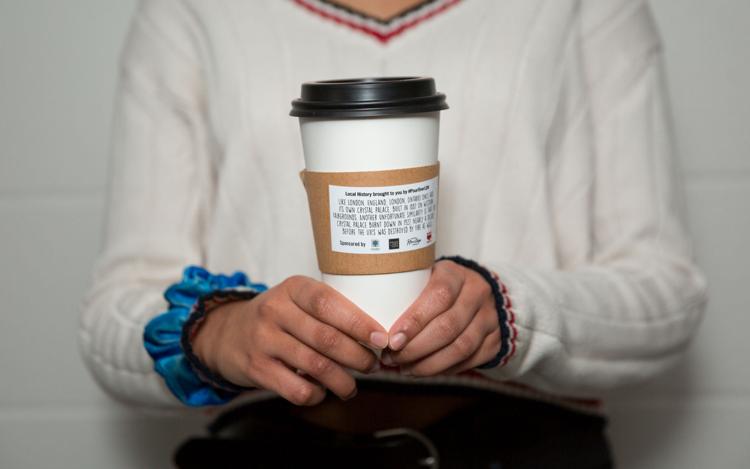 Western students have been working with the London Heritage Council to help a local coffeehouse share London's heritage with its community.
Katie Anderson, public history student at Western University, is involved with Pour Over London — a pilot project that collaborated with LondonFuse to print facts about London's history on the sleeves of coffee cups at Edgar and Joe's Café.
The project, which launched during Heritage Week in February, hoped to share stories of London's history to the community in an exciting and accessible way. There are a total of 20 facts, two of which Anderson wrote herself. 
The facts were approved by the City of London's Culture Office. Anderson became involved with the project through her placement with the London Heritage Council. 
Along with their coffee, visitors at both cafe locations on Horton Street and King Street can learn about the Crystal Palace, which burned down in 1936; the first cancer treatment with cobalt-60 radiation, which occurred in London; and the Richmond Tavern, one of the oldest bars in Canada.
Western alumni Ryan Hunt, a former employee of the London Heritage Council, and Nicki Borland, an employee at LondonFuse, were also involved in writing some of the facts. The project encourages guests at Edgar and Joe's Café to share their own stories on social media using the hashtag #PourOverLDN.
According to Anderson, the project has been well-received.
"I think it has really been a better response than we thought. A lot of people are really interested in this. I think that says something that people are really engaged," she said. 
Anderson became a part of Pour Over London after her involvement with Hear, Here, a world history project for the South Horton area that will launch in April. The project encourages visitors in the area to phone in numbers displayed on plaques to learn about the area's history.
According to Anderson, Pour Over London was a step toward furthering London's engagement with its history. She hopes to continue seeing positive responses and to encourage the community to uncover its heritage. 
"I just hope people enjoy and continue to respond to it, and maybe keep having conversations and stay excited about it," Anderson said.