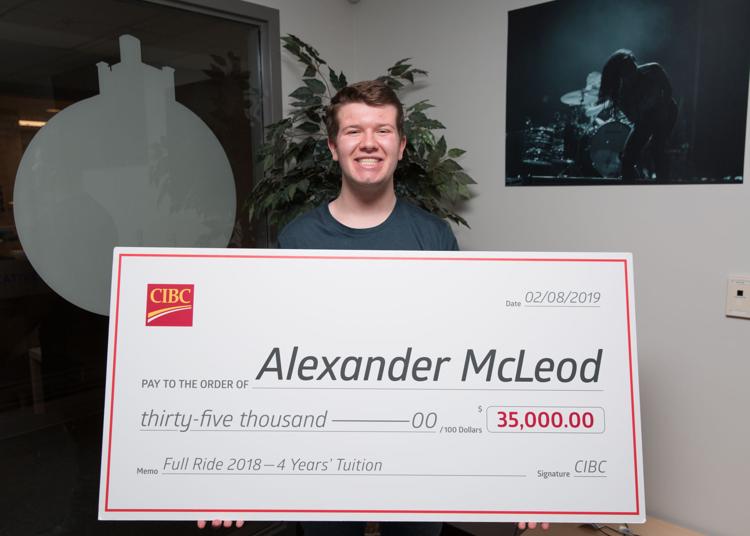 Second-year American studies student Alexander McLeod won the Full Ride competition held by Student Life Network and CIBC last Friday, awarding McLeod $35,000 to cover his tuition fees. 
The contest has been available to post-secondary students across Canada since last year, with thousands of applicants each year. Applicants have to be a member of SLN and register for a CIBC bank account, credit card or line of credit.
After searching for scholarships online and opening his CIBC credit card in February 2018, McLeod registered for the contest on the SLN website.
Little did he know that a year later, he would be randomly selected for a cash prize that would help him and his family pay for the rest of his undergraduate studies and reimburse him for the years he completed.
McLeod received an email from Crystal Mak, a member of the University Students' Council promotions department, on Jan. 30. He was told he got nominated to be a part of a video series about student life on campus called "USC Student Stories," and went for his interview on Feb. 7.
"They were interviewing me for a while, asking me questions about my student experience," said McLeod. "I didn't think anything of it."
McLeod was asked about his involvement in clubs like Western Model United Nations and Western French Club, and his education in the American studies department.
But when it came to the final question, McLeod realized that he wasn't really being interviewed for a USC video series at all. 
"They said, we have one more question for you," explained McLeod. "How do you feel now that you just won $35,000 with Student Life Network and CIBC?"
Moments later, Western's marching band paraded into the room, confetti cannons popped off and McLeod was handed a huge cheque for $35,000.
"I was in a complete state of shock," said McLeod. "I had no clue what was happening because Mak's email was so believable; it still hasn't completely sunk in yet."
McLeod's parents were also in disbelief upon receiving the news.
"When I called my parents, they both thought it was a prank," said McLeod. "But when I showed them the cheque, they said 'Oh my God, this is fantastic.' "
McLeod is the second winner of the Full Ride competition, after Carleton University student Emily Bennett received her own $35,000 cheque last year.
CIBC has partnered with SLN on a variety of projects over the past seven years. They also hold a competition called Canada's Luckiest Student, which subsidizes one randomly selected student with a cash prize starting from $20,000. The first winner of this contest in 2013 was also a Western student, Taylor Esselment, who won nearly $65,000 in rewards.
The Full Ride competition is running again this year, with applications accepted from Jan. 1, 2019 to Dec. 31, 2019. The next winner will be chosen on Jan. 8, 2020.