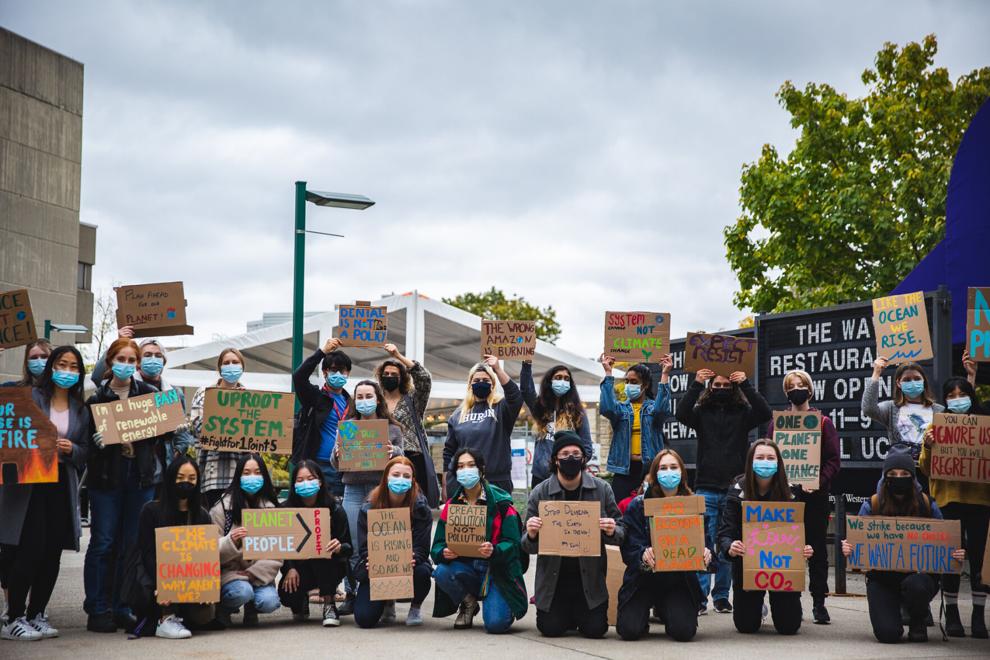 Western students gathered at Concrete Beach for a climate strike Oct. 22 prior to the UN climate conference, advocating for change and demanding action from university, local, federal and global leaders.
While Western University's climate strike was organized by EnviroWestern, the strike was part of a larger movement sparked by young climate activists around the world. Fridays For Future, a youth-led grassroots movement, mobilized the strikes worldwide, in what the organization describes as a demand for intersectional climate justice. 
The global strikes took place right before the United Nations Climate Change Conference in Glasgow which started Oct. 31 and will end this Friday. The conference focuses on issues like countries' climate finance pledges, deforestation and slashing global methane emissions.— The climate strikes pushed for inclusion of various minorities and the voices of young people.
Dozens of Western's protesters made signs that read "planet over profit" and chanted "we are unstoppable, another world is possible". 
The international strikes and leaders of Western's protest also emphasize intersectionality and climate justice. Activists felt it was important to get across the complexity of climate change as an issue.
"Environmentalism impacts everyone differently," said strike organizer Ria Bagga.
Bagga stressed that it's going to be marginalized groups bearing the brunt of the climate crisis' impact. Across Canada, different environmental issues like toxic dumps, polluting and tainted drinking water disproportionately harm racialized communities.
"They're going to be bearing the toll of climate change in terms of facing natural disasters, not having adequate resources to deal with those not being able to have a backup plan,"she said. "That's where the inequality within the climate crisis comes out". 
Kaite Pitcher, an activist at the protest, said it's time to listen to the people whose lives will be most affected t by the effects of the climate crisis.
"By systematically centering and uplifting the vulnerable, the whole world feels it, and everyone else is uplifted as we go," said Pitcher.