Western University students have lost access to their past OWL course content with no warning or explanation from the university.
Up until now, students could count on accessing course content, such as lecture notes, essays and marks, after courses wrapped up. Now, as many students are discovering, all classes from before spring/summer 2017 have been removed from OWL, Western's online learning management system. 
Western administrator Courtney Hern, commonly known as Courtney at Western, posted on Facebook that the OWL changes are linked to changes in Canadian copyright laws. She stated any classes taken before spring/summer 2017 have been removed to comply with content access rules and copyright.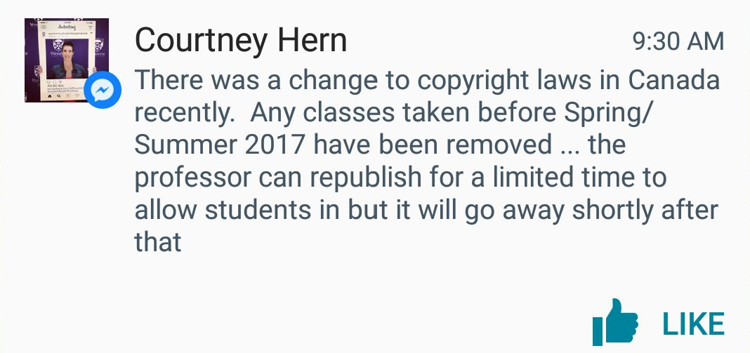 While it's unclear when exactly students lost access, it appears to have happened in the past week, as early as Aug. 12. For the many students who weren't notified and caught by surprise, the OWL changes are causing havoc. 
Emma McGillis, a fourth-year media, information and technoculture student, felt alarmed when she first discovered her OWL sites were gone on Wednesday. She has a final essay due soon for an internship credit course that required access to past course readings. Since she had hundreds of pages of readings, McGillis relied on OWL to access them instead of saving them to her computer.
"Panic was my first response because I'm usually very on top of my work," said McGillis. "I reached out to other people who were in MIT doing the internship and anyone else… and sure enough, everyone said that the OWL sites were gone."
The first thing that McGillis did was reach out to the Faculty of Information and Media Studies to report her dilemma. Staff told her that they were able to send over the course syllabi but couldn't send the readings. They recommended that McGillis's best course of action would be to find them in the library databases.
So far, McGillis has not had any luck in tracking down her past course readings.  
While McGillis wasn't directed to get in touch with her profs, Hern said online that OWL content can still be accessed though course coordinators, instructors and grade administers, who can still see past OWL sites.
"[T]he professor can republish for a limited time to allow students in but it will go away shortly after that," she wrote. Hern said the answers were provided to her from OWL Support. She directed students' questions to OWL Support, a service run by Western's Information Technology Services department.
But without any notice or explanation, many students are left in a tough spot. Lots of undergrads rely on access to past course material to study for standardized tests in later years, like the MCAT, or as a basis for graduate school applications. 
"We paid for [the course materials] through our tuition," said McGillis. "But yet, everything that we had in the past years has been completely wiped. Didn't my tuition go toward that? I'm paying for my classes so I should have access to these materials. That's the most frustrating part."
Western's ITS department and Western's administration did not respond to requests for a comment. The Gazette will continue to follow this story and publish updates and comments as they become available.