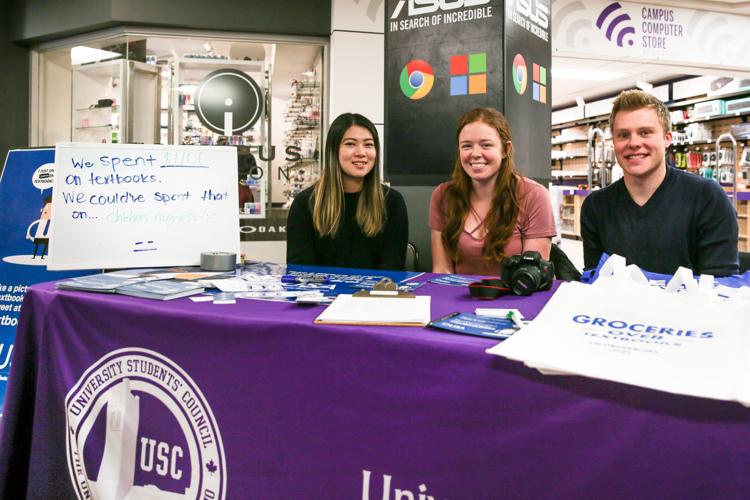 For many students, the phrase "free textbooks" is music to the ears — and Western students are pushing for them. 
The University Students' Council and the Ontario Undergraduate Student Alliance are campaigning for Ontario university faculty to adopt free, open-access textbooks into their curricula.
The campaign started on the first day of classes at Western University in an effort to alleviate some of the financial burden students face. Danny Chang, third-year astrophysics student and Science Students' Council president, said the goal of this campaign is to raise awareness about the impact that open-access textbooks could have. 
"As part of this campaign, students can learn more information and take pictures at the University Students' Council booth in the University Community Centre ... and tweet OUSA, the USC or the hashtag TextbookBroke with their textbook receipts." said Chang. 
#textbookbroke @WesternU I spend this amount on required books every semester! Thank god this is my last term and final year. @OUSA pic.twitter.com/kdTrcBRFfK

— Kelly Cipriani (@kcipria) January 9, 2018
Currently, some British Columbia post-secondary institutions use open-access textbooks in their courses. Chang said that B.C. is the gold standard for open-access resources. Since its Open Textbook Project launched in 2012, it's estimated that over 30,000 students in B.C. have saved nearly $3.7 million.
Chang explained open-access textbooks aren't a new concept, and currently many exist online. However, Chang said not many faculty members use them in their courses; some instructors may think the quality of open-access textbooks are not as good as traditional textbooks because they're free. However, Chang notes that almost all of the research shows otherwise. Studies conducted on 11,000 students and faculty in the U.S. found no instances where a majority reported open-access resources as being of inferior quality or efficacy. 
Chang explains that instructors can add or remove chapters in these textbooks to customize them towards the course they're teaching.
Lauren Ivanoff, third-year business management and organizational studies student, thinks the initiative is a good one.
"From an economic and environmental standpoint, it's a good idea. I like to have a hard copy of the textbook, so I would still end up printing it, but it would be really helpful from a financial perspective," Ivanoff said. 
Despite the benefits that free textbooks could provide, Chang acknowledged some challenges.
"It's time intensive to find a textbook that fits your course," Chang said. But Chang also said that the University of Calgary, for example, has adopted a program that hired graduate and undergraduate students to help with the textbook selection process.
These students review textbooks and select the textbook they think is most suitable for the course. Then, they ask the professor whether the textbook would be a good option. 
He hopes that this campaign will bring awareness to open-access educational resources. 
"Even if one faculty member adopts an online textbook, it'll have a big impact on students," said Chang.